First ever post and it's gonna be a long one (sorry!) so get comfortable & grab a coffee.
It's been a tough few days for Arsenal's donut lovin' captain here's an update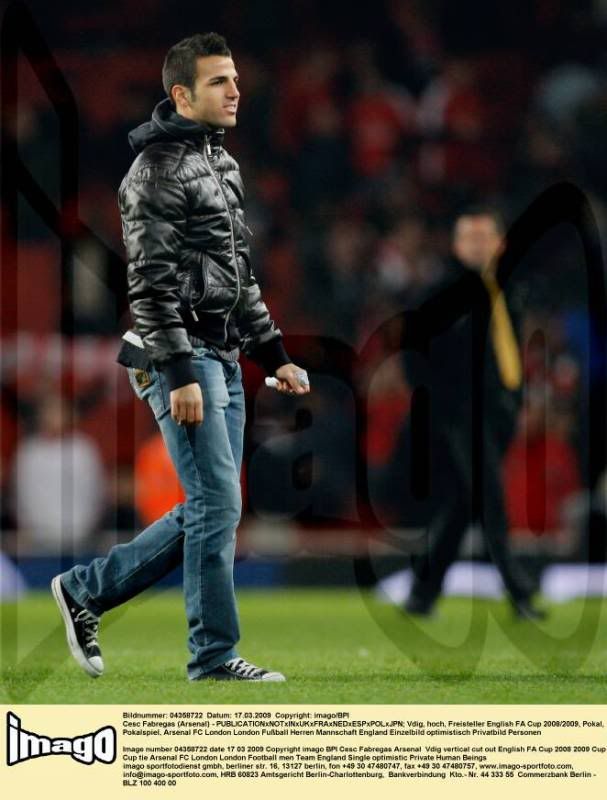 Earlier this week the proverbial "brown stuff" hit the proverbial "fan" after Arsenal defeated Hull City to advance to the semi-final of the FA Cup (YaY we're goin to Wemberley!!) Phil Brown told reporters immediately after the match, "for their club captain, Cesc Fabregas, to spit at my assistant manager at the end of the game just shows you what the club is all about." In the post-match press conference he then said "I was there and I witnessed it, he spat at my assistant manager down the tunnel, that's their club captain. Hopefully he's proud of himself. He spat at his feet." The following day he said, "Whichever way you want to look at it, whether Fábregas spat at Horton or on the ground, he addressed that spitting incident at my assistant manager". There is actually a little teensy weensy difference between spitting at someone and spitting on the ground Mr Brown.

In addition to spitting Cesc was accused by Brown of - "One, being on the pitch after the game – whether there is a ruling against that I have no idea, but he had no right to be there. Two, dressed in the manner in which he was dressed. Three, the pictures in the national papers verify the aggression he was showing towards ­players and staff after the game. So here are the rest of the photos from after the match. Hint in the picture showing Cesc "supposedly being aggro and venomous and squaring up to the Hull players" keep an eye on the shoulders... the truth lies in the shoulders lol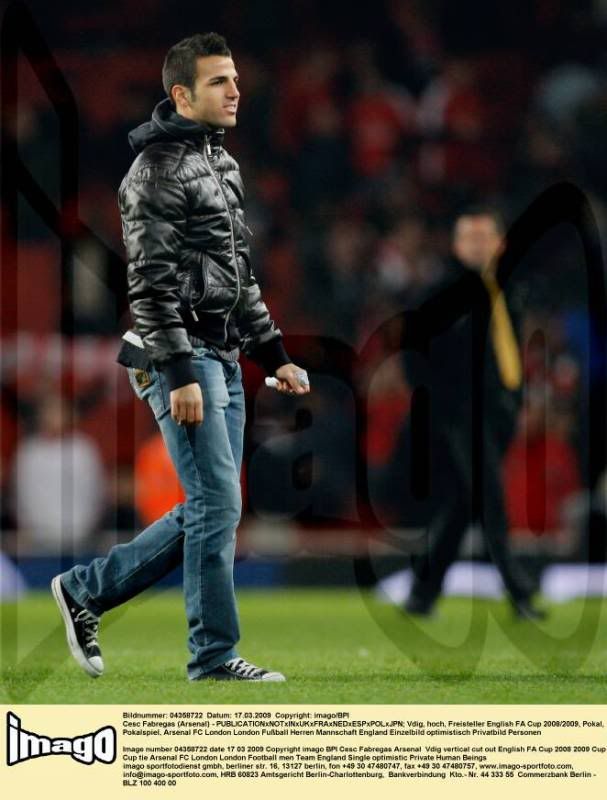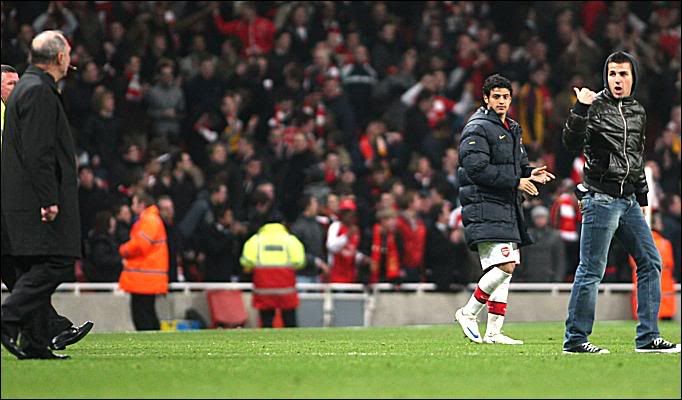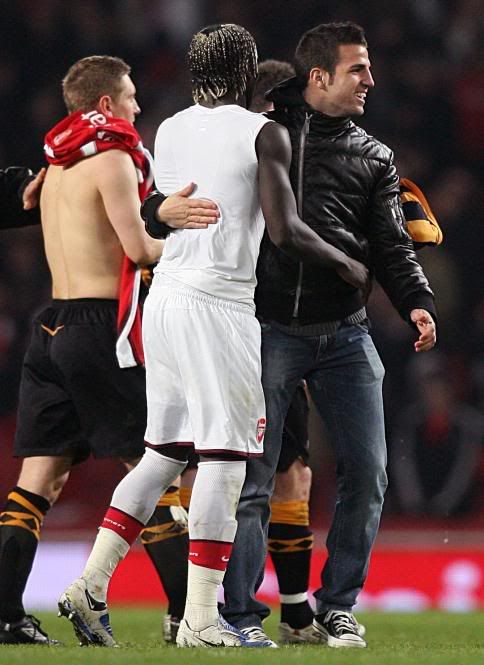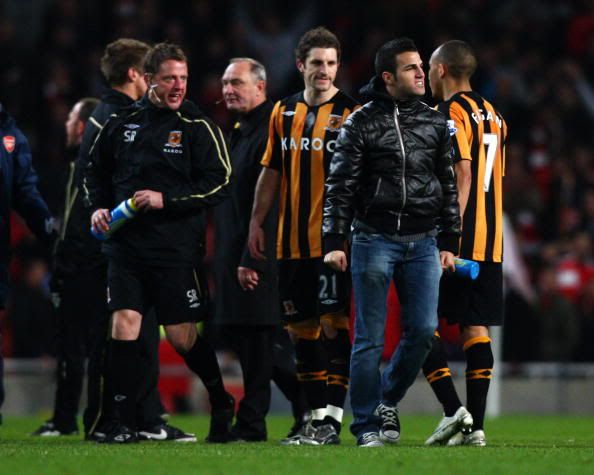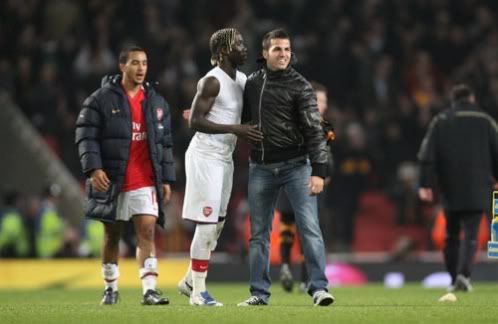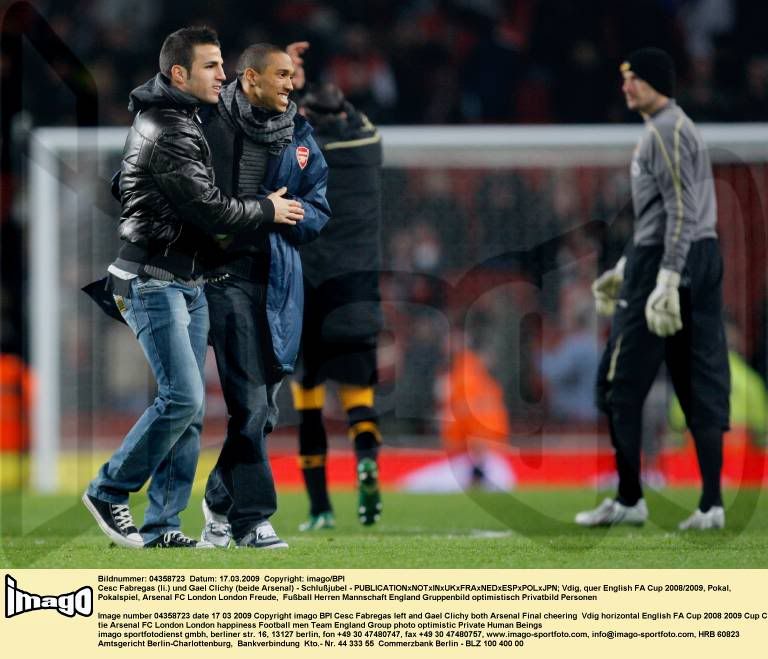 And this one below because it shows Ade was on the pitch too and cos it's cute lol
awww Shava you're such a hobbit bb but you're our hobbit!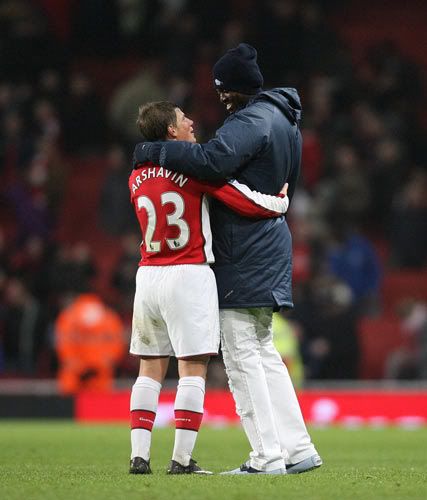 The media started frothing at the mouth and brought up all of Cesc's supposed 'bad-boy' history
The Rap Sheet: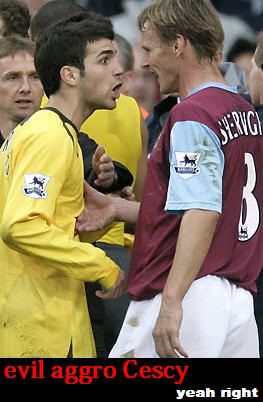 1.Cesc threw Pizza at Sir Alex Ferguson. OK I admit I want this one to be true but sadly I think it probably isn't. You see Cesc is suspected of this because Ashely Cole (that paragon of virtue) said in his auto-biography, it wasn't any of the english players present (coming from Ashley I would take that as a definite sign it WAS one of the english players) and made a few non-specific hints, the media had a couple of choices and settled on Cesc as the most likely culprit. However, he denied it in a live webchat he did in November 2006 and seemed bemused/mystified that people thought it was him... bless. Here's
the link
2. Cesc spat at Michael Ballack. Definitely didn't happen. At the time the ref who was right there gave him a yellow for shouting at Ballack. No mention of spitting was ever made in the media at the time. Ballack confirmed he did not spit in a TV interview over a year later, (when the matter was raised much as it has been now, after an incident between Cesc and Sheringham),
Bayern Munich
have confirmed he did not spit in a statement this week,
UEFA
have also confirmed he did not spit. Cesc himself said he did not spit. You know I am starting to suspect maybe he... you guessed it... did not spit! I've seen the video on Youtube. I can't see any spit.
3.Cesc got into a fight with Sheringham. Yep he did that one. For context's sake that was the day Wenger and Pardew had a scuffle on the sideline and half of Arsenal and West Ham had a go at each other. It was all on for man and boy. Here is a
cute little article
with Cesc's dad about the whole thing.
4. The incident with Mark Hughes when he told him "well that wasn't Barcelona football" yeppers that happened. He did go to the Blackburn dressing room straight after the match and apologise but Hughes made the exchange public and, Cesc issued a formal public apology.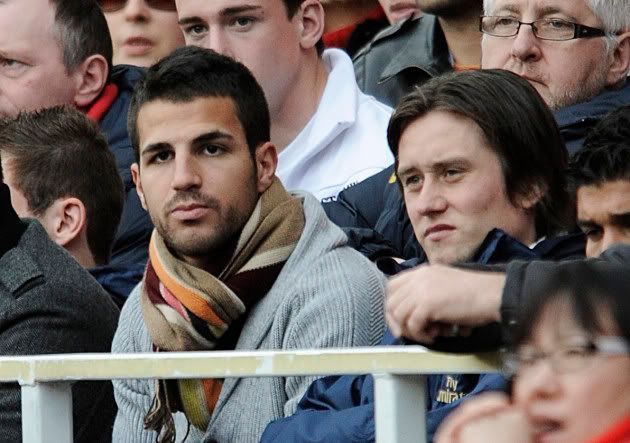 What Cesc said in his defence
Source


"I absolutely and categorically deny that I spat at anyone and I cannot understand why Hull are making these accusations against me.
"I have never spat at anyone in my life. It is a disgusting habit. Why would I do something like that after a match I was not even playing in?
"I was on the pitch at the end of the game celebrating with my team-mates but I promise I did not do anything wrong.
"It was not until half-an-hour later that I heard about what Hull were saying about me and it is not something that is easy to accept. I don't even know who the assistant manager of Hull is or what he looks like.
"I am told Hull will be making an official complaint to the FA about me.
"Well, I am perfectly relaxed about that. I have nothing to hide.

on the Ballack clip: "I have seen this video on the internet many times before and I remember the incident clearly. It was four years ago and I leant over to Michael Ballack, who was playing for Bayern at the time, and I shouted at him because I felt like I did not make a bad tackle and I felt that the contact was minimal.
"I did not spit at him. It happens during matches that sometimes you have heated exchanges with your opponents. I am not proud of it but I was 17. The referee saw it and gave me a yellow card.
"People can try and find as many video clips as they like from when I was 17, or when I was 12 playing for my school team, but this does not change anything."

What Arsene Wenger has said source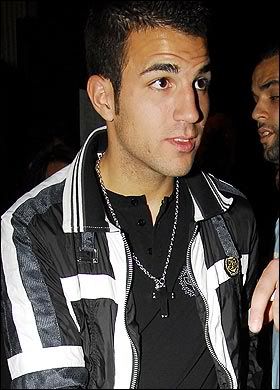 "I will not stop him from going on the pitch in future.
"You want team spirit. You want the players to be together and to share things with their team-mates. You cannot say do not turn up or sit there."
He added: "We are ready to co-operate over the incident but, for us, that is the end of the matter.
"Cesc denies he has done anything wrong."

When a journalist suggested Cesc's actions and attire were unsuitable for an Arsenal Captain, Wenger replied "That is unfair criticism, we have all the players behind the bench and I think it's completely normal that they share the victory with the players on the pitch. Regarding the way he was dressed on the night, he was free to dress how he wanted so I don't share your taste."
The latest from Mr Brown:

Phil Brown claimed he could not recall saying the spitting incident 'shows what [Arsenal] is all about'. He had admitted that he is "learning" and that it might have been a mistake to give the interviews he did straight after the match but he has refused to make an apology. Despite making such strong statements Hull have not made any formal complaint to the FA. The FA have instigated an inquiry in response to newspaper reports, not in response to Hull City.

Related accusations

Mr Brown made accusations against Arsene Wenger in his 'rant' these have now been completely discredited. He also made accusations towards the ref that the FA will handle separately. Brown was fined 2.500 pounds two days ago for a previous bit of aggro on the touchline. It was his second charge and he will soon be responding to his third.

Why did the media go so "rabid"

It was pretty obvious to everyone and their granny that Hull had to put it kindly "over-reacted" within 24 hours of the match. So you might ask why were there 100's of stories on this 90% of them negative towards Cesc? Why was so much made of Cesc's clothing? Why was he referred to as a complete thug, venomous, ungentlemanly, disgraceful, a hooligan and on and on... well it's simple. Cesc has a column with the Sun and as a result he has an exclusive arrangement with them. The rest of the media who used to from time to time get an interview no longer have any access. The media are in a constant circulation battle and are in their way just as competitive as football teams, signing with one - basically guarantees that you are walking around with a target on your back in the eyes of the rest. That's why the vilification has in no way fit the crime.

Why did I write all this out?

I need to get a life and I guess I feel kind of bad for Cesc because I love what he wore and I love that he went on the pitch because I like to get photos like the ones of him and Sagna and Clichy. So it seems a shame he has to cop so much criticism when he was making fans like me happy!! I think the on the pitch celebrations gave Hull the shits because they believed they had lost to a goal that should not have stood. These emotions led to the wild accusations leveled by Brown. This in turn led to a full-scale character assassination of Cescito in the national media - pretty rough for a 21 yr old who has done no more than spit on the ground by Brown's own admission, if that.

Finally, I think this radio interview with Brown from The BBC says more than everything written above (maybe I should have put it first lol) Well I've tried to do my bit for my Capi. I hope this whole thing will die away now.