News
Results for Europa League Matches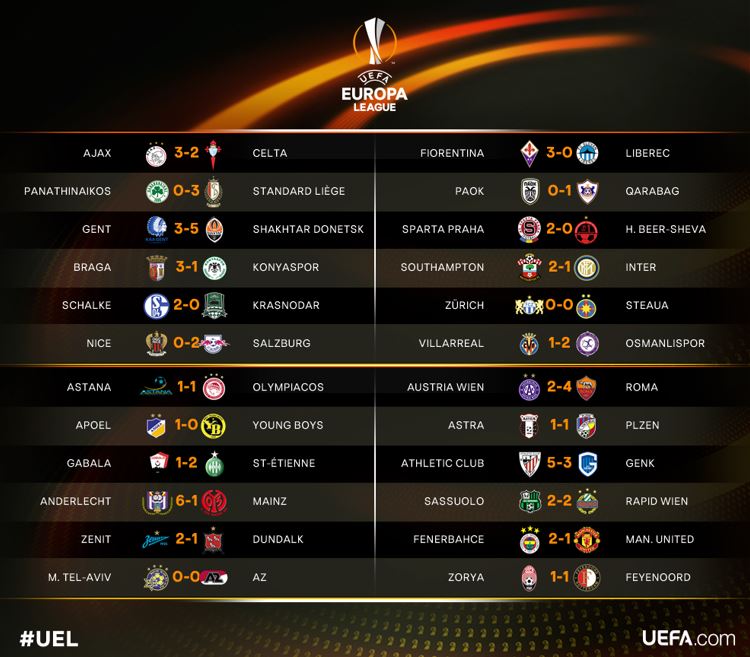 Featured Matches
Southampton 2- 1 Inter Milan
*sighs* I really miss Europa League on my TV. If UEFA were serious about eyes on its football products, they'd really try to flog them off to terrestrial tv.
Inter Milan are managerless with DeBoer being sacked. Surely that's too soon, surely?
Whoops. Anyway, depending on who you ask, Inter were up to their 'dark arts'. I dunno
Fenerbache 2- 1 Manchester United
So, this is how it ends
Mourinho's tenure is looking pretty miserable so far. Worst record than LvG and Moyes
Athletic Club 5- 3 Genk
Aduriz had a hat trick of penalties and two open goals. Stop, drop and roll because he's on fiyah!
Ever green
Zenit 2- 1 Dundalk
Dundalk are still fighting the good fight! Still raging against the dying of the light of their chances. Or summat. Tried to be poetic but it's too early
Zenit came away with all three points and at the top of their group! 132 sides will be cut down to sixty four, and half and halved again until there can only be one, highlander style
Miscellaneous
Moyes has taken his Sunderland players to the local car park factory. They did a few exercises that stressed upon trust and teamwork
Players turned out ready to work. A lot of the local workers are supporters of the club, so the hope is that the players will realise that they play for more than a wage packet
Football confessions
The shade though. It's not as if Dortmund are doing badly, tbh. They've lost key players but they haven't fallen apart like teams in the PL have.
Realisation comes in many forms. Maybe not from the sources you've poured yours, maybe not from the directions you're staring at...
*massages temples* I have a headache
*makes face*
Yeah, Trapp is good looking
OP: Done! Cheers, jeers, corrections and commentary pushback, you know the drill. Can someone please do the tags for me today? I can't tarry. Thank you so much!