News
Champions League Results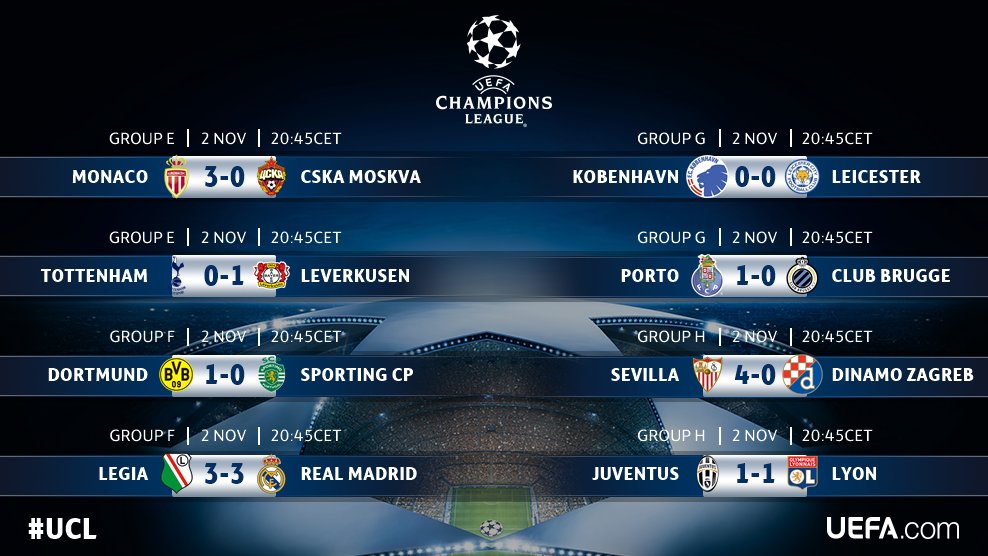 Featured Matches
Tottenham Hotspur 0- 1 Bayer Leverkusen
This game was the definition of a shambles for Spurs. So check it, Tottenham Hotspur have been in the wilderness for four years, losing their best players to Real Madrid because they weren't assured of Champions League
They fight for (and get) top four, fight and get Wembley, suffer through Europa league and rock up to Champions League - only to lose. Twice. They are the only British team to have lost this week, and are in danger of tumbling out of the competition. How... Spursy.
Wait, didn't Kampl play for Borussia Dortmund once upon a time? Or is that my fevered imaginings?
Well deserved, Spurs played like crap. In front of 85k spectators. I don't know if it's just bad luck or stage fright, but they've been off the boil in this Champions League campaign. Shame! If they want to keep their best players, everyone (save Lloris) has got to do better. Alderweirield and Kane are sorely missed
Janssen is increasingly looking like Soldado part II, Sissoko is not worth £30 million, Dier can do a hell of a free kick, and Pochettino doesn't know how to circumvent a pressing game, which is... odd. Harry Winks is a talent to watch and I wish he'd play more, he can slow down time.
I gotta say, I'm not a fan of Chicarito, soz
Borussia Dortmund 1- 0 Sporting CP
There was more drama off the field of play than on, tbh. This came in the form of:
shady tweets
Memes
Ramos' header was beautiful
But really, the drama has been off the field. Auba has been banned from the dressing room until Thursday. I don't read German, so any gossip from the German speakers, please dish?
Legia Warszawa 3- 3 Real Madrid
Wow this game had goals
The fug is this RM kit?
I can't say I expected a Real Madrid defence to be this porous
Well, they didn't lose.
Kobehavn 0- 0 Leicester
Leicester rocked up to Copenhagen for their CL match
Leicester still top of the group
The rest of the pictures are of Vardy. I mean... really?
Schmeichel did work and kept a clean sheet. First side in CL history to keep a clean sheet in so many matches so far
Sevilla 4 - 0 Dinamo Zagreb
I know that I haven't done Sevilla in my round ups much. Alas, time is only so finite, and my posts can get so long before LJ truncates them
Sevilla might do better in the CL this time around. Or drop into the Europa League and win a CL place.
N'zonzi!
Juventus 1-1 Lyon
I didn't read the match report on this game. How did it go?
Tolisso and Lacazette
Higuain scored a spot kick
OP: done! After a week being free of flu, I hung out with some children, and BAM, I'm under again. Cheers, jeers, corrections and commentary pushback - you know the drill!