Group B
Ecuador vs. Haiti -- East Rutherford (6:30 P.M. ET/11:30 P.M. UTC +1)
Brazil vs. Peru -- Foxborough (8:30 P.M. ET/1:30 A.M.

+1

UTC +1)




Want more fixtures? Click here for a comprehensive listing. Or click here for a handy-dandy cheat sheet of all international tournament fixtures taking place this summer.


TIMEZONE CONVERTER


Copa América 411
Group Standings



Highlights From Yesterday
US vs. Paraguay (1 - 0)
This was a gritty match. Dempsey scored a goal in the first half to put the US ahead. In the second half, Spurs DNA reared its ugly head via Yedlin who made two foolish tackles within the span of two minutes and got himself sent off. As Shaka Hislop observed, not one of the US players went over to offer Yedlin any support or consolation for the sending off. USMNT then clung on for dear life as the match regressed into spats of petty bickering and alpha-male aggression. At FT, US supporters sighed with relief as the US were able to hold on to their slim lead. Goodbye Paraguay, it was a pleasure. Truly.

John Brooks deservedly named man of the match. Brooks has two prominent tattoos -- his left elbow is a map of Berlin, his birth city, and his right elbow is a map of Chicago, his father's hometown.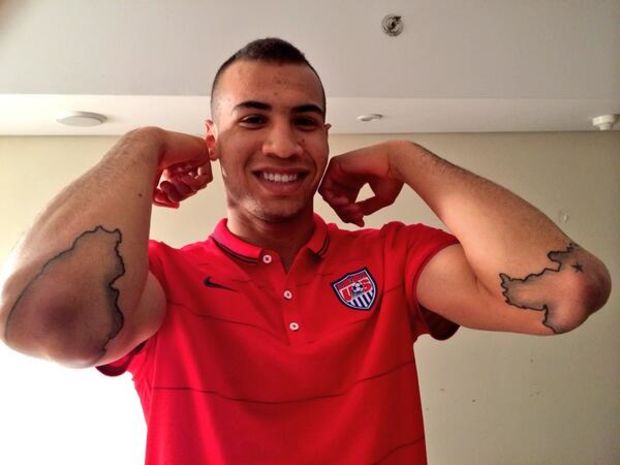 Brad Guzan was the other standout yesterday. Made a crucial double save that denied Paraguay a draw.


Colombia vs. Costa Rica (2 - 3)
Having already qualified for the quarterfinals, Colombia put out its B team (10 changes!) against Costa Rica in this meaningless final group match. Colombia was asleep for much of the game, giving Costa Rica a 3-1 lead for most of it until Colombia grabbed another goal to keep the scoreline respectable. With this loss, Colombia end up behind the group winners US in Group A. Colombia are likely to face Brazil, the probable winners of Group B, in the quarterfinals. Let's see how today shapes up, Brazil might just fancy throwing today's game so they can play a less-threatening US side instead of Colombia in the quarters.

Full team rosters here


Click here for the full Copa América schedule


STREAMS
FIRSTROW
ROJADIRECTA
FEED2ALL
LIVEFOOTBALLVIDEO
VIPBOX
STREAM2WATCH
DRAKULA STREAM
FUSSBALL GUCKEN (Live TV in German)
FUSSBALL GUCKEN (Streams)
/r/soccerstreams