News
Pictures
Premier League
Newcastle United 5- 1 Tottenham Hotspur
Like Alan Hansen said, "You never win anything with kids" and this match showed why. Spurs still haven't gotten over it, tbh. Still in a sulky sulk. In addition, Newcastle United players had much to play for: a lot of them are putting themselves in the shop window to move on, some want to impress Benitez so that he stays on, and the fanfare was immense
Also in a LOT of ways Newcastle's season seems to have began eight games ago! They just seemed really fresh! When you hear about the lackadasical methods of McClaren vs the regime Benitez had them under cheese and chalk. In addition, if anyone can gum up works, Benitez can. He knows that Spurs are vulnerable when it comes to crosses, so what does he do? Make his players do crosses!
Spurs only had to tie. They pegged one back shortly after half time, and then the Newcastle player dived and got a penalty and it was all over. So Spurs being Spurs, just absolutely bottled it when it mattered. Mind the gap. St Totteringham's day is afoot. My Spurs pal was so upset she cancelled our movie date and I went to see CA: Civil War alone. The movie annoyed me worse than the story arc in the comics did all those years ago. So... congrats?
Spurs fans had a melt down. The social media account apologised, the manager and his striker apologised... it was a shit show all around. It's probably for the best that the season ended when it did
Andros Townsend (formerly Spurs, now Newcastle) might have played his way back into English NT contention. I hope so. Walcott is pants and Sterling has taken a holiday since he's been at Man City. Like really fallen off
So Wenger probably gets another two year contract extension on the back of this, then
Chelsea 1- 1 Leicester
This match was a bore draw, so. Let's look at the narrative around it. John Terry wants to stay, the club wasn't hipped on him staying. So he did what footballers out of contract do, he went to the media to stir up the fact that he wasn't staying, and he was a stalwart of the club, blah blah blah. Then got the fans onside
It is known that the club wants him to go. For one, once you're over thirty, they tend to give you a revised contract option. Terry got an eighteen month contract eighteen months ago and the terms were supposedly generous. Idek. Now, the contract is for a 'different role'. People speculate that it's a pay to play and as such, a lot less money than he's currently on. For reasons unknown to me, John Terry has a big following in China, so he could go there for a last pay day. Supposedly his family is settled in London and he wants to stay there
While John Terry spoke, wanting to STAY (but with favorable conditions, Abromovich is like... "You tried it"
Got the humps from his fellow teammates. The thing is, supposedly, John Terry is a pretty strong character in the locker room, which which may or may not favour the manager, if you know what I mean. The English game gets a lot of stick for how players who are 'legends' at their clubs get treated. But the owners can say that if you're being paid hundreds of thousands a week for X years (and the cheques are not bouncing), they do have a right to terminate one's services when one sees fit. I am sure the door is open if Terry wants to become a club ambassador, but in terms of say, a CB going forward and finding new leaders, the club has to look to the future.
I can't say I'm a fan of Drinkwater, but I'd feel badly for him if he were overlooked for Wilshire or Hendo considering that unlike those two lads he's been playing all season and is a Premier League winner. But in terms of Hodgson and the NT, Drinkwater is tardy to the party
Everton 3- 0 Norwich City
Yesterday was Tim Howard's last game for the club before he goes to the MLS. It was another thing Roberto Martinez did badly(sacked before this game, they had a caretaker manager (the U21s coach for Everton) managing this game
Everton played better. They really should have gotten rid of Martinez as soon as the team went out of the Cup match tbh
Everton named a LOT of youngsters to the side. They played direct and fast football, not the passing borefest of Martinez. A win is a win. Everton, like a lot of clubs will be telling a LOT of players goodbye at the end of season, I think
West Bromich Albion 1- 1 Liverpool
West Brom, in a nod to their Liverpool born player (I'm assuming Lambert) and Liverpool's first match against the side since the Hillsborough inquests came out, had some nice ceremonial touches. This floral wreath-
96 seats coloured red and empty for the duration of the match, signifying the fact that some football fans never came home from a match
Klopp told his players that they had to focus on the game today. So...he sent out a changed side, so much changed, I was like, "Oh yeah! You still play for us, then? I remember you!
Liiike, let me tell you how changed. Benteke started (not Klopp's favoured striker)
Jordon Ibe got a goal! He's been attracting interest lately, and is supposedly unsettled, but we will see!
Ojo was working!
Wow, Danny Ings is alive. And still playing. And still only 22. Who knew? With that draw, LFC is eighth on the League table. The position overlooks the fact that under Klopp, LFC has gotten to two finals, one being a European one. People think that Brendan Rodgers leaving LFC hastened Martinez's demise, tbh. In that with Klopp you saw what management and game look like, and Martinez came up sort. The 4-0 rout at Everton under Martinez's watch didn't help
Swansea 1- 1 Manchester City
Iheanacho has had more starts than Bony, I don't know why Man City paid so much money for Boney if they weren't going to use him. Anyway! With this draw, Manchester City has made it such that Guardialoa can go the the CL ball. I really wanted to see how Guardiola would have done in Europa
City will be moving on a LOT of players, to be sure
Swansea rested a LOT of their first team players for their European commitments, which makes the score even more puzzling from a Man City point of view. But eh, it's the last day, I guess you're allowed
Arsenal 4- 0 Aston Villa
Arsenal won, climbed up to second. St Totteringham's day assured.
Southampton 4- 1 Crystal Palace
Mane is such an immense player. If it hadn't been for his red card, he'd have had Soton in top four
With Soton's win, they get a European place over West Ham! I hope they have better luck in Europa next season. This season was a wash. Koeman has been connected to Everton, but he's knocked that back. Word has it, he's waiting for a top four club in the PL to tap him up. Manchester United has been mentioned.
Stoke City 2- 1 West Ham
Stoke overcame a 1 goal lead to win against West Ham, thus defeating their European dreams
Douif got the late header
England NT: England Squad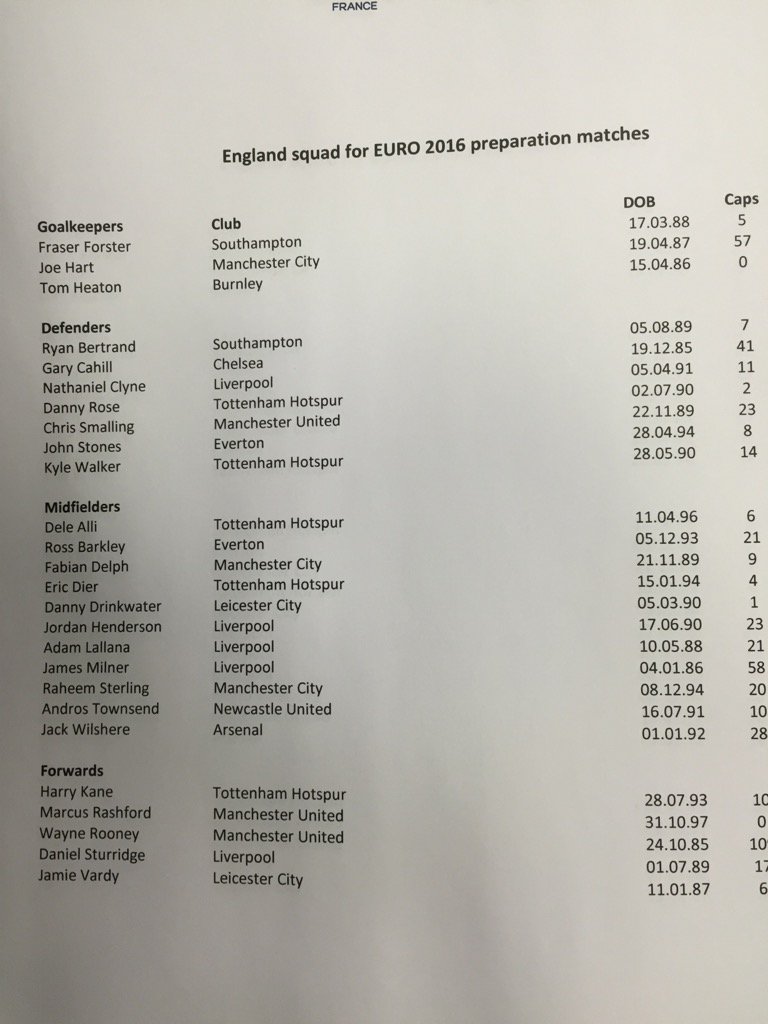 No to the Man City players (sans Joe Hart). I think West Ham's chairman doesn't want his players to be called to the NT so he got his wish. But Delph over Mark Noble? Bwahahahahahahaahahahahahaaaaaa! Delph and Sterling should be dropped, tbh.
OP: done! Cheers, jeers and the rest of it, you know the drill!