News
Social media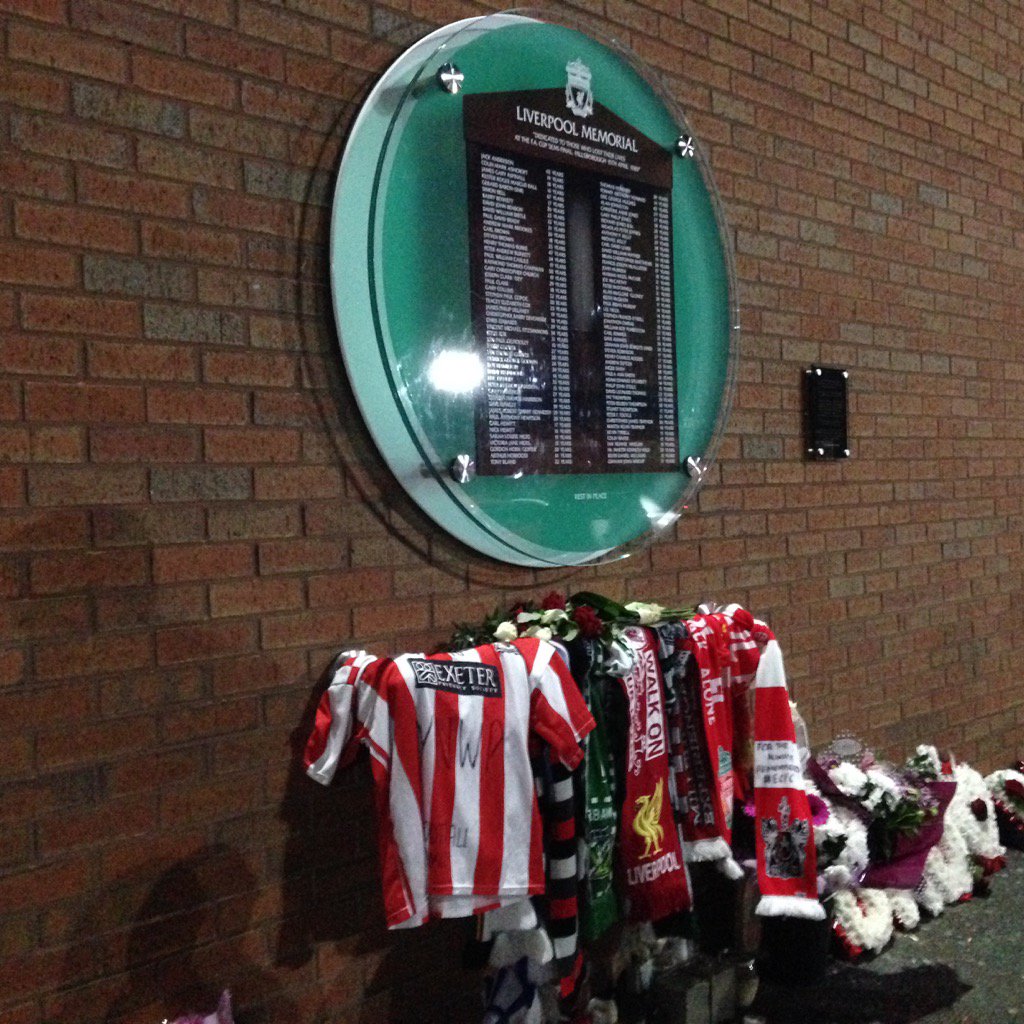 On twitter: exeter fans left shirts and scarves at Anfield. Hey, you know that the Hillsborough foundation is breaking up after this year, right? It's been unanimously agreed that it's time
Some lad caught Eriksen and Dier on the tube and uploaded it to his twitter. Honestly, if I were raking in squigillons, I'd still take the underground. It gets you where you need to go and no congestion charge
Pictures
Leicester City 0- 2 Tottenham Hotspur
I'ma make this quick. So, Spurs and Leicester both fielded rotation squads. Bentaleb (the lad to the far left) made his first appearance on the field since October, I want to say? And the first start since August 2015
To be honest, this match was just to see if Pochettino had learnt from his mistakes with Leicester. Leicester can absorb pressure, play counter attacking, and Ranieri's judicious use of subs have caught Spurs out
In addition, quiet as its kept, Leicester's depth of squad is pretty threadbare. Also, they've bought some names for the future
Demerai Gray, for example, is one of them. A winger, I think, bought from Birmingham City
Ben Chillwell (pictured with Spurs son) is someone for the future, but he impressed last night
Son scored in the 42 min
Chadli well into the second half. And just like that, Spurs might have thirty additional matches to play compared to Leicester's sixteen. Ranieri can focus on a top four finish and once a week games. Come Feb, Spurs have Europa, PL and cup games on their plate. Uh... good luck!
Liverpool 3- 0 Exeter
Exeter fans unfurled a giant flag for Adam Stanfield. He died from cancer six years ago, but he was behind their rise to League 1
Paul Tisdale, the Exeter coach in a fetching plum and grey ensemble
This was a game of shocks in some ways. Klopp made Jose Enrique captain (jajajaja), and true to his word, Klopp fielded mostly academy talents peppered with a few first teamers
If nowt else, Klopp has brought back belief. Yayy!!!
Joe Allen (the Welsh guy with the beard) scored. Word has it that Swansea wanted to buy him off LFC in this window, but Klopp is standing by his word that he's going to keep the team until the end of the summer, then he'll decide who to keep and cut
I'm just posting Tisdale's outfit here. Guardiola and Mourinho used to dress like this, back in the day
Exeter fans were hype - even to the end. Why not? Their club got enough money from the TV rights to do something!
Benteke scored. I can't say that I'm convinced by him in LFC's system, but it's not as if he's not trying!
Scouse Cafu, Joe Flannagan, after a nightmare of 20 months on the sidelines with a knee injury, came back!
Copa del Rey
Athletic Club 1- 2 Barcelona
Messi didn't play last night, but Barca was still dominant
No to these uniforms. They look dirty somehow
Neymar with a fresh relaxer
OP: done! Cheers, jeers, corrections and commentary pushback, you know the drill!