Premier League
West Ham 2- 0 Liverpool
West Ham has been Liverpool's boogey team this season, tbh.
LFC just looked pretty leggy and out of it. Oh well
Congrats to West Ham, gunning for Europa places although they PISSED on Europa when they were in it last summer, but I'm not mad.
Manchester United 2- 1 Swansea
Still not convinced by Rooney for the English NT, tbh
Rooney broke his goal drought, then. LvG still has a job, and Mourinho waits and waits
Watford 1- 2 Manchester City
Manchester City got over their travel blues. Up to the 63rd minute, Watford was leading and then- Manchester City got 2 goals in two minutes! >:(
Celebration time, come on!
Leicester 0 -0 Bournemouth
That red card was harsh. I think Bournemouth should petition that this referee doesn't oversee any match up with them in the future. Every time this guy is on the field, the cherries are worse off. The tackle was clean, for real.
The cherries keeper was on fire yesterday, because Leicester pressured Bournemouth, but Boruc was like... magic
Norwich 1- 0 Southampton
What the FCUK is going on with Southampton this season?
You won 4-0 over Arsenal! How can you fall to Norwich! (No shade to Norwich but... yes, shade)
La Liga
Espanyol 0-0 Barcelona
The game was ehh, as MSN kept hitting the woodwork. The Catalan derby is a keenly contested on, tbh
Word has it that this Barcelona kit was top selling kit of the season in the US. Chelsea's kit numbers surprised me, NGL
Neymar was the subject of racist taunts. Man, haters gonna hate, hate, hate... Enrique refused to be drawn for a comment
Atletico Madrid 1- 0 Levante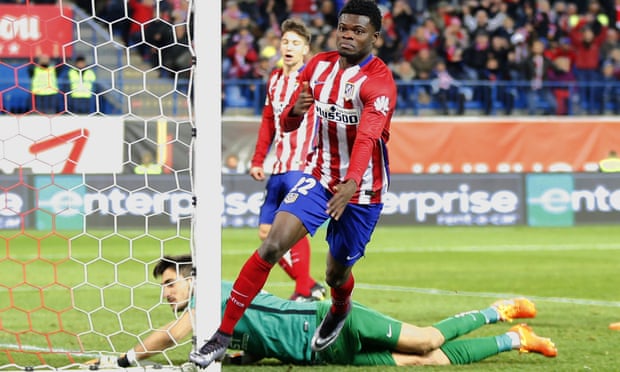 Thomas Partey scored the only goal in the match. What's his story?
La Liga table as it stands at the moment
OP: done! Cheers, jeers, corrections, commentary and overlooked news, you know the drill!