Atletico Madrid expels 7 members involved in fatal fight with rival Deportivo La Coruna

Couldn't find the picture I wanted, so have Simeone and Griezman from Atletico Madrid

BARCELONA, Spain (AP) — Atletico Madrid on Tuesday expelled seven club members and a radical group that Spanish police identified as having participated in a brutal fight with rival Deportivo La Coruna fans that left one man dead.

"Among those identified are 15 people who say they are Atletico Madrid supporters, of which seven were club members ... those members have been expelled immediately," Atletico said in a statement on its club website.

Atletico also said it is banning "Atletico Front," one of the radical groups identified by police as participating in Sunday's street brawl, from its Vicente Calderon Stadium.

Earlier on Tuesday, Atletico coach Diego Simeone condemned the fight that occurred near Atletico's stadium hours before Atletico hosted Deportivo in the capital. read more

Manchester United striker Javier Hernandez eyes first-choice football after Real Madrid snub permanent deal


Chicharito with Jese Rodriguez and Keylor Navas at an Audi event the other day
Javier Hernandez admits he needs first-team football next season.
Real Madrid turned down the services 'Chicharito' on a permanent deal with the Mexican striker making ten appearances for the club this season on loan from Manchester United.
Now the Mexican striker is focusing on delivering for the European Champions until May, but has his sights set on more playing time next season. read more here
No shade but probably he might want to look down the pecking order like a midtable EPL team? Tottenham, Stoke, Liverpool *cough* he'd still get quality competition- it might not be the sheen of Real Madrid or Manchester United, but...

Altidore back to MLS?



Jozy Altidore might leave Sunderland

American striker Jozy Altidore just wants a chance to play, even if that means leaving his current Premier League club Sunderland. But while the former Red Bulls star wouldn't rule out a return to MLS, it doesn't sound like it's at the top of his list.

"You never say never with things, man. I haven't thought about anything like that," Altidore told the Daily News. "I want to just try to make sure wherever I end up, I'll play."

Altidore issued rather revealing comments to the media this week while training with the national team, saying that if he doesn't start playing by the January transfer period, "I'll be looking to start elsewhere." It was interpreted at the time as an ultimatum.

Altidore later clarified those remarks to the News, saying they were mostly about his standing with the national team and not about any discontent with Sunderland. Altidore has struggled since joining the EPL club in the summer of 2013 in a $13 million transfer from Dutch club AZ Alkmaar. He has three goals in 45 appearances, which are now fewer and farther between. MLS might be more his level, tbh

Thierry Henry: I wasn't born with a gift for goals


good interview! Read it when you have some time

When you look back and think of your first game as a professional, do you say to yourself: 'It is so long ago' or 'It seems like yesterday'?

[He hesitates] A bit of both. But what I tell myself, above all, is that not everything [that happened] was always set in stone. At the same time, I'm always aware of the road I've followed, and of the work I've had to do to stay on course. Especially that it's not a given in my kind of position. I insist on the word 'work', as it is the basis of everything. You may have a gift, but if you don't work…It wasn't a sacrifice for me. I do what I wanted to do. I loved working and I wanted to be the best at everything: the way I headed the ball, free kicks, reading of the game…

In your case, what was that gift?

I was quick. I had to have 10 chances to convert one into a goal – but at the same time, I kept creating these chances. Then I told myself: "You won't have these chances all the time. You must stick them into the net." Then, to avoid over-thinking in front of the keeper you work on your finishing, so that it all becomes automatic, so that you don't think anymore. The hardest thing for an attacking player? When he has time to think. So, with Claude Puel, who was then a fitness coach at Monaco, I went through session after session with dummies. I wasn't born with a gift for goals. As I started my professional career on the wing, I also worked on my crossing – which helped me understand the role of the guy who passes the ball. We give praise to the guy who scores and, as a result, we're too quick to forget the guy who busts a gut to cross the ball behind the defence.


read more here


Chatter from the sidelines


Social Media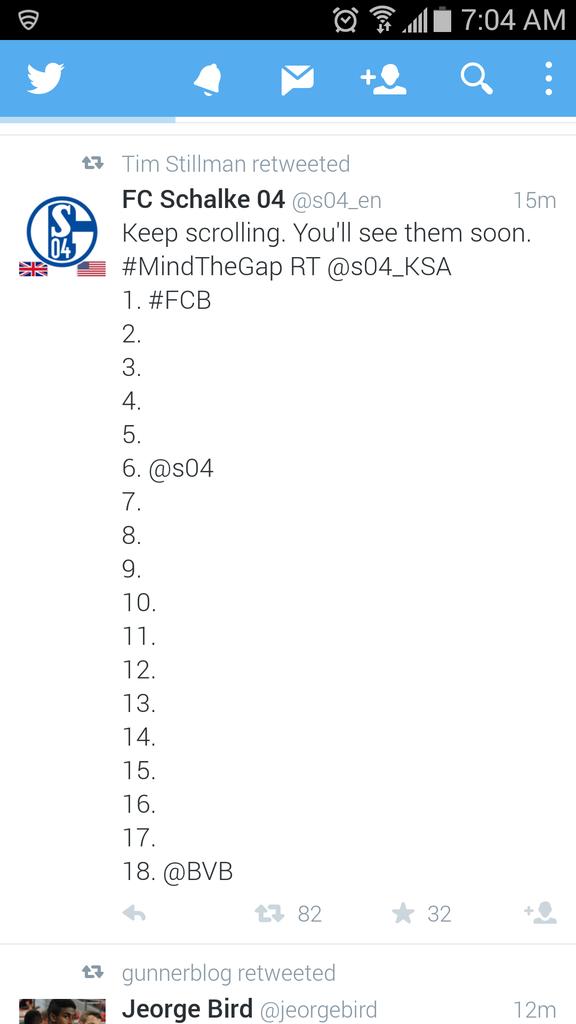 Schalke 04 shading Dortmund. So much shade, I can see the eclipse from my bed, tbh. I'll fight for Dortmund, I will
Real Madrid won another game. To them it's any day ending with a y
Arbeloa on Twitter: "¡Victoria en la vuelta del gran @JeseRodriguez10!!
¡Enhorabuena, jugón, te lo mereces! #HalaMadrid
Saint David. Patron Saint of Wales Manchester United</b>

The hope is that Soldado will score for Spurs again tonight
Pic Spam
Copa del Rey
Real Madrid team sheet
*sings off tune* I wish I were Jesse's girl! Where can I find me a man like th- oh, wrong lyrics? FML. Well, he scored one last night.
Cornella got battered
Alex Gerrard- fair play to her, she's always defended her bloke and has adopted a lower profile in recent years
Premier League Action
The December train keeps rolling on.
Manchester United vs Stoke - I heard it was a keenly fought match. Stoke was not having it. Lost in the end, but still.
West Ham is in fine mettle. Fine mettle. Defeated West Brom 2-1
Leicester 1- 3 Liverpool This is the first match that told me Rodgers seems to be finally playing with the team that he has, not what he wants. Man, Leicester, they played better with 10 men than 11, and even towards the end, trying to get into the back of the net
Newcastle vs Burnley! Burnley drew. OMG. HOMG
Swansea vs QPR. Swansea is playing some solid football, NGL 2-1
Crystal Palace 0-1 Aston Villa
You've been in fandom too long when... this looks like a goddamn prompt
This picture is the ONLY reason why I did this post. LOL at Moreno's feet in the air.
Training Day
Podolski and Sanchez training. Brrrrr!
The thirst is strong within you. I don't mind. Think of me as your Pusha T
Oscar in training. Chelsea take on Tottenham Spurs tonight. Get in, Spurs
Schürrle and Čech
Southampton were left ragged by Manchester City, they have Arsenal tonight. We will see if Southamptons are the Saints or aints going forward
OP: Copa del Rey - apart from Real Madrid vs Cornella, not much news about Elche vs Valladolid, only to say that they were 0-0