It's been a glorious month in which the whole world (yes, even the U.S. ;) ) has been suffering from football fever. Pundits call it the best World Cup ever and they are not wrong. And ONTD-Football has been swept up by it so much that we've (or at least I have) been thinking about it even in our dreams.

This has been a World Cup full of drama, goals (oh, the goals), failures, breakouts, heart attack inducing moments, broken records, NSFW massage videos and it has finally ended joyously with Die Mannschaft coming out on top, thanks to our all-supreme Peasant King, Mario Gotze.

After a month of little sleep and A LOT of alcohol and junk food, it is done. So without further ado, here is a recap of Die Mannschaft's historic run at the 2014 World Cup.


Where do we begin?

Well, Die Mannschaft (that's Germany to football illiterates) were drawn in Group G which was called the Group of Death by every American football commentator. To European football experts, the Group of Death was Group D, which to be honest, makes more sense [Italy, Uruguay, Costa Rica and England. Seriously.]

For their first match, Die Mannschaft were up against that team Cristiano Ronaldo and Pepe play for.

Thomas "the Troll" Muller scored a penalty goal.




Raphaelite Prince Mats Hummels got a goal as well.




He was super happy.




But Crispy was not.




Poor guy.




Muller proved to be a worthy contender for an Academy Award. But it became 'The Pepe Show' starring Pepe.




Then Muller scored again.




And again.




Crispy be like "Que Injusticia!"




At some point, Prince Hummels was injured. But it was sad for us because we did not get any massage shots.





And honorary member of ONTD-FOOTBALL was happy.




And became the envy of ONTD-FOOTBALL.




And it was 4-0!

Next up, Germany vs. Ghana. It was the battle of the Boateng brothers. And it really was because we kept asking ourselves, "Who's hotter? Jerome or Kevin-Prince?" [Answer: Jerome]

It was BFG's hundredth match.




Neuer in the zone.




Battle of the Brothers Boateng.




Then the Peasant King Gotze's knee worked some magic!




And then, the King was defied by Ayew. That was one great goal.




Asamoah Gyan scared the shit out of everyone by being brilliant.




Then Jogi decided that the Peasant King needed to be replaced and brought on the great Archduke Klose.

And he scored! And equalized! And equaled Fat Ronaldo's World Cup record of 15 goals!




And then did his signature backflip which did not stick the landing. But still, how many of us can do a backflip at freakin' 36?!




Duke Beni and the King celebrated flashily.




And the King attempted to be the German LeBron James. It failed.




Oof! Troll Muller collided with Boye.




And Papa Klose sprang into action.




But it was a tie, 2-2.


Then...there was Team USA!

It was a battle between Klinsi and Jogi.




There was some brouhaha about a draw. But Klinsi said, "Nein!"

There were a lot of awful Nazi jokes. As shown in a diagram by Deadspin:




There was also some talk about the transformation of Klinsi from this,




to this




Klinsi wrote a note.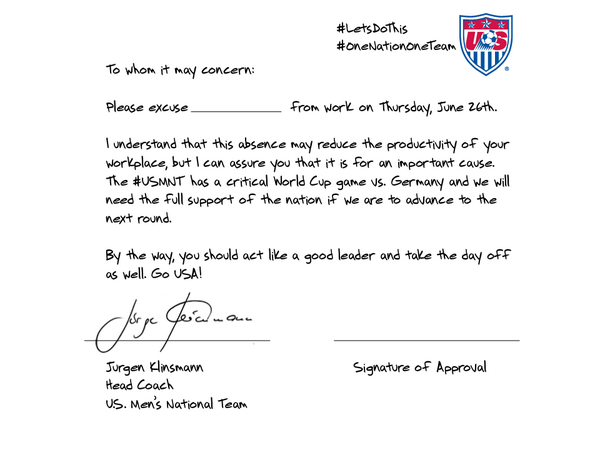 It rained heavily in Recife. Which thankfully, gave us this:





The Germans didn't allow USA to touch the ball for 10 minutes. Pep taught them well.

At some point, Jogi became like this,




while King Neuer was more like this




They were cold.




Tim Howard just being Tim Howard.




COLLISION! Yellow card for the ref (not really)!




Then Thomas the adorable troll to the rescue!




He can also defy gravity!




Germany to USA: "You can't sit with us!"




Klinsi prays to the Soccer Gods.




Jermaine Jones was so blinded by Schweini's awesomeness (not really :P) that he fell.




Obama got a peek of Ozil.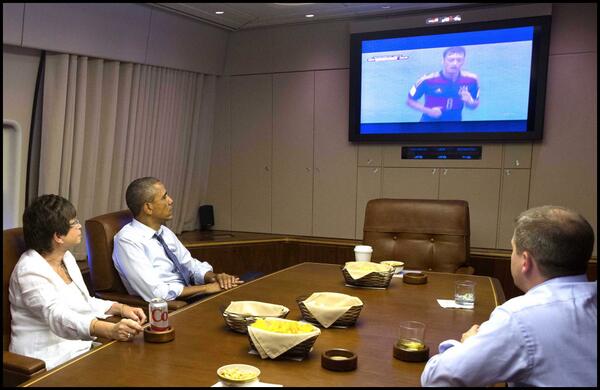 ANOTHER COLLISION! Jones and Bedoya!

Oop.




Prince Hummels walking away LIKE A BOSS.




He knows what it feels like. Remember this?




And Germany won 1-0!
And USA won 0-1!

And everyone was happy (happy, happy, happy).

Klinsi and Jogi, together again.




And Klinsi hugged more people:




Which only made us remember this:





And that's it for Germany's group stage!


Part 2 aka Knockouts will be out soon. I know it's a little insane that I'm doing this only for Die Mannschaft but I don't care! :P