What a great game vs Everton for our wonderful Arsenal Ladies who have given the club their latest FA Cup double!!




For the men - it was the 11th FA Cup in Arsenal's history - that is a record. And it was the fifth of our beloved coach's career - who now holds the record for a modern coach.

I have some pictures of both wins - more for the men, because the women are still celebrating on the pitch and I need to make some gifs. But I'll update the post in a few hours :)

The women's final will go first!
.

.
In 1998, the FA Cup finals were both done in the same week, so we could have a joint open-bus parade for the Ladies and the men's team.



Happy memories




Unfortunately (smh) the scheduling this year was terrible, with the World Cup effing things up to boot.

So let's recap Arsenal's beautiful, beautiful season this year!


The Ladies

The Arsenal Ladies had a tough, tough transfer season from sheer hell. They missed out on CL qualification for next year by accidentally fielding an ineligible player and a points deduction resulted that saw them lose the championship. The only way to get into the CL next year was to win it - which they didn't.

After that, a number of the Ladies left. Many to Liverpool and Chelsea and the squad looked terrifyingly thin. But in Arsenal fashion, a few late-minute transfers made it okay.


Most especially, the arrival of Dutch defender Anouk Hoogendijk on deadline day! She's been splendid this year. Also, Kinga and Ohno arrived from Japan's World Cup winning team in the winter transfer window on the last or near to the last day (never change, Arsenal!).




Arsenal struggled all through this year. Dumped out of Europe, dumped out of the super league. And going into this final, their last win was against Chelsea Ladies (5-3) in the semifinal.

They were last in the championship table going into this game. Everton are also struggling in the league and are second from the bottom. Arsenal's coach, Shelley Kerr, knew the final would be her final game with the club.




The Match! Arsenal Ladies vs Everton - MK Dons Stadium



Bit of a grudge match, actually. Everton and Arsenal had played 4 years previously and Everton got their first FA Cup win at Arsenal's expense.

Arsenal, of course, went in as holders.




Arsenal Ladies v. Everton Ladies Starting XI:

Arsenal Ladies Starting XI: Byrne, Scott, Fahey, Mitchell, Kinga, Stoney, Ohno, Carter, Smith, Yankey, Bailey.
subs: Chamberlain, Williamson, Murray, Weir, Ayisi.

Everton Ladies Starting XI: Brown-Finnis, V.Jones, Greenwood, Chaplen, Johnson, Hinnigan (C), Parris, K.Jones, D.Turner, George, M.Turner.
subs: Walsh, Whelan, Magill, Whipp, Murphy.

Kelly Smith Got the 1-0 with a GORGEOUS FK from about 20 yards out!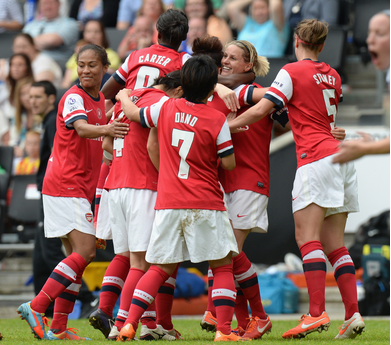 And there was much rejoicing!
Arsenal were playing 4-4-2 for the first since just about ever, as it happens. Dani Carter was Arsenal's most outstanding player, in my opinion and she nearly scored in the 85th minute too.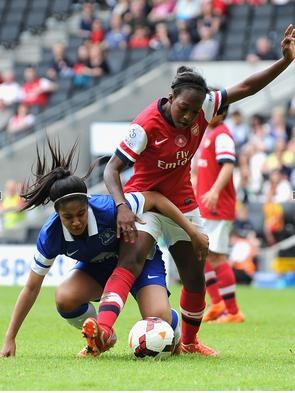 Danielle Carter
But Kelly Smith was brilliant too and she got the POTM award and it's totally justified...
Kelly Smith - unstoppable all afternoon


And then...


Yukari Kinga (our World Cup winner - more than 100 caps for Japan!) scored the 2-0 - a gorgeous goal!
When the highlights go up on the Arsenal.com I'll post a video here.

For now - my desperately awful screen-captures from about 10 minutes ago.






The Men vs Hull City!

A shorter recap since everyone could watch it.


Arsenal went 2-0 down in 8 minutes.

They made it 1-2 in the 16th minute through Santi Cazorla.

Laurent Koscielny got the equalizer with about 10 minutes left.

Aaron Ramsey scored the winner in the second half of extra time!



Here is a Youtube video that shows the entire match condensed into 30 minutes -
And another that shows the celebrations:
Oh. Hi Robert!
PARADE HIGHLIGHTS


Final Piece of news: our beloved coach, Arsene Wenger, signed yesterday for another 3 years!

.
.
.