it is time tonight to tell you guys about my OTHER team, my homeboys, the guys who I get a little thrill out of as they get better and better. i give you...





1) Team USA is USA!

As many of you already know, soccer is not such a big thing in the US. That said, the sport is growing and most children play it at one point or another in their lives, especially before they get to hgih school.
Having a strong team that gets recognition is what helps get people interested. And while the men are nowhere near as BOSS as our ladies, they aren't slouches either.
Believe it or not, the US has gotten third place in the World Cup - in 1930 at least. We are four time champions of the CONCACAF Championship & Gold Cup - 1991, 2002, 2005, and 2007, and have placed fourth in the Copa America.
It has been a rough road internationally, not to mention nationally. Major League Soccer only formed in 1993 (yeah, I remember it being advertised actually), and actual teams played one another in 1996.


2) WE DO NOT GIVE UP. EVER.

If you've heard only a little bit about the US team, here's the main thing to know: they will keep fighting until the very last whistle. The team has a tendency to score or equalize late which means beforehand, spectators are left gnawing no theri fingernails. A really good example of this is the game between USA and Algeria in last year's World Cup:


(and yes, we got pretty emotional)


3) CELEBRATIONS, WHUT!!

I didn't know this at all but:
The main supporter groups backing the United States men's national soccer team are Sam's Army and The American Outlaws. Sam's Army started shortly after the 1994 World Cup in the United States, it now claims to have over 15,000 members.

The American Outlaws was started in Lincoln, Nebraska as a local supporters' group. The group's membership attempted to address a lack of consistency from game to game in supporter organization and social events on match days. To achieve this goal the American Outlaws became a nationwide, non-profit, supporters' group.

Sam's Army members wear red to matches, sing or chant throughout the match, and often bring huge American flags and other banners to the game. The American Outlaws can be further distinguished by the fact that they wear American flag bandanna over their faces. The two groups are usually put together in a "supporters' section" at US home games.

We also have the occasional pileup, manly bromantic hug, and general on the pitch silliness that pretty much all other teams do. Yes, I totally acknowledge that there are the World Cup only guys but we have some die-hards here!


IMPORTANT PEOPLE TO KNOW
Jürgen Klinsmann


He's some guy, I dunno. Apparently he scored a lot of goals and in 2006 coached some 3rd-place team called Germany or something.

Carlos Bocanegra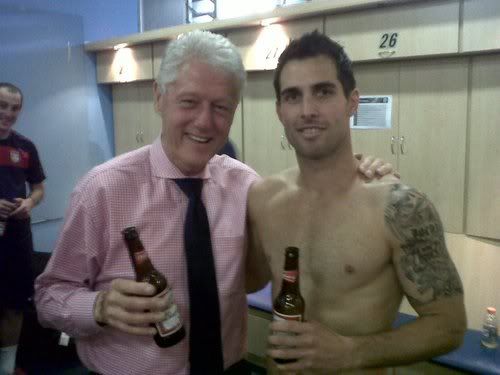 Our captain. He's a defender but one who can play more than one position. He currently plays for the Rangers in Scotland.

Tim Howard
Our goalie, and my favorite. One of the top ten goalies in the world, if not in the top five. Howard can do amazing saves and more often than not saves our butts when we really start to falter. The appropriate thing to do when he is doing a goal kick is "OO RAH!"
Tim Howard plays for Everton, where he broke the record in 2008/2009 for most clean sheets.
* WARNING FOR NICKELBACK MUSIC TURN YOUR VOLUME DOWN NOW K*

*(as an aside,, watching this now it's definitely interesting to compare him to my other favorite goalie, Neuer. Neuer catches and doesn't move very much; Howard clears with his hands. Cool stuff.)

Landon Donovan


Our striker. Responsible for somewhat being the "face" of US soccer, especially as he's both a prominent NT'er and prominent in MLS. Responsible for the last-minute goal in last year's World Cup that will probably go down in US soccer history.

Clint Dempsey
AKA DEUCE


Another well-known forward who currently plays for Fulham. When he's on target, he's a deadly attacker who can make some amaizing goals. Oh, and he has some of the most epic bitchfaces in history.

Stuart Holden


Our cute injured bb. Midfielder, a well-known player who is still on the recovery list. Did I mention he's a retired professional gamer?
Also has godly abs. Seriously. Puyol and Forllan-level godly.

I am also personally fond of Michael Bradley, son of Bob Bradley who was our coach until a few months ago. He looks promising and can be an incredible midfielder who can help control attack and defense; but he also tends to suffer from anger management problems.


We still have quite a ways to go but it's funt o see us get there!


K SO IT IS BEDTIME. MAKE THIS AN EPIC POST Y'ALL.