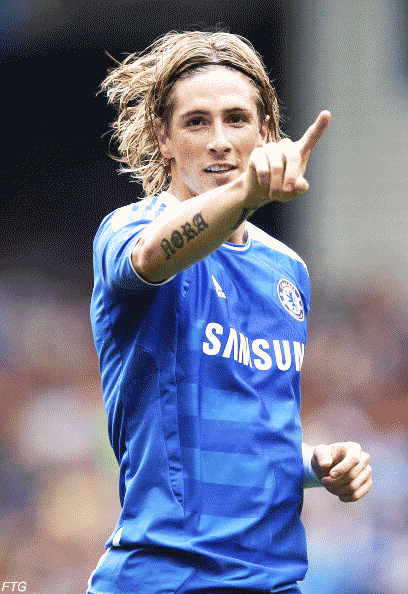 Hallo. Chelsea won yesterday, and won quite comprehensively against Swansea, even though Fernando Torres was sent off for a reckless (and feckless) tackle with over half the game still to be played. It was a shame really, as up until that point he'd been giving one of his best performances and had even scored. That's two goals in two games from him now, which confuses me like you don't even know :-p Anyway, Ramires got a brace and Didier Drogba, out for a month, made his homecoming known with a super-fly goal. PHOTOS :-D

Chelsea vs Swansea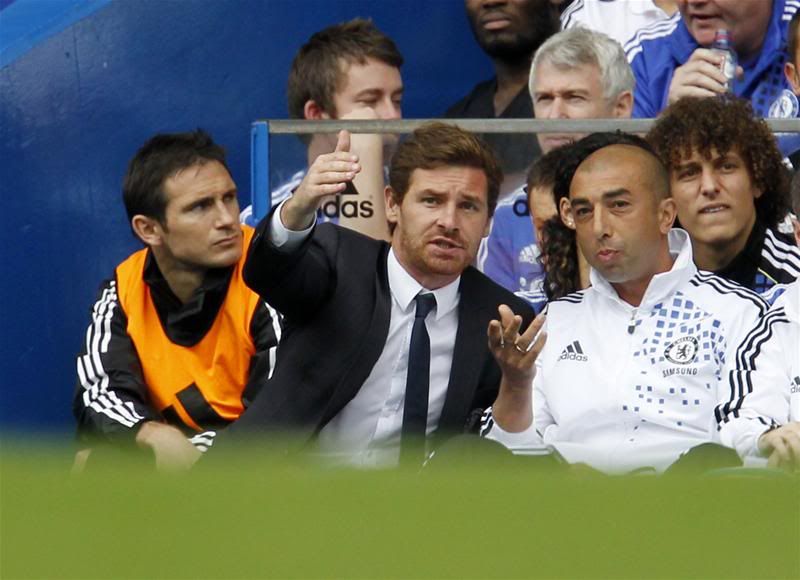 Frank started on the bench, which he did not look at all happy about. Whether he did so because he'd played long time in the mid-week match against Fulham in a team that were a man down and also with a view for the upcoming trip away in the CL, or because AVB just favours Mierelles now (who is generally considered to be moar dynamic), is anyone's guess. I don't like to think about it tbqh D:
Torres' compatriot Juan Mata assisted his goal, which he took very well indeed: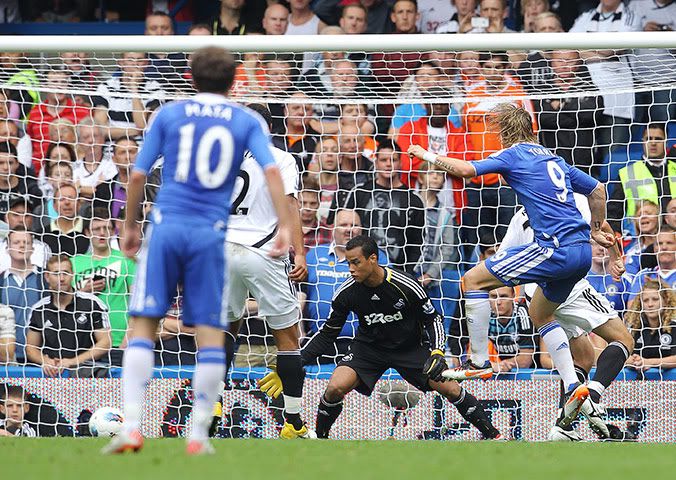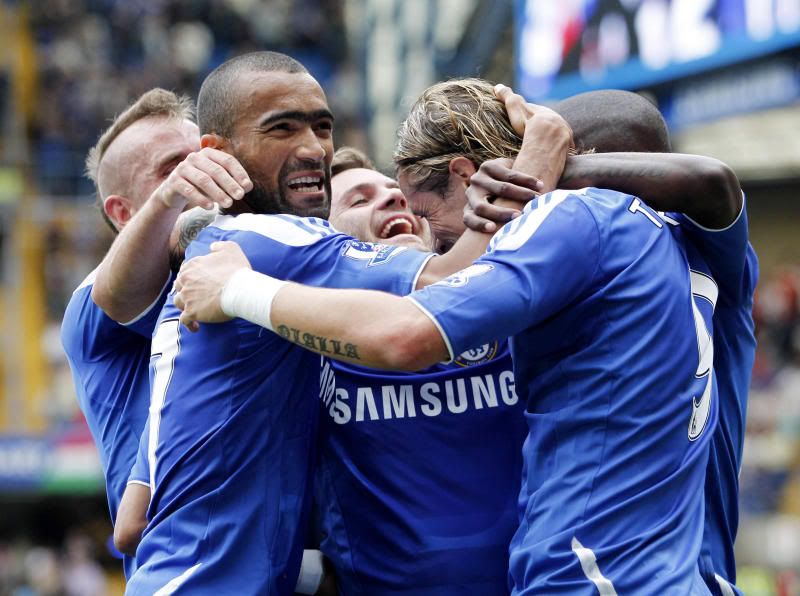 I *love* how clearly happy it makes the rest of Chelseabung when Torres scores! There's your team spirit!
"Who scored and has long blonde hair?"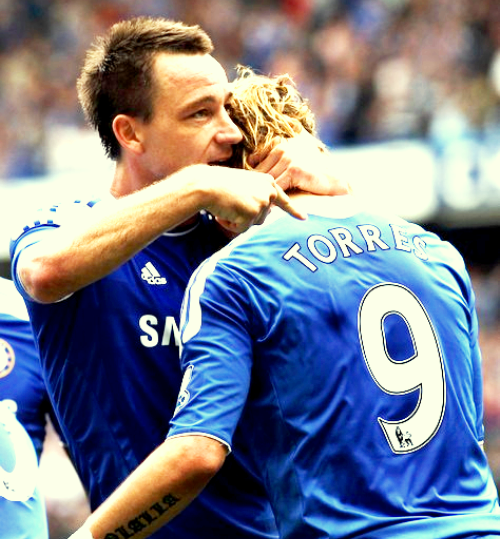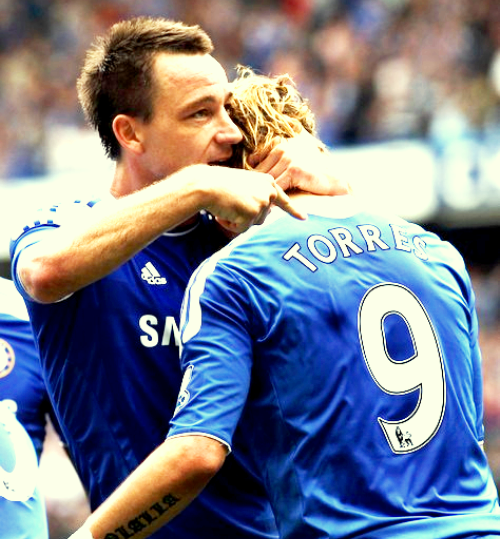 "THIS GUY"
tbh my fave thing about Fernando scoring is that a) he was assisted by Mata, someone who loads of people didn't like coming to Chelsea [much like with FT himself] and 2) it's his third competitive Chelsea goal now. Whilst far from good return on a 50mill investment, all the "TROLOLOLO Fernandon't Scorres" jokes seem a bit old now. Just sayin' :)


Ramires had a wonderful match, scoring two great goals. Torres had a part in the first Ramires goal, playing a great ball to Cole, who in turn passed it well to Ramires for him to shoot and score.
Then Fernando did this silly, silly little ~slide tackle~ that was almost Lampardesque in its poor delivery and timing (idk if you've noticed but against Bayern Leverkausen, Lampard came on and had barely touched the ball before he was slide tackling all over the place. He also made a few of those against Fulham. It's almost as growing old is making him want to "Scholes himself up")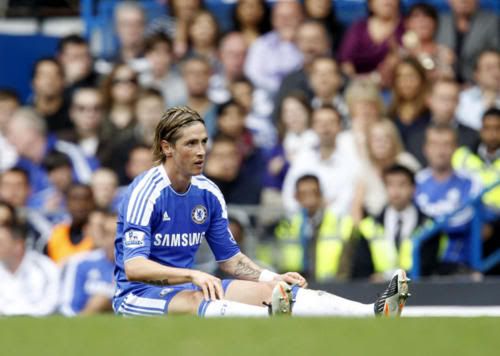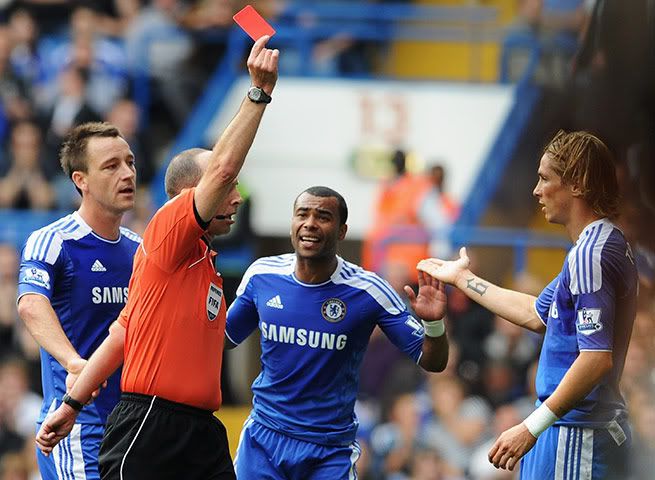 Chelseabung do the whole ~protesting da innocence of our teammates~ thing very very well, partly wai I love her so much :-p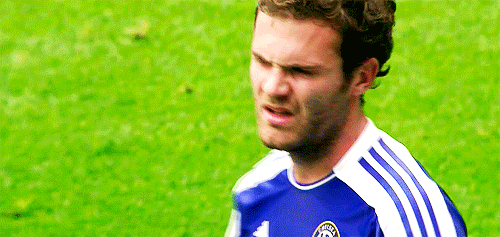 One of the most swaggerous bitchfaces I've ever seen! <3 Juan Mata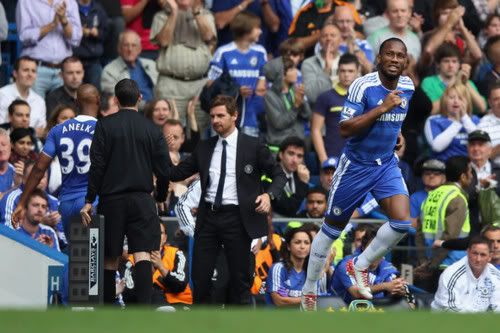 Didier came on towards the end...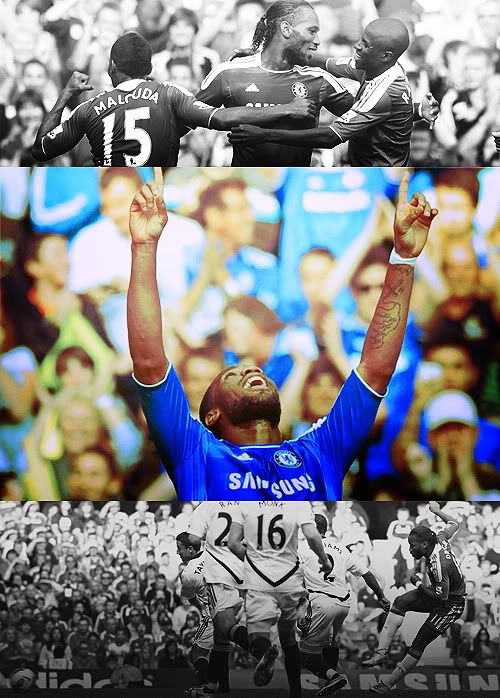 ... and scored almost instantly. It was his first goal at Stamford Bridge since Chelsea vs Aston Villa, all the way back in January. LAD.
I think Torres was right to be sent off, it wasn't necessarily a malicious tackle but you can't be careful enough in this day and age and it looked crap to me. AVB said "Fernando has nothing to apologise for. It's the referee's decision. It's part of the nature of the game, and the referee has decided on that. It's a pity because the spectacle was promising." regarding his first red card in English football (he's gotten plenty as an Atleti one). tbfair it's not the WORST thing in the world as now Didier has three games to himself. :-p LAD~~~
And it was a really good win and performance really, some real team cohesion in the play, which is always good!
---
Right, on Wednesday, I went to the Carling Cup match of Chelsea vs Fulham with my boyfriend, and oh my, what a match!
SO GOOD. Romelu Lukaku looked good, man!!! I can see why people are comparing him to Drogba, he definitely needs more end product though. Oriol (sp???) Romeu was also pretty good, and young Joshua, bloody lad!!! Petr Cech captained Chelsea again, this makes my heart swell like you don't even know!!!! When he got injured, aaaah :/ :/ But fortunately it was just a scare! OK, the Alex sending off completely changed the game, we bought JT on and he did actually really give a great captain's performance (though ironically, I noticed that Lampsybung was wearing the armband and didn't hand it over. Banter!) Salomon Kalou was not good :S I love him with all my heart but he played awfully selfish yesterday :/ :/ Malouda wasn't too good either. Bah. But I was so impressed that Chelsea held on with a man disadvantage for so long against Fulham!! Fulham were not adventerous at all though, so we deserved to win. Their fans were singing all manner of songs, the one that irked me the most was when they were gloating over Iniesta's goal against us. I was furious, hahahaha.
As for the penalties, oh my word, when Frank had his saved, I just thought "that's it." Especially when John Terry stepped up to take Chelsea's third penalty. But aaaah, he scored his, and it was a very very mini-redemption for the man!!! And heehee at Fulham! :-p When we finally won on shoot-outs, David Luiz ran around like a hyperactive kid, it was terrific to see! I love him!
So it was a pretty feisty West London derby in the end, which is always good! (the last London derby I went to was yeeeears ago, Spurs vs Chelsea, Shevchenko scored that's how long ago it was :/ A Spurs fan ran onto the pitch and tried to punch Frank Lampard. trololo.) Ironically, that match was also when we were playing a Martin Jol-managed side, so there you go! I need to go to all the matches where we play a team Martin Jol is in charge of, heh heh heh
Anyway, haz some sub-par grainy pix: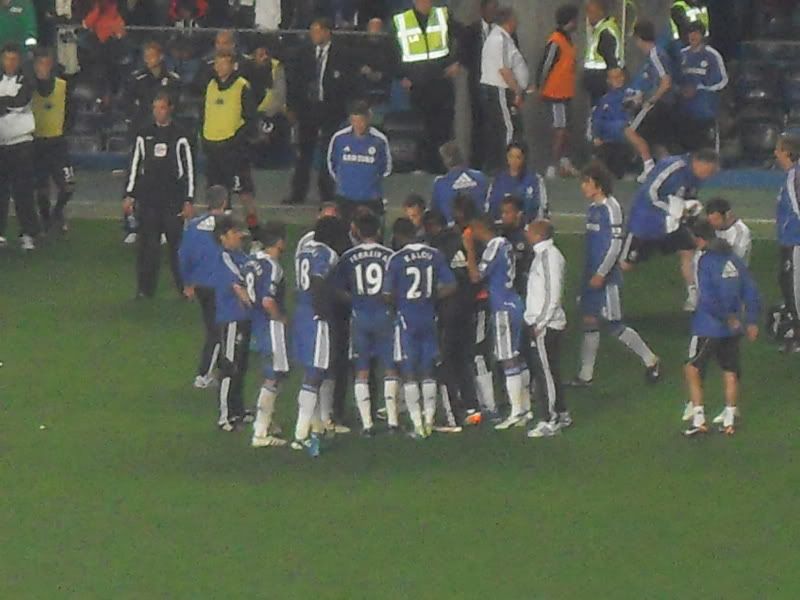 AVB picking out the penalty takers.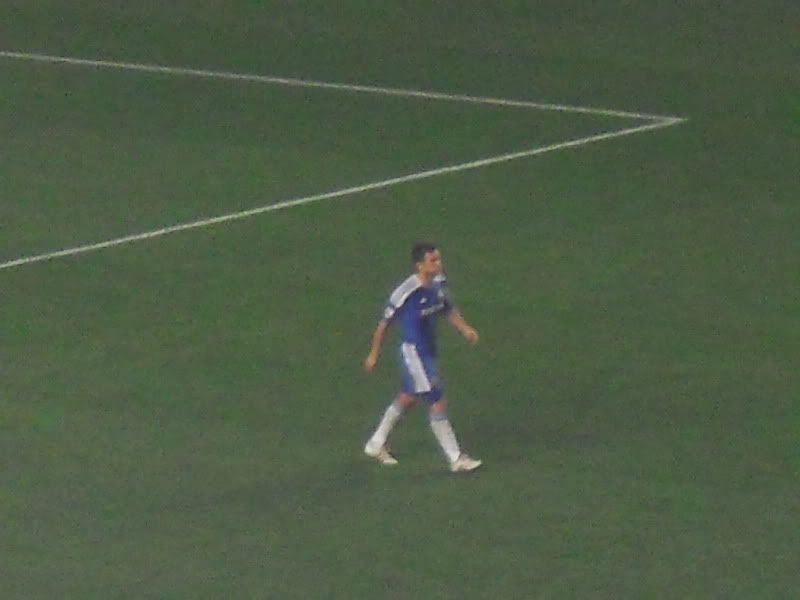 Frank's walk of shame. I was really sad he missed, not just cos of the situation, but also because loads of people (dumb ppl) say "oh all Frank is good for now is taking penalties" and this just gives them ammunition to say "and now he can't even do that!". sadface.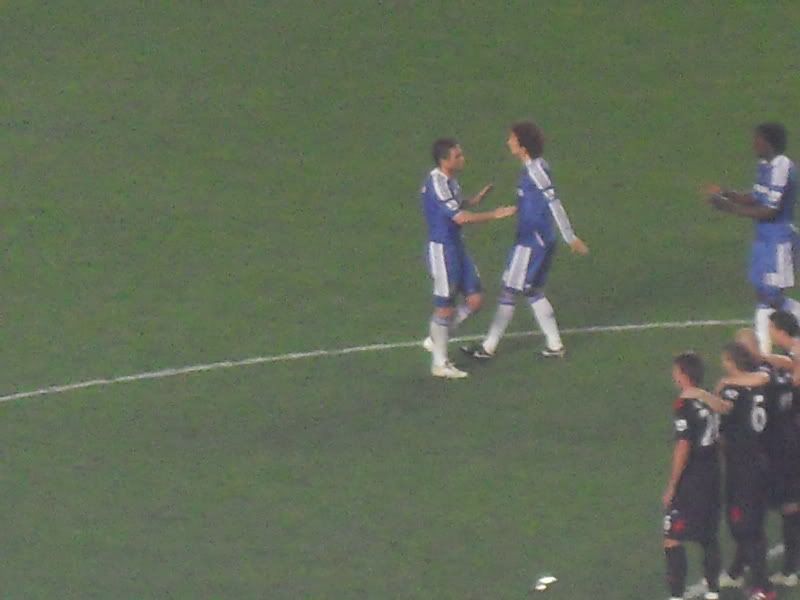 david Luiz consoling Lampsy after his saved pen. I LOVE David Luiz. His energy is outstanding. The way he ran up to Ross Turnbull and celebrated so emphatically just for making the fourth round of the Carling Cup...


... tells me that he really loves us, and is a future Chels captain the making. LAD <3333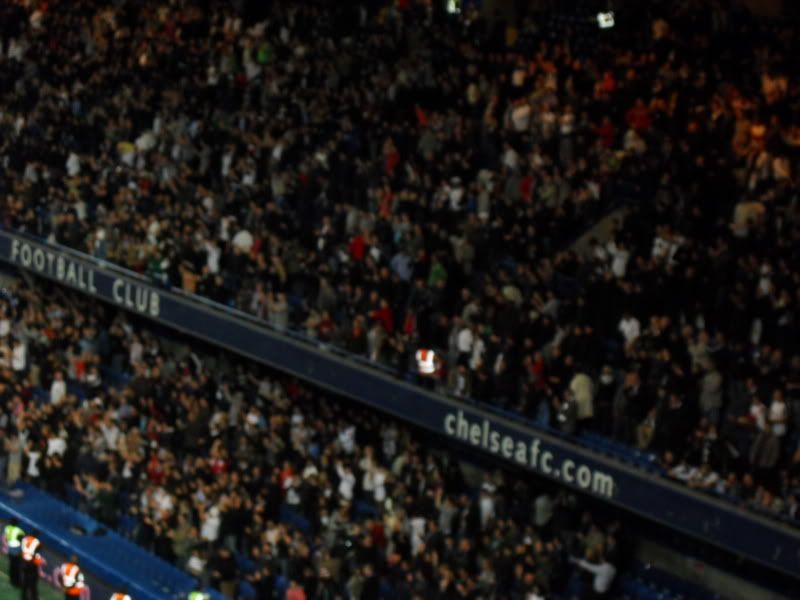 Fulham fans leaving at the end ;) We had some good chat with them, singing the few obligatory "you're just a small team in Putney" songs, to which they sang that at least they're in Fulham, the name of their team. (Stamford Bridge is literally in Fulham, not Chelsea)

It really meant a lot to put the penalty shoot out hoodoo to bed though :)