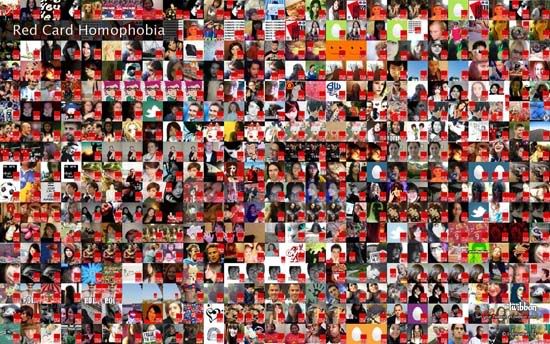 As the first year of Red Card Homophobia comes to a close, we would like to take a look back at how the organization began, and the accomplishments that have been made over the past 365 days. We would also like to take this opportunity to extend our gracious thanks to everyone who played a role in keeping the RCH mission alive.

Red Card Homophobia began a year ago when a few football fans decided to come together to make a difference. They decided to put their words into actions and start an organization to spread the word about ending homophobia in the beautiful game. The accomplishments during our first year have been larger than what we initially expected.

We worked to spread the word through social networking sites. Our Twitter account has more than 1,000 followers. Professional footballers such as Glen Johnson, Robbie Rogers, and Charlie Adam have retweeted our message to give homophobia the red card. Our Facebook page has been "liked" by nearly 2,000 people and growing.

In addition to social networking sites, our website www.RedCardHomophobia.com has accumulated 41,261 hits since going live. Thanks to our wonderful writers, 71 articles have been posted this past year. A Red Card Homophobia online shop, where people can buy official merchandise with the RCH logo, was also put up. The shop is mainly for our followers, so they can show their support for RCH and spread our mission outside of the online world.

One of RCH's biggest accomplishments this year was when one of the RCH moderators got in contact with the Dutch football club AFC Ajax to inform the players of our goal. With the permission of Ajax, five of their players agreed to have their picture taken with the RCH logo to show their support in ending homophobia in football.

Red Card Homophobia is a collaborative effort. We would like to sincerely thank the many amazing people who have contributed their precious time and energy to secure the growth of this humble organization. We would like to thank everyone who has worked with us this past year -- whether you tweeted our #redcardhomophobia Twitter hashtag, wrote at least one article for the website, or just mentioned RCH to your friends. No contribution was and will ever be too large or too small. You are deeply appreciated.

And now, the second year begins. The RCH team will work harder to help the organization grow and accomplish our mission. With new ideas and your help, we hope this coming year will be brighter and better for Red Card Homophobia.

The road to end homophobia is a long and difficult path, but we are on our way. With your cooperation, we can make this world a more beautiful place to live in, not just for football players, but for everyone.