FIFA Women's World Cup Germany 2011 sets new TV viewing records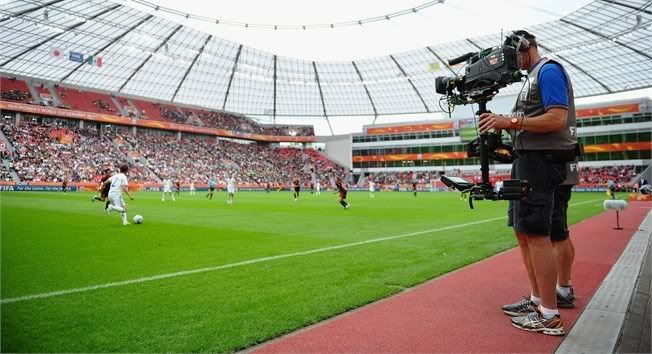 The FIFA Women's World Cup Germany 2011™ has set a new benchmark for the sport after viewers around the world tuned in en masse and smashed several TV audience records along the way. This was particularly notable in the host nation Germany, the defending champions twice over, as well as in the countries of the two finalists, the USA and Japan.

The four games featuring the German team all gained average audiences of more than 14 million, with their final three matches attracting averages of over 16 million viewers nationwide – by far the highest audiences on record for FIFA Women's World Cup matches in Germany. An average audience of over 17 million people watched Germany bow out to Japan, representing nearly a quarter of the German population.

To put these figures into context, an average German audience of 15.5 million watched the recent Klitschko v. Haye World Championship boxing match in Hamburg, Germany, and an average of 14.8 million watched Germany v. Serbia at the 2010 FIFA World Cup South Africa™. The German audiences for the FIFA Women's World Cup are also the highest audiences for any sporting programme in the market since the final in 2010.

"These are solid figures on their own, but when you put them into context with other major sports events they emphatically underline that the FIFA Women's World Cup was an exceptionally popular spectacle for TV viewers," said FIFA TV Director Niclas Ericson.

In the USA, an average audience of over 14.1 million watched the final between the USA and Japan. ESPN delivered the large majority of the audience, reporting an average of close to 13.5 million and a peak audience during the penalty shoot-out of over 21.1 million. This is ESPN's highest-ever audience for a football match and ranks as the second-highest audience for a daytime telecast in US cable history (behind the 2011 Rose Bowl). These audiences were also over three times higher than the US average audience for the final round of golf's Open Championship on Sunday, as well as nearly 10% higher than the audience for baseball's All Star Game last week.

Newly crowned world champions Japan also achieved record audiences at home for the final despite the match airing in the early hours of Monday morning. An average audience of 10.4 million watched Japan beat the USA, while a peak audience of over 15 million witnessed the penalty shoot-out. This audience is more than three times higher than the previous record for a women's football match in Japan set by the semi-final last week, and it is more than 50% higher than the audience in Japan for the final of the 2010 FIFA World Cup South Africa. This also compares favourably to Japanese audiences for other major sporting events, including The Masters golf tournament.

In France, a record audience was set for the France v. USA match, with an average audience of over 2.3 million tuning in. This is more than double the previous record for a women's football match in the market, which had been set for the France v. England quarter-final earlier in the tournament. The audience in France peaked at nearly 3.3 million towards the end of the France v. USA match.



Japan honours Nadeshiko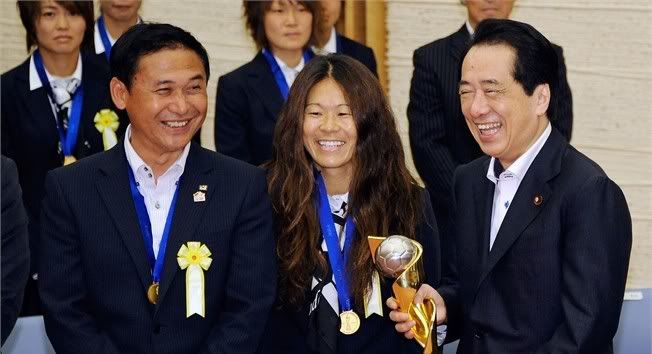 Japan's FIFA Women's World Cup™-winning footballers will be honoured as people's heroes, with the team receiving praise for helping to restore the nation's spirits after its massive quake-tsunami disaster.

The squad members, who last month won the 16-nation tournament, were named recipients of the "People's Honour Award", previously won by the likes of baseball home-run king Sadaharu Oh and legendary film director Akira Kurosawa.

Prime Minister Naoto Kan's government will decorate the team at a ceremony on 18 August after they beat two-time champions USA to win the first senior FIFA World Cup title for Asia.

The victory by the team, nicknamed Nadeshiko after a pink flower seen in Japan as a symbol of beauty, helped lift the country following the 11 March earthquake, tsunami and nuclear crisis.

"Nadeshiko Japan has given fresh inspiration to the people with its never-yielding, dedicated attitude," Yukio Edano, the Chief Cabinet Secretary of Prime Minister Kan, told reporters as he announced the awarding.

The award, created in 1977 to honour figures who have given "bright hope" to the people, has been presented to 18 individuals in the sporting and entertainment worlds, but never before to a group. The Nadeshiko upset holders and hosts Germany and swept aside Sweden on their way to a penalty shoot-out win in the Final two weeks ago.

Turnout at matches in Japan's long-ignored women's football league has since ballooned from an average 800 earlier in the season. A record 21,000 spectators flocked to a match on Sunday involving the table-topping INAC Kobe, led by Nadeshiko captain Homare Sawa who won the title of the FIFA Women's World Cup's most valuable player with a tournament-high five goals.

A market research firm has estimated the economic spin-off effects of the FIFA Women's World Cup victory at more than one trillion yen (USD13 billion), including sales of uniforms, accessories, books and other related goods.



Why Spain is absent from the [Women's] World Cup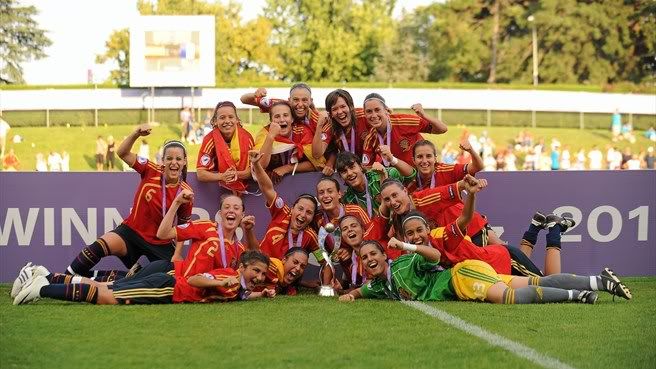 Catalan women play like Catalan men. I make this banal observation from the stands of the third annual seven-aside women's tournament in Sant Celoni, a short train ride from Barcelona.

Like everyone else outside Germany, people in Spain are only dimly aware of the Women's World Cup.

Even the women attending this tournament didn't have plans to watch the opening match. At least half this crowd will head from the pitch to Barcelona Pride. (The World Cup opener is also coordinated with Berlin's Gay and Lesbian Pride festival).

That people here would be indifferent makes sense: Spain's national women's team didn't come close to qualifying. They have never qualified for either the Olympics or the World Cup.This should give us pause. Not only are the men champions of everything, the top Spanish female athletes play in professional and semi-professional leagues alongside national team players who will be playing in the World Cup. They more than hold their on at the international level. Something is clearly wrong.

As I watch the Sant Celoni tournament, I'm constantly on my feet. The skill level at this recreational event on the edge of the Pyrenees is shocking in and of itself, but it also raised many questions for all that it implies about the quality of Spanish women players. Why aren't they in Germany right now? The mostly Catalan players in this tournament are completely unafraid to hold the ball, and show tremendous trust in each other. They pass the ball back into tight spots, to defenders who then coax it through a wall of attack.

Some have a zen-like calm, as if it never occurs to them they might lose possession. That has its own unnerving effect on opponents. You can break a team with that kind of self-confidence. It's seven-a-side, so it's a brutally fast game. The play is fluid – there is none of the blind, reactive play that comes from not having a plan. They know each other, pass and run into space and keep moving. And some of these women can score from any place on the pitch. (The level of the best players was described by the tournament organizers as a couple of steps down from Spain's top division.)

There is no missing Barcelona's influence. Or, perhaps it is more accurate to say that the men's club is, as they like to proclaim, mes que un club: they are the most perfect expression of the region's style and ethos. This is clearly just the way everybody in the region plays, and Barça's just figured out the perfect harvesting system.

Women and men do not play on separate planets. Most of us actually grow up playing with boys and a lot of us continue to play with men. All of the women's teams in the World Cup will have trained against men's teams.

For all the talk about how the two games are different, the players themselves are characterized more by what they share than what they don't. Look at the US: Who squeaks through qualifying matches? Who gives up a goal early and has to claw their way to a win, grabbing victory in the last seconds of the match? Who, at their best, earns respect around the world for their stamina and determination? Brazil's women play with rhythm, a fluid give-and-go game marked by sudden bursts of speed and lots of improvisation. It makes them very hard to predict. They force teams to devote many players to the exclusive work of containing a few. They are hard to beat without engaging the dreaded Catanaccio.

Then we get one of those horrible 1-0 victories that makes you want to kill yourself and throw away the television, just as happens in the men's game. That was the 2007 World Cup championship match between Germany and Brazil. (Sound familiar?) The women I watched in this tournament play an even more refined version of that "Latin" game. Just like their brothers. So why aren't the women champions of everything?

How on earth is it that a country that produces intensely talented players, players who hold their own in the best leagues in the world – How is it this team has not even qualified – ever – for the two most important tournaments in the game?

There is rarely a simple answer to this kind of question. This is one of those rare cases when there is. They have had the same manager for nearly thirty years. Ignacio Quereda. This must be one of the most devastating statements regarding a national association's indifference regarding its women's team. After three decades, such a spectacular record of failure can't be laid at his feet alone. This shame belongs to every person at the Real Federación Española de Fútbol. These people should be put in fútbol jail.

Not surprisingly, players have a lot to say about this situation - they must, because women players hoping for a cap almost never speak out. In a May interview with Nell Enriquez for Equalizer Soccer, the much lauded striker Laura del Rio did just that. She explained her absence from the Spain squad in very stark terms.

NE: Let's talk a bit about the Spaniard Women's National Team. You started in 39 caps and scored 40 goals while with them. What happened during that time?

Del Rio: Yes, that's correct. Being part of the team was a dream come true. Unfortunately things didn't work out with Ignacio Quereda, the manager of the team. He's been with the team for over 28 years. We don't see eye to eye on many things. I'm not the only one who is no longer part of the team due to this. There are many.

NE: Is there any way that you would go back?

Del Rio: Yes, for Quereda to leave the team.

I am not sure I've seen a more direct statement in the women's game. And there is the answer to our question.



Source 1 Source 2 Source 3

SMH at you, RFEF. SMDH.