Woman appointed to UEFA Executive Committee
By Andrew Warshaw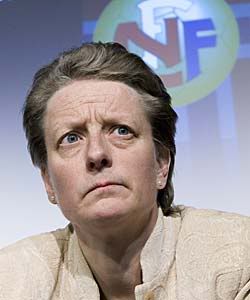 June 17 - European football's governing body broke new ground today when it appointed a woman as a member of its decision-making Executive Committee.

Within weeks of UEFA President Michael Platini announcing at the organisation's Congress in Paris that he wanted more female representation on board, Karen Espelund was made a member of the Executive Committee by invitation rather than election.

"We must a find a way to break the glass ceiling preventing women from reaching positions of responsibility within our organisations," Platini told delegates in Paris and has clearly acted fast.

The Norwegian is no stranger to positions of authority.

For 10 years she was general secretary of her country's federation and is already serving as head of UEFA Women's Football Committee.

One of the highest regarded female administrators in world football and an advocate of male/female quotas as a means of bringing about change, Espelund was not immediately available for comment but is expected to bring considerable gravitas and experience - and will not suffer fools gladly.

Nine years ago at the FIFA Congress in Seoul on the eve of the 2002 World Cup, FIFA President Sepp Blatter was under attack - not for the first time - following the collapse of ISL, FIFA's then marketing company.

Blatter ended up easily beating Issa Hayatou for the FIFA Presidency but not before Espelund famously took the stage and asked some straightforward questions to the man in charge of world football.

Source, UEFA press announcement

I'm happy this happened and this lady sounds like a total badass. Hopefully she can talk some sense into everyone else at UEFA...