I haven't seen this article posted yet. It's major TL;DR, but it's a fantastic article/good read before the game (and not just for the BFC fans either)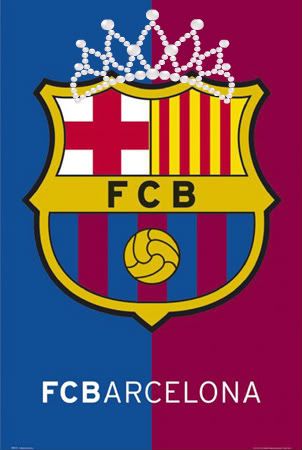 The Catalan Kings
The Management Secrets of Barcelona Football Club
Article from print issue May 21-27th, 2011

A POPULAR debate among football obsessives concerns whether Barcelona—Barça to its fans—is the best club soccer team the world has ever seen. Is it better than the Santos of the 1960s (which was home to Pelé)? Or the AC Milan of the 1990s? The answer is gloriously unclear. But Barça is surely the finest team in the world right now: the standard against which other ball-kickers must measure themselves. Consider the evidence.

Barça recently beat its old rivals, Real Madrid, to win the Spanish league. It boasts the best player in the world: Lionel Messi. It goes into the European Champions League final at Wembley on May 28th as the/ clear favourite (though it would be foolish to underestimate Manchester United).

Barça is also a cash machine. It is number two in Deloitte's league of the world's highest-grossing football clubs, behind Real Madrid; with revenues of €398m ($488m) in 2009-10 (Real Madrid earned €439m). It has doubled its revenues over the past four years. Last year Barça signed a five-year sponsorship deal with Qatar Sports Investment for a minimum of €165m, which would involve putting a commercial logo on the team's shirts for the first time. Barça and Real also have an advantage in that they receive a hugely disproportionate share of the revenues from televising La Liga, the Spanish premier league. That said, no one knows how profitable Barça is, nor how indebted.

How has a club that is based in one of Europe's unemployment blackspots turned itself into the ruling power in the world's most popular sport?

An obvious answer is that Barça plays as a team in a sport that has far too many prima donnas. It keeps the ball moving, dominates possession and keeps its opponents under constant pressure.

But there is a less obvious answer, too, and one that has implications beyond the football pitch. Barça has provided a distinctive solution to some of the most contentious problems in management theory.

What is the right balance between stars and the rest of mankind? Should you buy talent or grow your own? How can you harness the enthusiasm of consumers to promote your brand? And how do you combine the advantages of local roots and global reach?

Barça puts more emphasis than any other major team on growing its own players. Other football teams often resemble the United Nations—the Arsenal first eleven, for example, frequently includes just two native-born Britons. Barça, by contrast, is still dominated by local players, and Catalan is often spoken in the dressing room. Eight of the team's leading players are products of its football school, La Masia. That includes Mr Messi, an Argentine who moved to Barcelona as a boy, and the team's coach, Josep ("Pep") Guardiola.

La Masia is unique among football schools. It is a boarding school that puts as much emphasis on character-training as on footballing skills. The students are relentlessly instructed in the importance of team spirit, self-sacrifice and perseverance. They are also taught that Barça is "more than a club": it is the embodiment of Catalan pride that kept the region's spirit alive during the years when Spain groaned under the fascist Franco regime. Fans regularly sport banners proclaiming that "Catalonia is not Spain".

Barça has used the idea that it is "more than a club" to cultivate a two-way relationship with its fans. It is owned by its members (socis in Catalan), who now number 150,000, rather than by shareholders or foreign tycoons. The management is answerable to an assembly that consists of 2,500 randomly chosen socis and the 600 most senior members. The club supports many sports other than football and runs a popular museum in Barcelona. After a recent win more than a million people turned out to cheer.

Barça's management style chimes in with the thinking of two admired theorists. Boris Groysberg, of Harvard Business School, has warned that companies are too obsessed with hiring stars rather than developing teams. He conducted a fascinating study of successful Wall Street analysts who moved from one firm to another. He discovered that company-switching analysts saw an immediate decline in their performance. For all their swagger, it seems that their success depended as much on their co-workers as their innate talents. Jim Collins, the author of "Good to Great", argues that the secret of long-term corporate success lies in cultivating a distinctive set of values. For all the talk of diversity and globalisation, this usually means promoting from within and putting down deep local roots.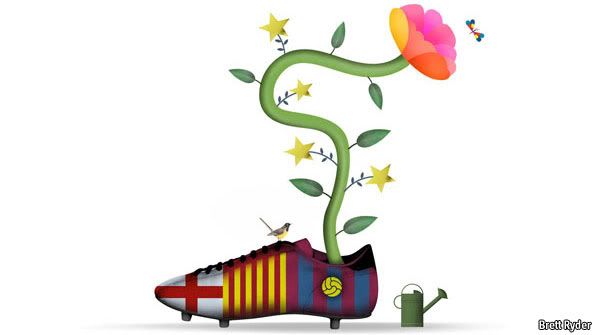 The beautiful name

Barça has also blazed a trail in nurturing its brand—a tough job in the internet age, when gossip is plentiful and trust is scarce. The proportion of brands that consumers trust fell from 52% in 1997 to 22% in 2008, according to Y&R, an advertising agency, and traditional forms of advertising are becoming less effective. To combat this problem, some firms try to involve consumers in developing their brands. Lego, a toy brickmaker, invites Lego-heads to its headquarters to work with its designers. Asda, a supermarket, invites regular shoppers to suggest what it should sell. But so far nobody has gone as far as Barça in giving customers a direct say in big decisions.

Barça has made its share of mistakes. The team's attempt to widen its recruitment net by setting up a soccer academy in Argentina has been abandoned. Traditionalists worry that it is selling its Catalan soul in pursuit of slick commercial deals. And soccer is an unpredictable business. The team went through a bad patch in the early 2000s; another slump could see its fickle foreign fans disappear or, worse, switch their allegiance to Chelsea. That might cause Barça's revenues to plunge. But for the moment the club is on the top of the world: an example not just of sporting prowess but of smart management.


On homegrown talent: I'm an LFC fan to heart. I began supporting Liverpool not out of heritage (I'm a foreigner) but out of choice. Initially, the importance of homegrown players never occurred to me. I thought the diversity (at least for me) made the team more international, thus making it easier for me, coming all the way from the Philippines, to identify and support an English football club. Arguments against increasingly internationalized football clubs had been downplayed by the understated explanation that globalization was simply running its course. That was until the recent World Cup's top performers, Germany and Spain, showcased the effectiveness of developing and employing homegrown talent in the club sport, instead of just throwing excessive money at an indulgent system. The past two years of professional football has made me more excited about Liverpool's future, especially since recent recruits from the club's academy have proven that, sometimes, we don't have to look very far to find our strengths.

Thoughts?

Original article and source for second picture