"I love the club. I feel at home here." — Petr Cech


It's our flawless, flawless goalkeeper's 29th birthday tomorrow, and he's just won Chelsea's Player of the Year at the end-of-season awards gala, deservedly. This man has amazing goalkeeping skills & a heart of gold!!~ LOVE HIM, so a spam to follow!


Flawless King with this deserved trophy!~~~~






A gif from the latest Adidas all in Chelsea advert, which Lampard and Cech look swaggertastic in!



<3! <3 ! <3!

Speaking of being ALL IN, whenever I'm down, I stroll over to Stamford Bridge even if there isn't a match on, just to cheer myself up, and:


Flawless photo choice, but they needed to train not to bung a bin in front of King Petr, lol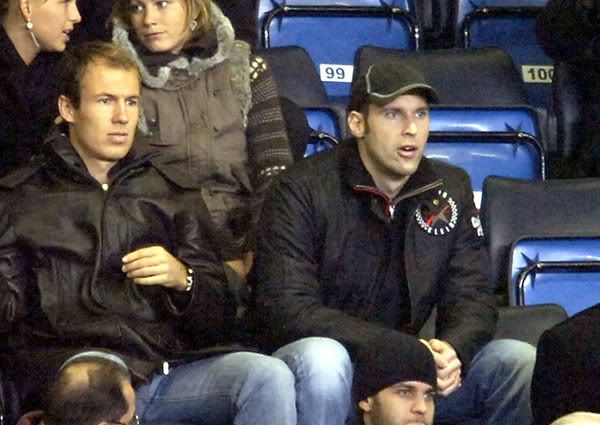 with Arjen jfdfhfhkdsfds;fjds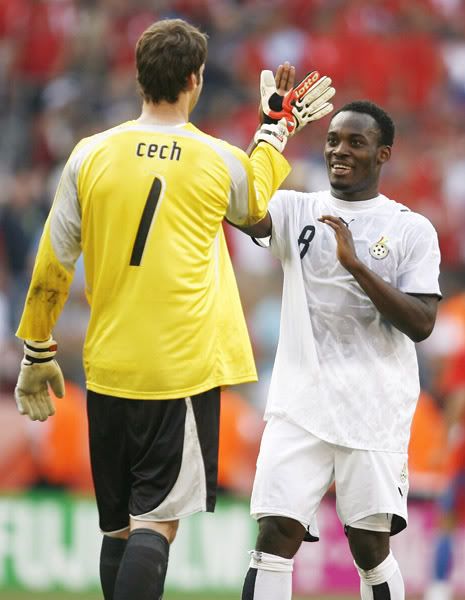 Absolutely flawless photo from the 2006 World Cup <3 <3 <3


Not gonna lie I absolutely ADORE the fraternity that Chelseabung has, it's so unforced and true. We may have some high-paid players, but you can't buy team spirit, and we have that in bucketloads.


Speaking of which...


Fernando was quick to become BFFs with Petr only shortly after joining Chelsea. Because our goalkeeper is just too lovely.

Here he is with the other January Chelsea signing: -



With his beautiful wife!



We need2training.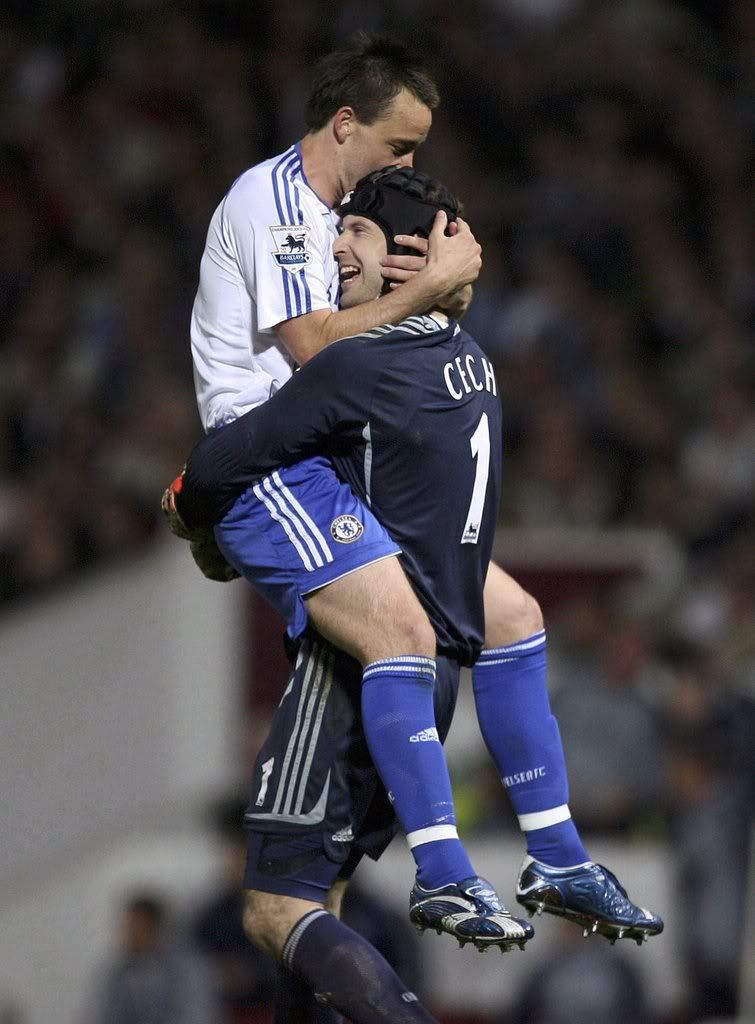 Sooooo lovely! My reaction to this:



There is genuinely little more in the world that makes me prouder than watching Cech save penalties. One of his most important penalty saves was inthe FA Cup final last season agaisnt Portsmouth. The game was in the balance at 0-0 when he saved that pen, from which Chelsea, buoyed, scored soon after. Have I said how amazing I think this flawless man is?!

Speaking of penalty saves, here are two that he saved in the Communtiy Shield win over Manchester United. FromThe Guardian, which, you may have noticed by now, is kind of my go-to place for footie shiz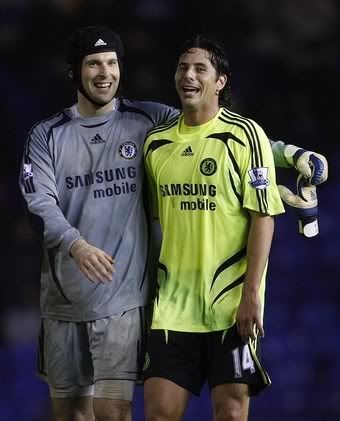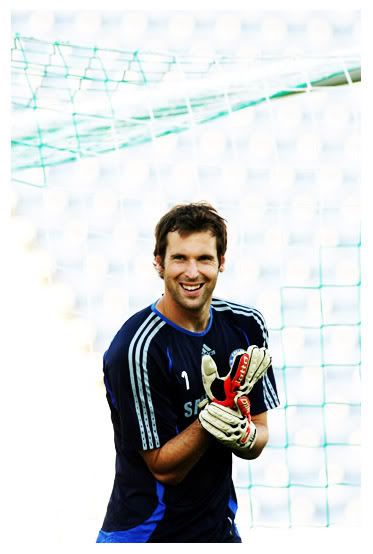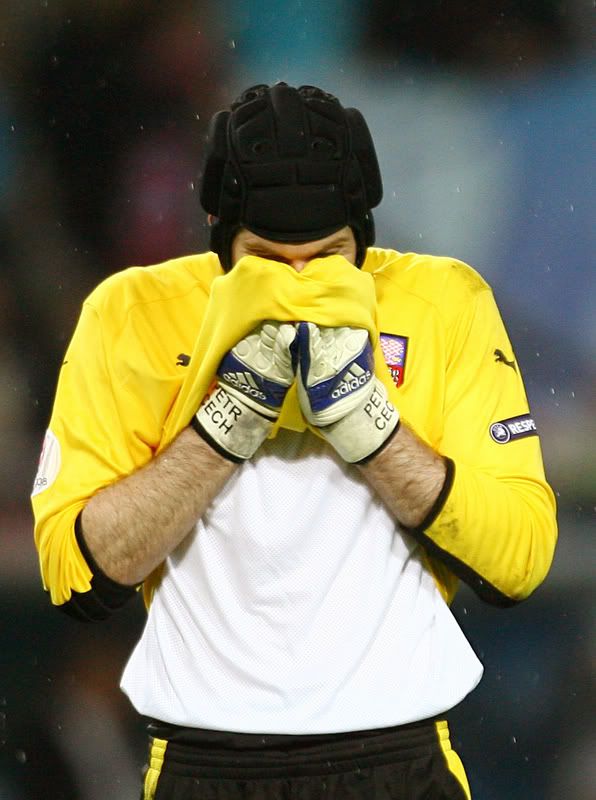 These three men are worth a gazillion bucks.




More Chelseabung love on international duty!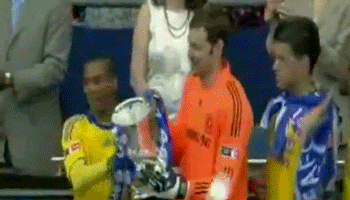 Lifting the FA Cup 2 seasons ago! :D




I love JT & Petr together, Pete's the only dude in our squad who makes JT (who stands tall at six three) short, hahaha


Mr Cech has been given a fair share of bold-coloured kits over the years....



AAAAAAAAAAAAAAAAAAAAAAHHHHHHHHHHHHHHHHHHHH!!!!!!!~~~~~


And finally...

With another goalkeeper who is having his birthday tomorrow!~~~

Also, I was thinking about my XI of the season, and Petr would be my goalkeeper! The pinnacle of his epic this season was this: --



It was the West London derby on Valentine's Day (a date I shall always remember because I was hung up over this boy who I'd chilled with two days before; I measure my love life through football matches, trolololol. He needs to pray), Torres weren't scoring and this match had 0-0 written all over it. Then, David Luiz conceded a penalty in the last minute and I was distraught. Petr managed to save Clint Dempsey's penalty though, so at least we salvaged a point. If you watch the gif, you see Cech flails a bit before Dempsey takes his penalty, before finally guessing right. Oh, god. Words cannot describe how much I love this man, he is the closest thing to flawless I have ever seen: outstanding goalkeeper, intelligent man, perfect husband, doting daddy. I LOVE HIM. Did you know he's never been drunk??!?!?! I love him so much, ksdfjjf!!! He nevar needs to train! (I know it's the consensus on here that "TROLOLOLOL Chelsea, piece of shit club with no history, all their players need slapping", but how anyone can dislike Cech is beyond me. He's a RL angel.

So following from that, I was wondering who you ladies/lads would have in your team of the season?

If anyone remembers Totenham vs Manchester United in the league this season (it was on the same day as the 2-2 Merseyside derby), you may remember that both the Serb and the Croat were Man of the Match for their teams. That proved a pretty good representation of the two's seasons, which have both been boss. Other good performers include Tevez, who despite being out with injury, is joint lead top scorer, and scored two AMAZE goals on Tuesday night, Vinnie Kompany, who is a brilliant defender & captain in Tevez's absence, Ashley Cole, who is probably Chelsea's most consistent perfomer (that blip against Sunderland notwithstanding), and despite his diminuitive figure, a very very imposing defender, and Jack Wilshere, who has truly established himself on the big platform and an exciting prospect for England. Right-back was my most :/-inducing pick, I genuinely can't think of any spectacular performers in that position this season.



What's your team of the season, y'all?~~