From one Ivorian to another. Last year, Drogba scored the winner for Chelsea in the FA Cup final. Today, Man City won the FA Cup final thanks to a goal from another Ivorian, the man who scored the winner in the semi-final, Yaya Toure! Some celebratory pics and a qt article from The Guardian's long-suffering Manchester City fan, Simon Hattenstone.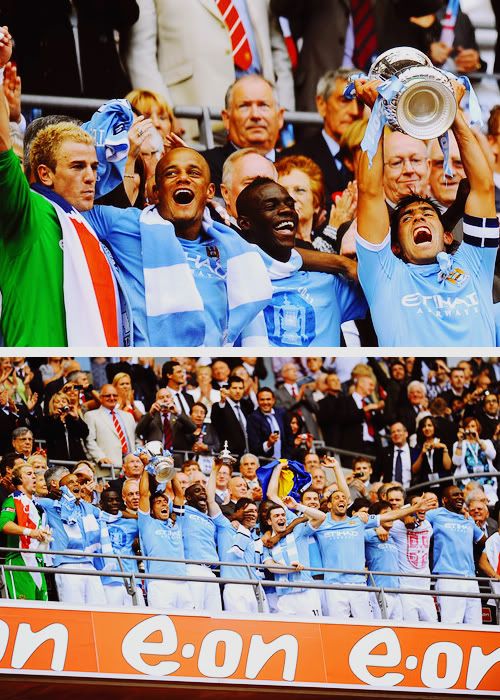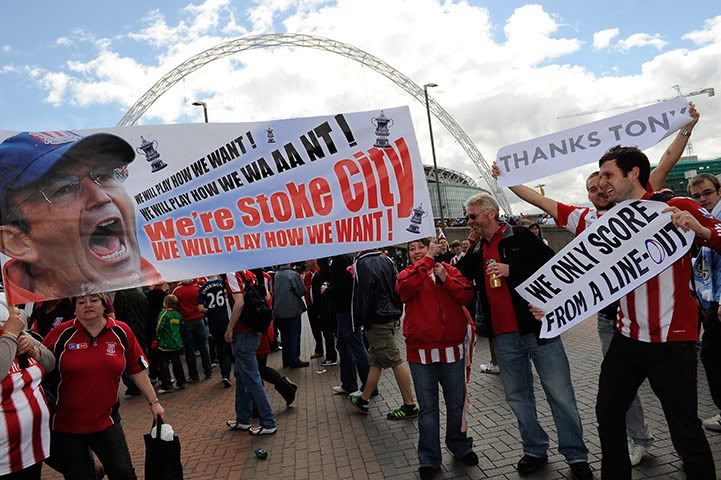 Stoke fans before the match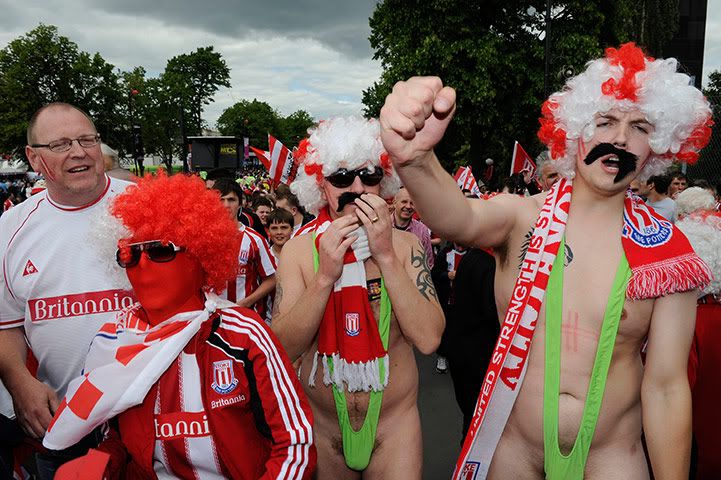 Not enough do not want in the world!!!!!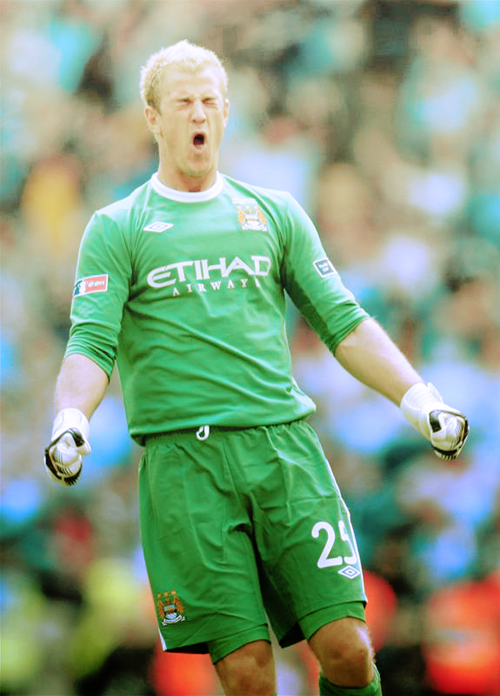 Joe Hart is a dish and a boss goalkeeper (he made one brilliant interception to prevent it going 1-0 to Stoke)



Also, after the game, the interviewer asked "so I guess United have to take the banner down now?" and Joe Hart was like "I really couldn't care less what they do at Old Trafford." That is Nadine Coyle-levels of sass, and I love him for it! England's number 1!



Here's City's counter to that banner, haha.



Kate Middleton, eat your heart out! THERE'S your train!~~~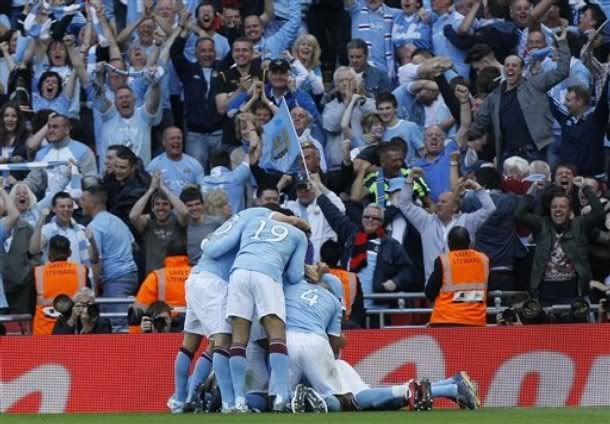 <3 Not a City fan by any means, but I can't help but love Adam Johnson & Joe Hart (for the England), Vincent Kompany (who I believe should have captained, but whatever), Yaya and Kolo Toure (for being from the Ivory Coast).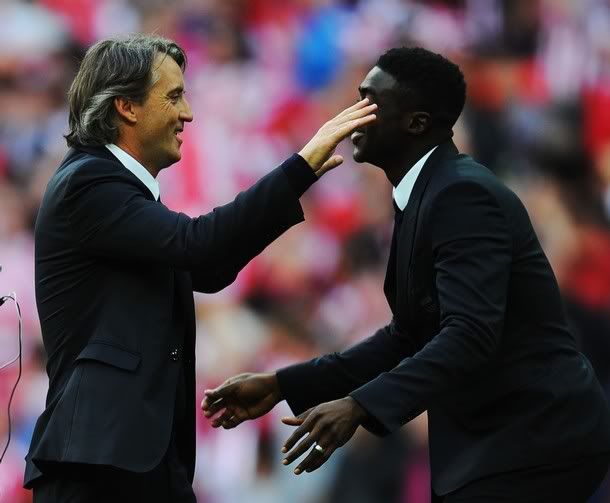 Speaking of Kolo Toure, he didn't play today, due to the drug test failure thing, but he was there to watch his brother score!



Noel Liam Gallagher is a massive City supporter (hence the really clumsy cut text. I do like my musical references, sorry, I need2train), so obviously he was gonna be at Wembley today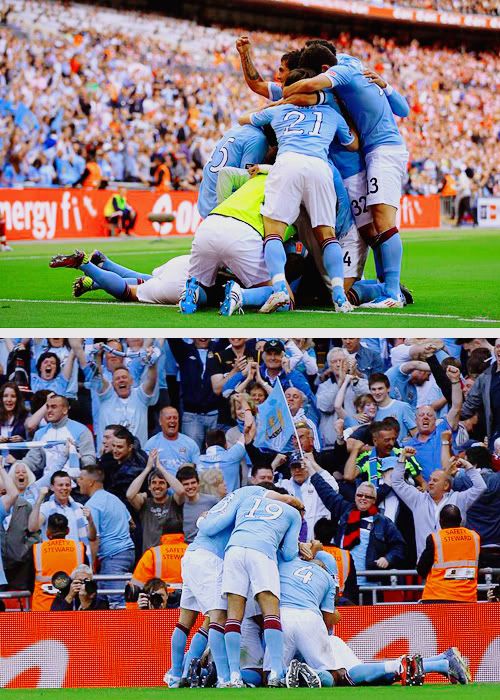 Lovely! Graphics were from tumblr btw. There's your crediting ;)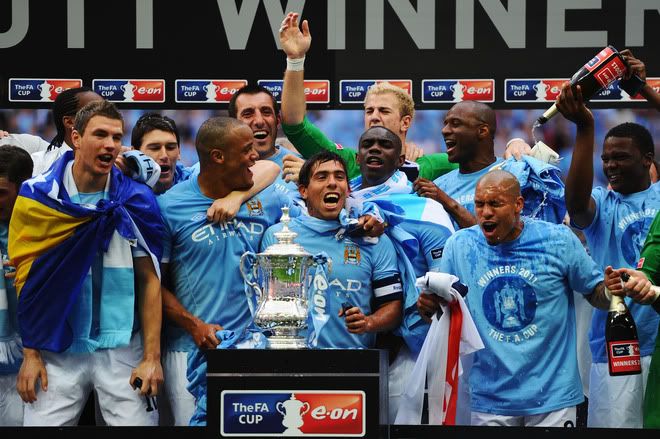 oh, by the way, Micah Richards said fuck and Mario Balotelli said shit in their post-match interviews. It was gold.

I'm made up for City! I can't hate a team just for coming into money, plus I think the majority of their fans are true and have been through so much shit for their team, so it's brilliant that after such a long, long wait, they won something. Congrats City :) :)

However, the jubulation on the part of City fans is better summarised by an actual City fan, Simon Hattentone:

After 35 years of hurt, Manchester City fans are ready to sing and cry
Even the recent crass spending could not diminish the meaning of a cup win to us long-suffering supporters


Simon Hattenstone The Guardian
February 28, 1976. What a day. I'd been a Manchester City fan for three years and we finally had a chance of winning a cup. I'd had to wait a lifetime since the previous final – two years in fact, 1974, which we lost to Wolves. If winning was going to be such a headache, football this painful, I wasn't sure I wanted anything to do with it. The irony was that just before I'd started supporting City we couldn't stop winning – five trophies in three years. Typical, they stamp my season ticket (it wasn't cheap – £10 for a junior in the North Stand) then stop playing.

Dad and I went down to Wembley on the Pullman. Special treat for a special occasion. Everything about it was perfect. We won 2-1, and our wingers ran riot. Peter Barnes scored the first, Dennis Tueart followed up with the greatest overhead kick ever, and Dave Watson wore the trophy on his head. Yes, it was only the League Cup, and Dad missed both goals because he was lighting up, but these were quibbles. We didn't even get beaten up when he asked a bunch of Newcastle fans if they thought it was a fair result on the way out.

I'd broken my trophy duck, and settled back for the FA Cups that were bound to follow. But they never did. Nothing, nowt, niente, nada (words I didn't need to know because we hardly ever qualified for Europe after that). We almost won the old First Division the following year, but blew it – what made it particularly unbearable was that my hero, Dave Watson, who had patted my head at the town hall when the victory bus came home in 1976, scored an own goal against Liverpool that cost us the title.

After that things went downhill. We spent crazy money on mediocrities (£1.4m for Wolves' Steve Daley), Malcolm Allison returned as Chairman Mao and stood all the established players against the wall and had them shot or transferred, David Pleat pranced across the Maine Road pitch in a beige suit as Luton were saved and we were relegated in 1983. And down we went – down, down, deeper and down as Status Quo put it.

When I started out, United were in the Second Division, and City were the kings of Manchester. That lasted all of one season. The more relegations we suffered, the more trophies United won. In the 25 years Sir Alex Ferguson has been at United, we have been through 18 managers, if you include Tony Book twice – for a week in 1989, and a day in 1993.

I can't remember when the song first started. Let's say two decades ago. "Fifteen years and we're still here … 15 years and we're still here," sung to the tune of Tom Hark by the Piranhas. It was directed at more successful clubs, primarily the enemy from Old Trafford. It was a song of solidarity and stoicism. Who needed success when we had City? Nothing would drive us away. This year we have been singing the latest version of the song: "Thirty-five years and we're still here." There is a banner they unfurl across Old Trafford every home match to commemorate the number of years we've not won a trophy. Whatever. Thirty-five is a cruel number – the number of years without a trophy, the number United have won under Fergie. But all will change today.

City became a joke team. Fans of other teams loved us, but it was all a bit lovable-losers patronising – we were told we had a great sense of humour, and that deep down we didn't want to win.

That was nonsense, but it is fair to say we compensated for our failings. We carried huge inflatable bananas in the 1980s and wore fancy dress. Who needed success? While United chanted the names of Beckham or Cantona or Ronaldo or whoever was the hero of the day, we embraced the past and sang: "No1 is Colin Bell, No2 is Colin Bell, No3 is Colin Bell, and No4 is Bell as well", to the tune of Yellow Submarine. All the way to the subs, in memory of the midfield general who could have been England's greatest if his career hadn't been destroyed by Manchester United captain Martin Buchan's "tackle". We anaesthetised ourselves in song, and celebrated our uselessness. "We always lose at home, and we always lose away, we lost last week and we lost today, we don't give a fuck cos we're all pissed up, MCFC OK."

In 1998 we suffered the indignity of going down to the third tier. That's when we started singing songs of denial. "We are not we're not really here, we are not we're not really here, just like the fans of the invisible man, we're not really here." The stories behind the origin of the song vary – some claim it originated at Millwall when there was a ban on away fans, some say it was sung to the police after fans trashed an Irish bar, others say it was simply wish fulfilment – we didn't believe we could be here, we didn't want to be, so we told ourselves we weren't.

There were great days – albeit few and far between, and even then they tended to be born out of failure or result in failure. In 1981, Paul Power scored the greatest FA Cup semi-final goal to beat Ipswich and send us to Wembley (OK, it was his greatest semi-final goal). We then hammered Spurs 1-1 with Tommy Hutchison, who never scored headers, netting two – unfortunately, one was an own goal. This was followed by the greatest Cup final ever, in which Steve MacKenzie scored the finest volley to grace Wembley. Unfortunately, it was overshadowed by Ricky Villa's winning goal for Spurs, a half-hearted dribble voted the best goal scored in an FA Cup final. In 1986 we very nearly won another trophy, before going on to lose the Full Members Cup 5-4 to Chelsea.

My greatest day at Wembley, and probably as a City fan, was in 1999 when we came from two goals down to beat Gillingham on penalties and secure promotion back to the second tier via the play-offs. Most of us thought if we didn't win that game we were done for. Even the most optimistic couldn't see a way back. At the final whistle the captain, Andy Morrison, brought his team over to bow to us.

That season United went into the record books, winning the treble. But we didn't care. We sang: "you can stick your flipping treble up your bottom", or something like that. It's not that we were jealous, just that it was meaningless to us. We had won the most important trophy of our lives – for many of us, the only one – the play-off cup. Since then the playing field has gradually levelled. After 12 years without a victory over United we beat them 3-1 in 2002. In 2007, we did the double over United for the first time in 40 years – Sven lasted only one season but he wrote himself into history.

My faith has been tested in recent years. Not because I was sick of losing but because I thought we'd sacrificed our principles in the search for success. When we allowed the human rights abuser Thaksin Shinawatra to buy the club I wanted out. When Thaksin was then bought out by Abu Dhabi's Sheikh Mansour bin Zayed Al Nahyan and flaunted our riches like Harry Enfield's Loadsamoney I wanted out again. We were becoming a bunch of mercenaries buying success at any price, paying absurd prices for strikers who couldn't score, telling anybody who'd listen that we were the richest club in the world, singing to the opposition that "we're going to buy your ground and burn it down", bullying our way into the Champions League and being despised by fans in the way that Chelsea had been before us.

But blood is thicker than principle when it comes to football. Could I walk away from my team after all these years? No way. Your team is your team is your team, however much it embarrasses or shames you. Anyway, it's not as if United haven't bought success.

Was I desperate to win a trophy whatever the price? Of course. Was there a grotesque chasm between what I preached and what I practised? You bet. That's football.

So today we could win our first trophy in 35 years. For many fans in their forties, like me, it wouldn't simply be our victory. As my friend BriceyG says: "It's for the older generations who were probably priced out of the game 15 to 20 years ago, old season-ticket holders who will be watching on telly. I think of my dad and your dad watching on the big screen in blue heaven with Frank Swift and Frank Sidebottom. I think of Neil Young playing footy with the kids till six months before he died, still a City fan, as Manc as you can get, his name written in stone because he scored the winner in 1969." BriceyG says he's woken up in a cold sweat at 4am every day this week after nightmares of Aleksandar Kolarov being skinned by Stoke's Jermaine Pennant, but he's not letting it get him down. "One thing we know for sure is that when the game is over, whoever wins the Cup, City fans will be singing and crying."

Meanwhile, United continue to patronise us. Fergie calls us "noisy neighbours" and suggests we don't have the right to dine at the top table with them. United fans still dismiss us as a small club, despite the fact Maine Road was their home for eight years after Old Trafford was bombed in 1941 and City hold the record for the largest crowd at an English club game outside London (84,569 in 1934 – against Stoke, in the FA Cup as it happens).

Even now they seem determined to put a damper on things. Not only is there a Premier League programme on FA Cup final day (call me a conspiracy theorist ...), but by the time we get out on the pitch they might well already be crowned Premier League champions. Do we care? Do we buggery. So long as we can turn our back on the pitch to jig a victory Poznan (City fans always acknowledge a debt – this one is to the Polish team who introduced us to the up-and-down-back-to-front dance) we'll be in ecstasies. Yes, there are echoes of 1968 when we won the old First Division title and United went on to win the European Cup two weeks later, but so what? This will mean more to us than a cabinetful of trophies could mean to them.

When City beat United in the semi-final we laid a ghost. If we beat Stoke today we will bury an even bigger one. This is our moment. And after so long, fingers and toes crossed, victory will never again be so sweet. OK, we'll have to invent a new song, but "Thirty-six years and we're still here" doesn't have much of a ring to it, and I never liked the tune anyway.

sauce
This is such a sweet article, which perfectly encapsulates the rollercoaster ride that comes from being an ardent football fan. City fans have had to suffer more shit than most, so this win will feel even more sweeter for them. :) From the alacrity at which this was bunged up on the Guardian's website after the match makes me strongly suspect that Hattenstone had written two articles, one if they won and one if they lost. But I'm glad he got to whip out this article. :)



City's gonna City~~~~ :)