No Crouchie-ccentric ontd_fb entry from your's truly in two months???!?! I need to train.

Some photos of Crouchie out with his bb daughter Sophia Ruby (beautiful name, I love it!), and a little something something about Arbeloa's plans to catch his ex-Liverpool teammate Crouchie out: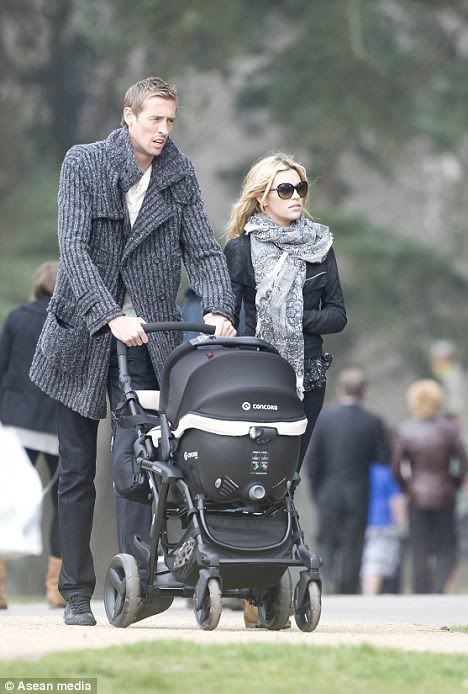 lol awww. But that coat is minging.


Alvaro Arbeloa hopes to keep firm grip on Tottenham's Peter Crouch
The Real Madrid defender's PlayStation alter ego is the Spurs striker, but now he has to face him for real in the Champions League quarter-finals

by Sid Lowe
When Alvaro Arbeloa, left, takes on his Spain team-mates on PlayStation he always plays as England and always sticks the Tottenham Hotspur striker Peter Crouch on up front.

When the final whistle blows on Tottenham Hotspur's visit to the Bernabéu on Tuesday night, Alvaro Arbeloa will head straight for Peter Crouch and ask his former Liverpool team-mate to swap shirts. When the final whistle blows on Real Madrid's visit to White Hart Lane eight nights later, he will do the same. One Crouch shirt is not enough: Arbeloa is after two.

It is not because they are friends – Arbeloa describes Crouch as a "fenómeno" but he says that he has not spoken to him since the Champions League quarter-final draw – it is because he needs it. And because Raúl Albiol does too. When the world champions meet, it is not unusual to find two white England shirts among Spanish red and blue, cheering on Inglaterra. Who says England played no part in South Africa?

"During the World Cup we were on the PlayStation constantly," Arbeloa smiles. "It was always el Chori [Raúl Albiol] and me against Sergio Ramos and Jesús Navas. They were Spain, we were England and it got pretty intense. We always put Crouch up front – and he scored loads. We bought ourselves England shirts. You'd be there in the Spain hotel and there were two guys in white, "Gerrard" and "Crouch" on the back.

"Spurs might not be as famous as Chelsea or Manchester United but they will be very dangerous," he continues. "I wasn't pleased with the draw because it was easy but because I wanted to play in England. And when I saw Spurs, I said to el Chori: 'we're going to get Crouch shirts, so we can play in them – real ones, this time'. It'll be a bit big on me, but still ..."

First, though, Arbeloa's side must stop his alter ego. The Tottenham striker has scored only two league goals this season but it is different in Europe, where he has seven in nine games. In total, he has scored 28 in 55 European games. He also has 22 in 42 England matches. Then there's the ability to bring others into the game: he has provided three Champions League assists.

"Maybe in England they're more used to players like Crouch," Arbeloa says. "Players who are tall, strong, good in the air. England is much tougher, physically. They know how to deal with players like Crouch. In Europe, it is harder to face him: centre-backs don't like it – that could be an explanation for the difference.

"We believe we're ready for that because we have players who are strong in the air and Ricardo Carvalho has played in England but we can't play to Crouch's strengths. We have to push the defensive line as high as possible, to keep him away from the area. He's tall but not that quick. We can risk giving him space in behind but we can't risk him receiving in our penalty area: that's where he causes problems, with knockdowns, second balls and headers.

"Spurs suit him. They are a side that are characterised by the width and speed, and deliveries into him – [Aaron] Lennon and [Gareth] Bale are the key, although I also admire [Luka] Modric and [Rafael] van der Vaart, who I think would have played a big part if he had stayed here. And yet, they have alternatives too. You think about Crouch and then they go and play [Jermain] Defoe, which completely changes their approach. Spurs are a team with many faces."

They are a team that Van der Vaart famously said plays with freedom because Harry Redknapp does not "bore" players with "tactics". Arbeloa, who worked with the ultimate tactician in Rafa Benítez, laughs. "Well, it's not good to bore anyone with anything. If a coach is pesado [heavy going] a player can tie himself up and doesn't have the freedom to play. What I see is a Spurs team that's open, happy, exciting – that will play and let play.

"But," Arbeloa adds, "I think that's been exaggerated. I'm sure they work on tactics. Besides, I heard Harry say they will be more defensive against us here. They know, like we do, that the order of the matches conditions everything. With the second game away, we're the ones obliged to go for it. Against Lyon we protected ourselves in the first leg; now, we have to get a lead. We don't want to have to go to White Hart Lane needing to rescue the tie."

sauce

I thought that was too cute not to share, really! =) Glad someone appreciates Crouchie's goal threat because Capello certainly doesn't, grrrr It's safe to say I'm pumped for this game in the CL next week! But shatting self over the one that actually involves my own team, hardy har.