My adopted nation, Ireland beat Macedonia yesterday!~~ it was a great game actually, especially the first half, where all three goals of the game occured. Ireland were lucky because the Macedonia goalkeeper Edin Nuredinoski had an absolute MARE, to which Aiden McGeady, in the second minute, then Robbie Keane in the 21st, took advantage of. Macedonia got themselves back into the game just before the end of the first half was a gorgeous goal from Trickovski and they looked a lot stronger in the second half, asking questions of Ireland's defence, without actually scoring an equaliser, meaning it finished 2-1. Photototototos and tings.



Spartak Moscow's Aiden McGeady celebrating his opener with Man Utd's Darren Gibson. McGeady has got to be like, the oldest 24-year-old I've ever seen.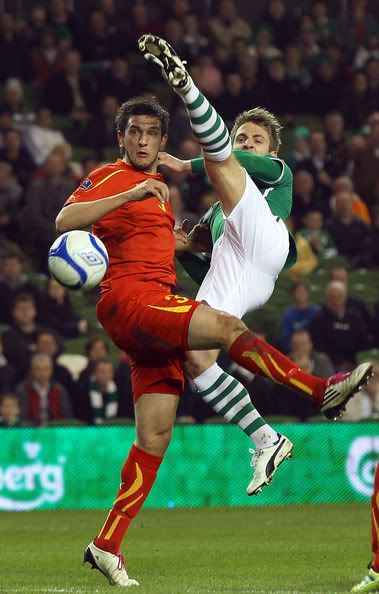 Bad news for Wolves bb Kevin Doyle, he limped off after 18 minutes for Shane Long with a knee injury =( Get better soon bb!~ (if you're wondering why the Macedonia player looks so familiar, that's cos it's Goran Popov. You know, the guy who Mario Balotelli kung-fu kicked.)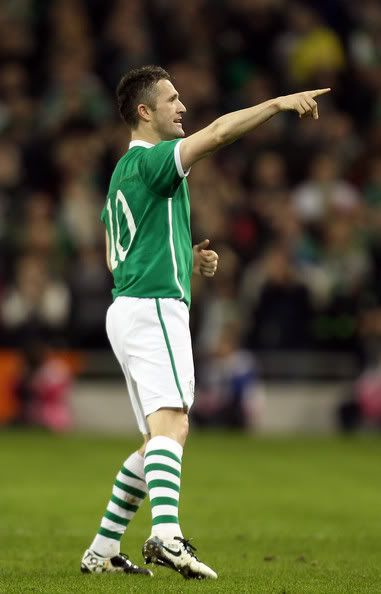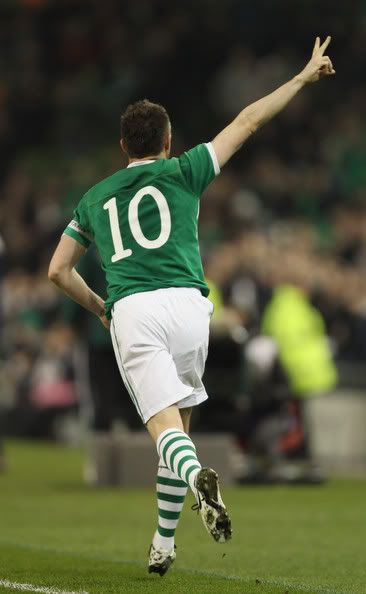 Robbie Keane scored roughly half-way through the second half, pouncing on an awful mistake from the Macedonia goalkeeper. Keane has now scored as many goals for ROI as David Villa has for Spain. Good man.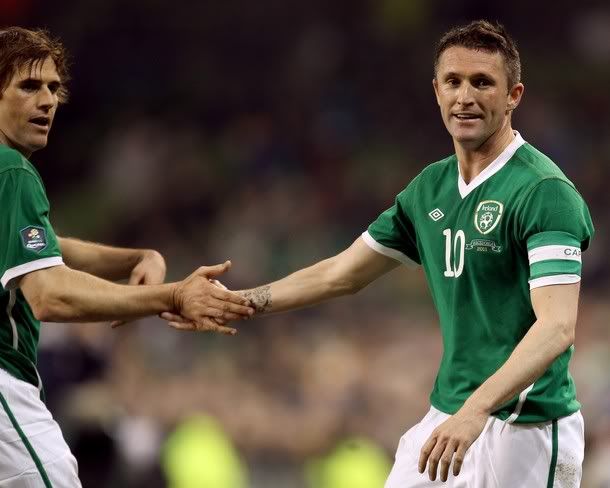 dawwwwwwwwwwwwww. Kevin Kilbane did indeed get his 109th cap, meaning he's just one cap away from tbeing the joint most-capped Irish footballer! (along with Shay Given). What a man! Throughout the game, I was tweeting for the trololololols how he was the "second best left-back in the world after Ashley Cole" but I deleted the tweets straight after because even for the lulz, they're somewhat hard to conceive, lol. But I love that Jim Carey lookalike, he's the best shit footballer there is, with a heart of gold <3

Macedonia pulled one back seconds before the end of the second half, Pandev showed what a class player he is by passing to Trickovski, who turned Richard Dunne (...) to score. Twas a good goal, I can't lie, Richard Dunne needs to train to be a) faster and b) not so easily fooled by fancy footwork, but, seeing as he holds the premier league record for most own-goals scored (even more than Jamie Carragher, oh my!), I'm sure he doesn't need me to tell him that. ;p



Shane Long is an absolute trouper, he played on when Boban Grncarov's foot caught his head. I really think the Macedonia player should've been sent off, it was such a horrid challenge (srsly worse than De Jong's on Alonso, worse than Balotelli's on Popov) but, Long just got his head bandaged up and got on with it. So much more than a yellow though. SMH.

Captain Robbie Keane was subbed off near the end for Wigan's Scottish-born James McCarthy:-


It was his debut. McCarthy is younger than me!! Bless~~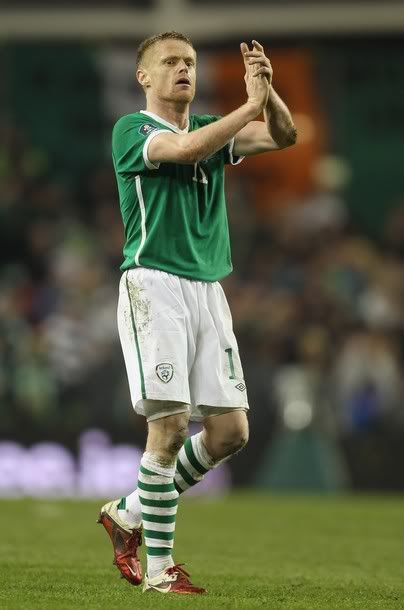 Damien Duff, who, along with Eidur Gudjohnsen, seems to be on a voyage to play for every team in West London. ;) Speaking of which, he had a loltastic ~Drogba moment during the game when he was rolling around the floor dramatically. He's trained well. ;)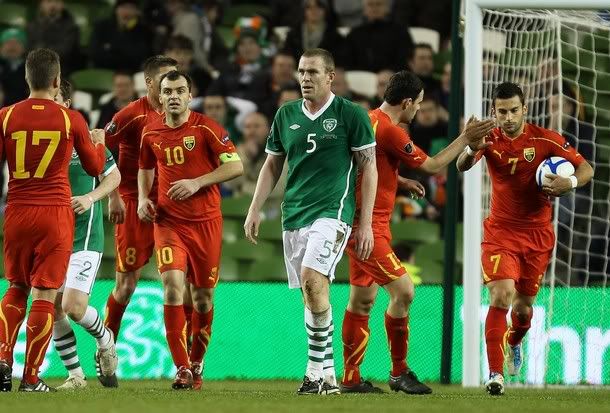 Despite being somewhat at fault for the goal Macedonia scored, Dunne was solid in the second half. And I do love him. He's my favourite Richard! probably ;)

pic sauce & other

It was pretty even game I thought, Ireland were just very lucky that their goalkeeper was in form and Macedonia's, Nuredoniski, was total fail. He was at fault for both goals Ireland scored, whereas Coventry City's Kieren Westwood, deputising for the injured Shay Given, made several good saves. So, despite Macedonia's best efforts in the second half, Ireland clung on to a win, which, thanks to results elsewhere (like Russia's draw with Armenia earlier that day), Ireland are joint top of group B:-


Good bung, though they need to train to play a bit better than they did yesterday if they want to go the distance tbh.

Keane urges disciplinary re-think after Dunne's suspension denies Irish of defender for Macedonia clash By Sportsmail Reporter

Skipper Robbie Keane has called for an overhaul of the disciplinary system which will deprive Republic of Ireland of key defender Richard Dunne for their trip to Macedonia in June.

The 31-year-old picked up his second booking of the Euro 2012 qualifying campaign in last night's 2-1 victory over the Macedonians at the Aviva Stadium and will therefore sit out the return in Skopje.

But Keane insists it is unreasonable to expect defenders not to incur two cautions over the course of 10 group games.

He said: 'That rule (two yellow cards) has to change. The chance of defenders getting yellow cards, it's going to happen, 100 per cent they are going to get two yellow cards in 10 games.

'It's ridiculous, they need to change that rule. It's a shame that Richard is going to be missing, he's a massive, massive player for us.

'Hopefully we get people like John O'Shea back fit and Shay Given, the experienced players. Hopefully they will be fit in June. But Richard is a big loss, obviously.'

Dunne was one of six men, three from either side, to be yellow-carded by Hungarian official Istvan Vad, although there was astonishment within the Irish camp that Macedonia defender Boban Grncharov did not see red for an horrendous 49th-minute challenge on Shane Long.

Grncharov took full retribution for an earlier run-in when he caught Long with his studs in the side of the head as the striker jumped to meet a high ball, leaving him with wounds which required three stitches.

Keane said: 'It was an horrific tackle and certainly a red card, there's no question.

'The referee was only 10 yards away from it, and to give [keeper Keiren] Westwood a yellow card for time-wasting two minutes into the second half and then give the fella a yellow card for that tackle just doesn't make sense.'

Meanwhile James McCarthy emerged from his senior debut for the Republic of Ireland delighted to have finally ended the debate over his allegiance.

The 20-year-old Wigan midfielder was introduced as an 87th-minute replacement for skipper Robbie Keane in last night's 2-1 Euro 2012 qualifier victory over Macedonia to formally confirm himself as an Ireland international and end Scotland's hopes of persuading him to change his mind.

Glasgow-born McCarthy has spent the last few weeks at the centre of a debate over whether or not his mind was firmly made up following his withdrawal from Giovanni Trapattoni's squad for last month's Carling Nations Cup clash with Wales.

Club boss Roberto Martinez further muddied the waters last week when he suggested that there could yet be room for manoeuvre, although the player was quick on his arrival in Dublin to insist that the country of his heritage rather than that of his birth had won out.

McCarthy said: 'I'm delighted to make my debut. The fans were great with me. There was nothing in the stories that came about. Hopefully I can get many more caps.

'It's been different class. The boys have made me really welcome. It's just great to be amongst it and get some game-time under my belt.' sauce
Hmm, it's impossible for me to comment on this without sounding like a filthy hypocrite with double-standards (I agree with Keane because I was Dunne to play in the upcoming game, but I'm more than happy for Rooney to miss his next game. trolololol I need to train.) So um, I'll just ask for your opinions on this. Do you think two yellows = suspension is a bit harsh, and that it should be raised to three or four? Or do you think it's a good idea because it prevents rash tackles, dissent etc?


In other Ireland news, just as Capello released the quintet of JT, Lamps, Ashley Cole, Wayne Rooney and Michael Dawson for the friendly against Ghana on Tuesday, Trapatonni has released a fivesome of Robbie Keane, Richard Dunne, Damien Duff, Kevin Kilbane and Kevin Doyle for their friendly against Uruguay on Tuesday. [sauce] Seems sensible to me, tbh, that game can give a chance for Ireland's fringe players to show what they've got!