You're my man! Capello chooses Captain Terry to lead England as Rio seethes

sauce
Fabio Capello has confirmed John Terry has served his punishment and is ready to be restored as England's 'permanent' captain.

Manager Capello will travel to Manchester to break the news to United defender Rio Ferdinand, following Sportsmail's revelation on Saturday.

Officially, Capello is still considering the position and will wait to make a formal announcement until the eve of the match against Wales on March 26.

You're the one for me! Capello has chosen Terry over Ferdinand as England captain

He will not tell Ferdinand he has lost the job, but does not want to continue swapping the armband.

Convinced that Terry remains the outstanding leader in the squad, the Italian wishes to make him captain for the Wales game and beyond.

Capello wants to talk to the players involved first, but spoke to the media for the first time about the subject. 'I think after one year of punishment that is enough for a mistake,' he said.

'For this reason, I need to make a decision about this problem. It does not need to be captain for one game, it needs to be permanent. Before I announce a decision I want to speak with Terry, with the players, but in the end it will be my decision.

'Rio was captain, but my first captain was John Terry. Rio was a good captain, so was Steven Gerrard, but I selected Terry first until his mistake.'

That mistake, of course, was Terry's relationship with Wayne Bridge's ex-partner Vanessa Perroncel. That proved the final straw, though Capello felt his regular appearances on the front pages had become a distraction for the team.

Now he has had time to reconsider.

Capello said the friendly against Denmark was the tipping point, seeing the armband passed to Frank Lampard in the first half, then Ashley Cole in the second half and finally Gareth Barry. Terry has not been captain, even temporarily, since being stripped of the role in February 2010.

Capello explained: 'I was upset about the armband being passed around against Denmark. Who is the captain? Where is the armband? I do not like that. That was not a good moment for John Terry, either.

'I did not expect to talk about the captaincy so much when I took the job, but I understand now it is really important in England. I took my decision after what I saw against Denmark, because it made me understand the value of the captain and the armband in England.

'I didn't like to see it going around the pitch. Until then, I had always had captains one, two, three, but then it was, "I'm captain, then I'm captain". Now I will make it clear. I will decide.'

Capello is concerned about alienating his senior players and wishes to speak to all sides before revealing his decision, but his intentions were hard to disguise, particularly when referring to Ferdinand as captain in the past tense.

Indeed, his task in Manchester may first be to placate the United defender, who is known to be angry at the thought of losing the England captaincy having done nothing wrong. Last night, friends close to Ferdinand suggested he may decide to retire from international football, although Capello hopes this is not the case.

Ferdinand's weakness, however, is that he has played for his country just four times in 11 games since getting the job.

Capello added: 'Rio is captain now and I am not saying he is not a good captain. He was a fantastic captain. He is an important player, too.

'First of all I want to know whether he will be fit. Then I will talk to him about what I will do with John Terry and whether I will make a new captain. I will explain what happened in Denmark, what I thought about that.

'I will understand if he is not happy, but I am the manager. I have to take decisions. I am not concerned if people think I am indecisive.'

Asked if he was worried Terry's behaviour could cause a problem again, Capello seemed unequivocal.

'John Terry is old enough to understand this is a really important role: Chelsea captain, England captain and one of the most important players in the world,' he said.

Capello may be heading north to treat Ferdinand to his innermost thoughts, but the United man will be naive if he cannot read between the lines. Having lost the United captaincy to Nemanja Vidic — again because of injury problems — it will be a huge blow, even if Capello tries to let him down easily by couching Terry's return as a short-term measure.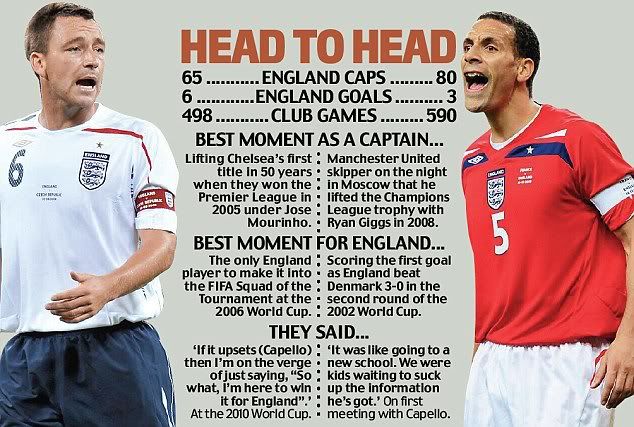 I realise that going to Daily Fail when looking for truth is akin to walking into Jack Wills and looking for an item of clothing that isn't overpriced, pretentious and downright shit, but I'm so hoping this is true!!!! JT may be far from my favourite Chelsea player (hell, he's not even my favourite English Chelsea *defender*), but he is a fucking good captain, and done on football merit alone, he bloody deserves this. Capello should never have stripped him of the captaincy in the first place, and imo, all that doing so showed was that Capello is weak and can be easily played by the English Meeja. Whilst I quite enjoyed the novelty value of seeing Frank Lampard and Ashley Cole both captain JT, words cannot say how much it rankled to see other men wear the armband over the JT. Whilst I still think Capello is a joke (not playing Crouch anywhere near enough = goes down with me as well as a lead balloon), he has gone 1% the way of redeeming himself in my books. Get it, my son.

Haters, form an orderly line to the left, you can collect your John Terry effigies there. In the macro-ed in words of Terry's Chelsea teammate Sala Kalou: -