Yo, yo, yo!!!!! To the disappointment of pretty much everyone but Chelsea FC supporters, we won at Bloomfield Road today against Blackpool! \o/ I was really not that sure we would; coming off a moral-boosting win against Manchester United, perhaps, but Blackpool are no pushovers at home; they've scored in every single home game and beat Spurs (who have similar aims as Chelsea) here just two weeks ago. As it was, Chelsea were pretty underwhelming in the first half, the only thing separating us from them being a boss header from Terry. In the second half, Drogba pretty stropped his way off the pitch. His fellow French-speaking Chelsea forward, Nicolas Anelka, was also in a stroppy mood and hence did nae want to play, so he told Kalou to. Kalou, who also speaks French, is younger and less gobby than either of those two, so did what he was paid to do (shocker!) and I for one am delighted he did, because his liveliness won Chelsea a penalty, which Lampard dispatched t'riffically, before assiting Lampard again on Chelsea's third. Blackpool scored a late goal to maintain their proud record of scoring in all home games (Chelsea can't brag that, to be fair!), and they had a whole range of chances to make it 2-3, making for a pretty frigging nervous finale before the game ended 3-1. So my icon is apt as, and I do like to be beside the seaside!



JT put us in front early on



ngl, Torres and Terry being all close and not trying to kill each other still feels about as genuine as when one of my best male friends (who I'm real close with), his girlfriend tries to ~suss me out~ by being all matey with me. trololololol.



The penalty today was a lot less pressure than the United one, but it was an immense penalty all the less. I can't stop wondering what the hale would have happened if Lamps had taken the penalty at WHL last December, instead of Drogba missing. BAH. If "ifs" and "buts" were candy and nuts, wouldn't it be a Merry Christmas!?

But yeah, as for the actual penalty, probably a bit soft, and p'haps Kalou did go down a little ~conventiantly, but I think he was clever but Evatt's challenge was crazy clumsy, so. I'm proud of my Ivorian bb, he played like a trouper today!! After he came on it was more 4-4-1-1 with Kalou off Torres, and that suited us against Blackpool! I wouldn't recommend us doing it against a top four side, but against Blackpool, they could not deal with the pace


King.



Gotta have a bit of that tongue. ;)





I luff this pic, Torres looking qt in the background. He needs.to.fucking.train. though. :/ Like, my lord. Thank the heavens we have proven goalscorers all across the pitch to make up for his lack of goals, but srsly, he needs to hit the net because it's becoming farcical and all the digs Chelsea are getting are becoming a bit irksome. Though, in Torres' defence, I will say one thing: when Kalou came on, Sala played as if he had a fantasy team and had made Lampard captain, if you know what I mean. ;) Problemo though; our next league game is against Manchester City. FOURTH PLACE SIX POINTER MUCH?!!!!!!!?!?!?!?!? And home doesn't hold that many comforts any more; SB is not the fortress it used to be (as someone who spent £45 to watch Chelsea lead 3-2 to Villa... and then concede a last minute goal around New Years, I can safely attest to that! :( ) But anyway. Torres #needstotrain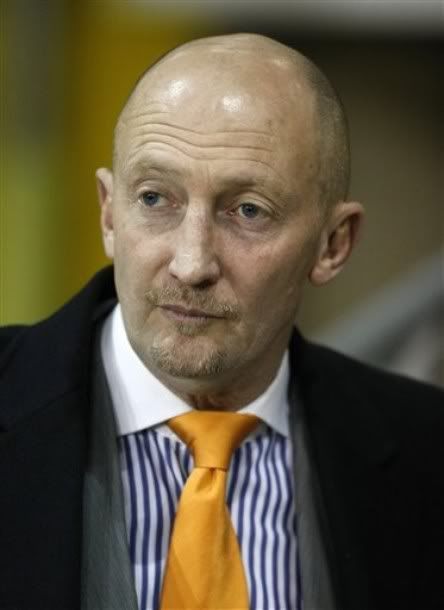 The consolation goal that Blackpool scored, whilst irking me because it prevented Big Pete from a deserved clean sheet, is important to the club, because that extra one goal scored keeps them out of the relegation zone, though they are very much in the dogfight now. Ian Holloway was clearly disappointed but gave a pretty diplomatic post-match interview, I thought. It was intelligent & coherent with a touch of a snide dig at Kalou, but his team have just lost an important home game, so I'll forgive. Take note, Fergie, this is how to do post-match interviews when things don't go your way.

Winners: our captain & vice-captain, Kalou
In severe need of training: Didier Drogba & Nicolas Anelka, both who celebrate birthdays this month, 33 and 32 respectively. Mate, you're both world class, but the attitude today, really? Oh, and Torres. Oh dear, my son. Oh dear.

So the performance weren't the best, but I'll bloody take the three points!!!! There's some breathing space between us and Spurs, but fourth place is far from legitimately being our's. We'll take the City game, and see. Fernando Torres vs. Joe Hart, hmmmmm. :/

ALSO, veering away from this boss South-West London team, lettuce us try predicting the fates of the two North London ones in the CL this week! London are at present (and were at the start) the most well-represented city in the champions' League, with three teams in it. trololol at my London-bumming. I could be a Guardian writer at this rate. How many teams will still be in it by the end?


How many of the North London teams will progress in the CL?

Feel free to post your predictions for both return leg games!!