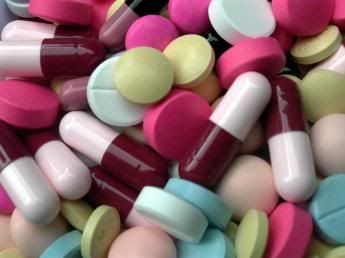 Two very interesting pieces on just why it was that Kolo Toure failed the drugs test - he took his wife diet pills.



Arsène Wenger tells how diet pills led to Kolo Touré's failed test
• 'He is a boy who has a clean life, a very honest living'
• 'He wanted to control his weight a little bit'

Kolo Touré made an emotional telephone call to his mentor Arsène Wenger on Thursday night to reveal his anguish at the error of judgment that led to him failing a drugs test and facing a lengthy suspension.

Wenger, the Arsenal manager, who had Touré in north London with him for seven years before he sold him to Manchester City in the summer of 2009, said that the defender had told him he had taken a dietary pill to combat a weight issue but he was unaware that it contained a specified substance.

Touré must now await the result of tests on a B sample before he discovers his fate, with the authorities empowered to ban him for up to two years. Typical penalties for the 29-year-old's offence range between four and nine months. Wenger, who has emerged as a pillar of support, said he would remain in touch with Touré, whom he described as "devastated".

"Kolo called me and, of course, he is shocked by the situation because you know Kolo," Wenger said. "He is a guy who never prepared himself to be in this kind of situation and so it is a big shock for him. He wanted to lose weight a little bit and his wife was on a diet and that's where he took this product.

"He is devastated because you can be suspended once you are positive and people don't consider too much why you did it. They just punish you. It is a blow for City as well. But nothing has been decided yet."

It was put to Wenger that Touré, who returned the positive A sample after the derby defeat at Manchester United on 12 February, in which he was an unused substitute, could consider himself unlucky as he had merely erred unwittingly.

"It is true but, legally, what is forbidden is forbidden," Wenger said. "The mistake he made is not to have asked the doctor of Man City, 'Can I take that or not?' You must say as well that he was unlucky because he was done in the doping control after Man United and he didn't play. That means he has one chance out of nine to be picked."

Wenger said he would happily provide a character witness for Touré if required. Wenger took Touré as a young player from ASEC Mimosas in the Ivory Coast and the defender enjoyed a successful career at Arsenal. Touré will be remembered as one of the Premier League Invincibles of 2003-04.

"Kolo is genuine, honest, highly motivated, good at work every day," Wenger said. "The problem was to get him off the pitch, it was not to put him on. He is open. You have seen him here, so you know, but you do not need to see him here to know how he lives.

"He is a boy who has a clean life, a very honest living, he is always at home. He is a family man and I do not suspect him at all to have taken drugs to enhance his performance. I just think it is a mistake, him forgetting 'Can I take that?' He wants to control his weight a little bit because that's where he has some problems and he took the product of his wife. Never trust your wife!

"It was completely the kind of stupid thing that can happen to you where you are punished in life. You cross the road, don't look right, left, boom. People don't ask if you deserve or not deserve."

Touré was omitted from the City squad that beat Aston Villa in the FA Cup on Wednesday when the result of his A sample became known and he will not be able to play again until his B sampleis tested and the Football Association disciplinary process is completed. It would be incumbent on him to prove "no fault or negligence" in allowing the substance to enter his body. Wenger said he did not know which specific substance had seen Touré fall foul of the regulations.

City issued a statement on Thursday in which they confirmed Touré's positive sample and that, as a result, "he has been suspended from participating in all first-team matches pending the outcome of the legal process". They did not add to their statement on Friday.

sauce

In short it comes down to one man's insecurity, some scattered thinking and blurred priorities. Kolo Touré did not reach for his wife Avo's slimming pills out of vanity. It was not because he had bought a new pair of jeans and was not happy with how they looked. He did it because, in football, it can be a big deal being a few pounds overweight, particularly at a club with Manchester City's ambitions, with half a dozen centre-halves competing for two spots and the newspapers full of stories about the next-best-thing to be signed.

Touré's problem appears to be that he was so concerned about undertaking a body-fat test he did not give enough thought to what it might mean for a drugs test. Whether he was overweight, we cannot be certain. But the pressures that accompany these BMI (body-mass index) checks are considerable.

"He took the pills to lose weight," his adviser Valere Gouriso said. "He was doing it because he wanted to be successful. He wanted to get his weight down so he has taken the pills that his wife uses and now it turns out there was some substance in them that is prohibited."

Touré, in other words, has been guilty of gross naivety, at the very least – so hung up about his weight he decided to experiment from a box of multicoloured capsules that, taking a leap of logic, we can only presume he did not know enough about.

His lawyers intend to argue it was an innocent mistake, that Touré had no idea he was digesting a banned substance that has not yet been named officially but was detected in a test he took after the 2-1 defeat at Manchester United on 12 February. Whether that line of defence will have any impact on his punishment is difficult to know but what can be said with certainty is that he will not go short when it comes to character witnesses.

Arsène Wenger's admiration for his former player was apparent to everyone who heard his detailed account of how a devastated Touré had telephoned the Arsenal manager on Thursday evening. Wenger worked with him for seven years and talks of Touré as one of the good guys: hard-working and professional, dedicated to his career and never someone to court controversy deliberately. "He has a clean life, very honest living, he is always at home. He is a family man," Wenger said.

Those who know Touré best will also testify that, despite his considerable wealth, he has remained grounded and approachable – a legacy, perhaps, of growing up in an impoverished part of Abidjan in the Ivory Coast, working as a shoeshine boy alongside his brother Yaya to earn money for a large, sprawling family.

There have been no paparazzi sightings of him stumbling out of the bars favoured by Manchester's glitterati. He does not drive the fastest car at City's training ground. The windows are not blacked out and he is happy to park in the space that is allotted to him as opposed to, say, Mario Balotelli, who routinely puts his Lamborghini on the kerb straight outside the double doors.

A committed Muslim, Touré practises his faith at a mosque in Stretford, not far from Manchester United's stadium. He is prominently involved with City's community work and a substantial part of his salary is sent to the Ivory Coast. He and Awo have a daughter, Sania, and a son, Yiassin. "We are a strict Muslim family," his father, Mory, says. "He does everything for his family and would never have anything to do with drugs."

Mark Hughes, who brought Touré to City and made him captain, describes him as "a good professional, [someone who] leads his life correctly".

When Touré became embroiled in a training-ground fight with Emmanuel Adebayor at the start of January it speaks volumes about his character that so many people concluded the blame should be apportioned on his team-mate. At Arsenal Touré fell out with William Gallas but tried to be dignified about it and politely sidestepped questions at his first press conference as a City player.

His current manager, Roberto Mancini, has, as yet, said nothing, but only because City are anxious to do everything via the right channels rather than defending Touré through the media.

The club have taken legal advice and do not want to portray him as the victim or to be seen as putting pressure on the authorities when he stands accused of committing a serious offence, intentionally or not.

"When players are away from their clubs, although it can be quite innocent, if they don't check what they put into their bodies they can be compromised," Hughes said. "There can be mistakes made."

Touré, nowhere to be seen as Mancini's men trained ahead of their game against Wigan Athletic, appears to have made the worst of his professional life.

sauce

Very, very interesting stuff and after having read it I'm inclined to think that Toure taking the diet pills was spurned from a desperate desire to get in shape, rather than any actual Machiavellian tendency to cheat on his part. Football and weight is a contentious issue; I don't think I need to tell you that calling footballers "fat" is a frequent go-to for opposing team supporters, despite the non-existent veracity of such slurs (Frank Lampard getting called fat by West Ham etc fans when a couple of them could do with needing to train is the ultimate in pot calling the kettle fat; that man has as much excess weight as a stiletto). At the other end of the spectrum, footballers are just as likely to be called out if they're not hench enough; Peter Crouch used to get called freak all the time when playing for Liverpool and sometimes even England fans would call him that whilst he was on international duty. :/ So from that point of view, I sort of sympathise with Toure. He sounds like a sound guy, and it is a huge shame for him that his ignorance of methylhexaneamine cost him his reputation.

I guess, at the end of the day, footballers are just as wary of their weight as image-concious teenage girls are.