Bayern Munich will play the Netherlands in a friendly next year to compensate the Bavarians for losing Arjen Robben to an injury aggravated during the World Cup.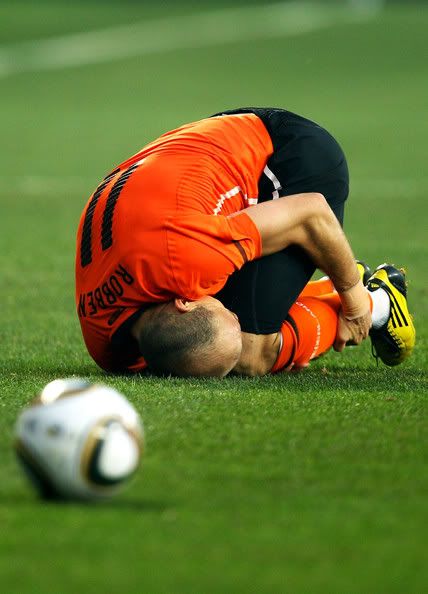 The Dutch football association (KNVB) and Bayern had been embroiled in a war of words for many months over Robben, with both sides pointing the finger of blame at the other for the former Chelsea and Real Madrid winger's injury problems.

But the German champions and KNVB now appear to have settled their dispute, agreeing to stage a one-off friendly at the Allianz Arena on May 22, 2012.

"We are delighted that this agreement now brings the matter to a close,'' Bayern chairman Karl-Heinz Rummenigge said. "It is good for the football family that we have found a fair and satisfactory solution.''

Robben, 27, was Bayern's star player last season, helping the German giants to Bundesliga and German Cup glory and also playing a big part in their progress to the Champions League final, which they lost to Inter Milan.

But he has been missing for much of the current camapign after being diagnosed with a torn thigh muscle in pre-season. Bayern claimed that the injury was a result of Robben coming back to play for the Netherlands too soon at the World Cup, having been injured in a warm-up game.

Robben missed the Oranje's opening two games in South Africa, but went on to play the next five as Bert van Marwijk's side lost to Spain in the final.

The injury flared up again following Robben's return to pre-season training after the World Cup, and Bayern doctor Hans-Wilhelm Muller-Wohlfahrt claimed the original injury from June was never correctly treated.

Bayern had wanted the KNVB to take over payment of the player's wages until he was fit to play again, but after months of to-ing and fro-ing, a deal has finally been reached.

"We have accepted that no consensus has emerged regarding the fundamentals of the discussion so the best course of action was to put aside our differences and seek a solution acceptable to both sides," KNVB chief executive Bert van Oostveen said.

"This has now happened. We're satisfied with the outcome, and we're now looking forward to a fantastic friendly match in Munich.''

Without Robben, Bayern have struggled this season, but his recent return has coincided with an upturn in form for the club and they are up to third place in the Bundesliga, with a rematch with Inter awaiting Guus Hiddink's charges in the Champions League last 16 in two weeks.

http://soccernet.espn.go.com/news/story/_/id/874869/bayern-munich-reach-friendly-arjen-robben-compromise-with-dutch?campaign=rss&source=soccernet&cc=5901

This will be an interesting game to say the least. I just hope Mark does not have to play in this game and that no one gets injured.