Yesterday a curtain jail-bait you ARE going to be hearing about in the coming years scored his first senior goal for Schalke. It was on the 118 minute of a true nail-baiter game against their good friends from Nurnberg.

Basically, the miners had every excuse to lose this game: Hunteelar wasn't even named for the squad due to the injury, Jurado was on the bench and it was uncertain whether he will be able to play at all and our RB is off winning the Asian Cup or something else of ill-importance. But, this is bundesliga and so everything is possible and we fucking did it!

So lets all get our blau und weiss clothes out and celebrate like Royals.

First goal of the game came from visiting side Nurnberg just 3 minutes into the game while I was trying to sort out my shitty connection (and failed miserably)





But just 10 minutes later Schalke equalized thanks to one Mario Gavranovic, 21 year old who joined just a little less than a year ago. This was his 5th (if I'm not mistaken) appearance with the first squad and his first goal with them!


We were back in it, well kinda, cause at minute 32 Julian Schieber scored the second goal for Nurnberg. Oh Schalke....
Ans so bbs being 2-1 down and looking like they are about to lose their best chance of getting an EU spot. And, seriously. I don't know how they do it, cause this team is not exactly known this season for making come backs, but when the second half started rolling they were a different team - pushing forwards, pressuring the other side, creating wonderful chances and, at minute 58 finally equalizing with a goal by my heartbreaking Crotian wonderboy which was beautifully set up by Kluge and Raul.
(I love how Raul steals the ball after a goal :D oh and Ivan, why would want to leave when you are getting so much love???)
Back in it guys! And we kept on pushing, really it was nearly all Schalke during these minutes but still - no goals...
(oh hi there Mr Cohen, or should I say Shalom...)
90+ minutes came and went, and since was a cup game we went into 30 minutes over time. Nurnberg seemed to have re-gained some strengh while Schalke boys, after a very hard fought 45 minutes, was a getting a bit tired.
But still - no goals...
(obligatory Manu ass pic)
(obligatory herp derp pic)
Aaaaaaaaaaand it was already minute 110, 111, 112 and I was sure this was going to go into penalties. Just what my heart needed after the Japan -Korea game. :/ And so what does Magath do - he takes out Kluge and brings in Julian Draxler.
Who?
who?
EXACTLY.

I don't think anyone had even heard of his until a month or so ago, when he was brought from the youth team, not even the second team but the youth, to an indoor tournament where he impressed so much he was asked to come train with the team in Turkey. Boy is 17, legally a jail-bait and was even still in school at the time. But he continued to be impressive and Magath said he will even play every now and then.
But when it's a tournament game, against a team who put on a hell of a fight and there is a very good chance the game will go into penalties. Why take out an experiences player like Kluge hehad a good dame to bring in this baby-faced kid who doesn't even have 45 minutes of play time, let alone a full game???
THIS IS WHY:
JKSHFDJKHDSLFKAHLSDKJ what a stunning goal! at minute 118!!! As you can see the boy was very much feeling the love.
Manu wanted to join the Schalke Pile...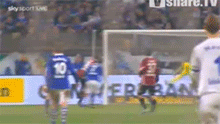 But then decided to just jump onto fellow goali Mathias Schober
3 minutes later the ref gave the final whistel and finally FINALLY we got to see some properly happy Schalkers this season. And really, this jungs now how to be happy :D
But even though the following vids with all goals proves that this was a team effort... (watch out for super cute even more breaking my heart Ivan)
The post-game celebration was all about one tiny guy:


And really, when he's that precious, who can blame them?




Benni even got in touch with his inner pedobear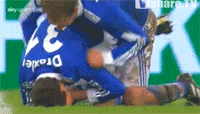 Even creepy mascot Erwin got some loving...


Und Zats Eeeeeeet! Happy moment for Schalkers don't come to often this was pretty much a fandom explosion. I wanna end with saying congrats to our resident Samurai who will playing the Asian Cup final on Saturday same time as his teammates will be playing in the BuLi. :( (DNW!) Let's hope we can see lots of smiling blue faces that day.
(he so used to them he ain't even bovered)
tyfyt & SCHALKE IST DIE MACHT!!!!