Thank you all for appreciating my first post and what better way than following it up with a second post (some ppl might regret thanking me now lol) and this time I'm focusing on each player in Malaysia's team.

Though, this could be my last about my countrymen as we are closing in AFF Suzuki cup 2010 to the last final tonight in Jakarta Indonesia.

Unless we won and then I would do a celebration post and stop for real. ;)

How many Malaysians bitch r here? I dedicated this to u all. This is hard work, appreciated it. ;) jk

I'm doing this for my own pleasure, because I'm ashamed to admit that I belong to the Malaysian group who was not exposed to our own national team and hardly support them. 'Cougheplseriealaligafancough' 'coughsorrybundesligawedontgetexposetoyouramazingleaguecough'

I always had a thing for a keeper and defenders in football, they are usually my pick for favorite player in the team, so I start from back to the front first ;) We usually play 4-4-2.

The goalkeeper

Khairul Fahmi




He looks like Japanese or Korean right? He is actually a mixed blood of Chinese and Malay.




Should have breed this type more often

He was awesome so far as he only let 1 goal so far in AFF Suzuki Cup 2010. Well composed for a 21 year old!



O_O me like




Why so serious? Twittering? Nah, he's more of a Facebook person


Won Malaysia best GK 2010 (beating the previous national senior GK) and best young player of the year awarded by FAM (Football Association of Malaysia)




He was only started becoming regular for his domestic team (Kelantan FC) in mid season after an injury to the previous keeper and their team won Malaysia Cup 2010 (1st in history, I think) with him becoming a new sensation.

Not sure why he wasn't the Malaysia GK during Indonesia trashing 5-1, but he got his chance after that and he grab it with open arms
In Mecca performing 'Umrah' with his team mate.
Alone? Seriously.. I'll be there soon I promise
He was once selling burger in a stall when he just a back up keeper.
Look at those eyebrows
Love his hair
Purple is so hot!
He is not single BTW, sigh.. lol
The Enactment of their love story (acted by I don't know who :p)
His wedding
Celebrating Malaysia win with his wife
He resembles Song Seung Hyun ;) me think. Lucky girl.
"While Vietnam had the majority of possession and had the best of the chances throughout the 90 minutes, Malaysian goalkeeper Khairul Fahmi was equal to the task when called upon at the My Dinh Stadium..." - Henrique Callisto, Vietnam Coach

More of him, checkout his facebook page (Official fanpage)
http://www.facebook.com/Khairul.Fahmi21
The centre back duo-
Muslim Ahmad & Fadhli Shas
Muslim
A cutie, but this pic doesn't do him justice
Another 21 year old player in the squad. What is it about 1989? Football player breeding year? When is the next one?
The gold medalist team
He was the captain of U23 squad who won gold medal in SEA games 2009 but now playing for the first team or rather the U23 is the first team. Fck Yeah!
Playing friendly match two times with Man United in 2009, losing both match (2-3 and 0-2) but gaining invaluable experience. Thanks United.
He was offered a professional contract to play for fc vion, a Slovakian team for 2010-2011 but they change their mind later :( Whatever..
I swear to god that he is so cute when he do that 'please/sorry gesture' but that is Benjamin The Assshole (that's right he got ass in plural) who give 3 red cards and 7 yellows (all to Malaysian player, none to the opponent) during Asian Games earlier this year vs China in Guangzhou forcing Malaysia to play with only 8 players.

China are the better team but they managed to keep 0-0 score before the expulsion of 3 crucial players and lose 3 to nil later.

We have a reason to fear the 2nd leg final today as we have another Australian as a referee. Hopefully not all Australians referee suck :p

BTW for the record, the China goals are from 2 free kicks and 1 penalty (61, 64 and 82 minute) Hmm.. go figure.




Thanks to that we cannot play important players for the knock out round against hot favorite Iran in which we lose 1-3. I know we r the underdog but fair play please *coughFIFAcorruptcough*

It is ok, we move on. BTW thanks FIFA for doing nothing.

More of that here http://www.the-afc.com/en/news/31393-china-sail-through and here http://www.azuanzahdi.com/index.php/2010/11/13/asian-games-malaysia-0-china-3-thanks-to-ben-williams-red-cards/




He was having a very game against Vietnam, solid.




Muslim and his centre back pair, Fadhli r the wall that keep Indonesia from having too many goal scoring chances, in Bukit Jalil Stadium.

Fadhli Shas, a freaking 19 year old boy!


He is single ;) not for long though

The 1-5 lose against Indonesia is his first international appearance, poor the guy he just nervous
He should do something with his hair though. That bang/fringe whatever u called it is not working bb
Forget the ball, u have me!
The right back

Mahalli Jazuli, 21 years old
Mahalli was the first player to get a red card in the Asian games vs China, he kicked the ball out of play after a thrown in that he think was wrongly given to the opponents n according to my friend ;) it was not the first wrongly judged decision so he must be really frustrated. idk i'm biased
Damn difficult to find good picture of him, n i'm being sleepy is not gonna help.
Edit:
Well well what do u know, we do after all have Malaysian player that born and grow up in Malaysia but with Indonesians parents, its Mahalli Jazuli! No wonder the name is unique. BTW his parent said that they r going to show support to their son's team :) Lovely parent.
The left back

Asrarudin Putra Omar, 23 years old
I'm not sure that is him tbh
Damn difficult to find a good picture of him unless there r with United players, now u know why we support the EPL/Serie A/Laliga more than out own team. Damn media propaganda. :p


Midfielders

Safiq Rahim the captain, got red carded by Benjamin The Prick for simply asking why his teammate get a red card.
Who r u to ask me a question? Beside your English suck so get out! (It could be true u know)
Safiq: I just asked him why Mahalli being given a red card, n he give me a yellow card, then I ask him why do I get a yellow card then he give me another yellow!
Kunalan Subramaniam

A good offensive and defensive player, he just lack the finishing touch seem taking longer than he should in the final third. Otherwise he is a good for Malaysia, but then again I only watch one of his game so idk lol
Nickname Kuna, 24 years old a winger can play both side of the flank
Almost always our attack r coming from his flank, he usually stays deep and brings the ball forward
He is the only Indian player making the first eleven even though we have plenty others waiting for their turn.
Hopefully we will able to attract other Indian and Chinese into playing this sport after this team achievement.
We have 'chindian' player before, a mixed blood of Chinese and Indian (not official English word btw) and he was awesome in and outside the field ;)
Liew Kit Kong or AhLiew.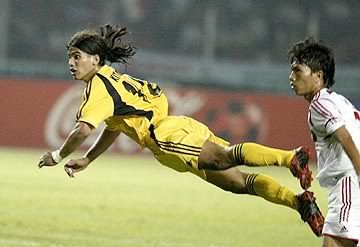 Score the 2 goals against Indonesia in 2004 in Tiger cup (currently known as AFF Suzuki cup)
Now you see what I mean, damn it's an extinct species though.
Amirulhadi

In his Spain shirt?
Play for Selangor in MLS, usually as right winger/AM
He won't be playing this 2nd leg though, because of suspension :(

Amri Yahyah

He scored two goals against Man United. So proud :D and he also score two against Laos
Ashaari
25 years old, he is known for his shyness in front of the camera
Catch me if u can with Kuna after scoring the 2nd goal vs Indonesia
He won the golden shoe in Malaysia Super League for the most number of goals in 2010 season (18goals)
Forward

Safee Sali
The tournament top goal scorer, 26 years old scored 4 goals so far, 2 goals each in the semis and in the 1st leg final. He scored when u need them.
Even though his name is Safee, he is really dangerous in front of the goal.
This one is a badass (by our standard).
His header is world class. That's right world class :p He got two amazing goal from a header.
Some say he was born in Acheh Indonesia n some say his greatgrandfather r from there but if u trust Wikipedia he was born in Malaysia idk


Not surprising if it's true though, we are from the same root and basically most of Malays are from Indonesia. Not gonna lie, my greatx4grandfather was Minangkabau.
Norshahrul
A second striker, playmaker, attacking midfielder you name it he is the source of creativity in front of the goal.
Friendly match with Man United, Real Madrid should come as well. I would kill for the ticket.
His previous coach thrown out of his domestic team for being lazy and fat.
That's in the past though now a highly valuable team player for Malaysia, having orchestrated 2 of the winning goal against Indonesia in the 1st final leg.
He won 2 of national football award 2010, the Best Forward and Most Valuable Player of the year. His team won Malaysia Cup (same team as Fahmi) and a runner-up in Malaysia Super League
Play a major role in Malaysia win over 8th times SEA games gold medalist Thailand in 2009 providing the assist of the 2nd goal late in the game in which Thailand only need a draw to qualify to the semi-finals and Malaysia have already lost to Vietnam earlier in the group need a much needed win. Final score Malaysia won 2-1.
Steve Darby (Thai coach) accepted the defeat graciously and credited the Malaysians for throwing everything at them even when the chips were down. It was a dramatic come from behind victory.
"They kept fighting and fighting and kept coming and coming at us," he said and then loudly declared: "Malaysia Boleh!"
Fun fact: In 2009 we lost to Vietnam in the group stage but win them in the final, finger cross for history to repeat here. :D
Believe it or not he got married a day before the 1st leg final game. More power to him then.
He was reportedly to only flew in the morning of the final because he can't get his ticket flight. Air Asia is fully booked or he just gives reason for the night of u know what.. not gonna blame u bb
Proposed, get married, a quickie and sorry baby got game to play ;)
The injured player

Malaysia team actually miss 10 players due to injury, and had to settle for a lesser star player. Their contribution is somewhat not sorely miss except for these twin because of their skills, ok idk how skillful or not they r but we need poster boy no?
Aidil Zafuan & Zaquan Adha aka Malaysia Football Poster Boy
With his wife, yup married with one kid I think. No idea and don't ask me which is which, don't have a clue. Both of them r injured, that's twin for you.
I was planning to do a thorough research for all the players but I can't cover some of the players due to lack of Googling skill couple by not enough time and this is a tough work since I didn't follow them before. Bad me.
Team news in Indonesia

Tea break in their hotel in Jakarta.
Not bad! Yes I'm talking to you, not the photo.
(Which I proudly steal from this forum http://forum.lowyat.net/FootballLounge, I'm a stalker there)
We definitely are going to park the bus. Shhh!! Keep it a secret!
There goes my secret plan. Now what?
So thats it from me, i was expecting indonesian national team post actually but anyway i did prepare this last night just in case.. ;)
Hoping for another entertaining performance tonight and please minus laser, riot, n no bitching please :)
GOOD LUCK TIGERS! SHOW YOUR STRIPES!
I like this picture a lot, so using it again ;)