Manchester United striker Dimitar Berbatov hails five-goal performance after 'worrying' slump.


"I don't think anybody could have guessed the scoreline," said Berbatov.
"In the end I'm pleased with the performance and the goals I scored, personally I was very impressed with myself.
"I've scored five before but it was a long time ago back home. To do it in the Premier League when only four other players have done it, to stand next to Shearer and Andy Cole is a great honour."
Berbatov's five-goal haul sends him to the top of the Premier League scorers' charts, but what looks like a superb statistic for a striker - 11 goals in 13 league appearances - masks the peaks and troughs of his autumn.
The Bulgarian began the season in the form of his Manchester United career, scoring six goals in five games culminating in a hat-trick against Liverpool. The brilliant overhead kick he executed for his second was the kind of audacious effort that only seems to come off for a player flush with confidence.
But that performance was followed by a slump in which Berbatov failed to score in 11 games. In the seven league outings following his heroics against Liverpool he managed just five shots on target. Eventually he was ignominiously dropped - not even picked for the bench - by Sir Alex Ferguson for United's game against Wigan last weekend.
So it is hardly surprising that Berbatov was, as he admitted after picking up the match-ball yesterday, "a little bit worried. When you are a striker people tend to only look at the goals you score."
"For me, it is more about how I play, the assists I give, how I link with other players," Berbatov said.
The suggestion that Berbatov was performing a pivotal role in the team in recent weeks would come as a surprise to anyone who watched some of his performances. His touch seemed to have deserted him and he was out of synch with his team-mates. As for the assists, he supplied just one in 11 games.
Sir Alex Ferguson acknowledged that Berbatov's travails had been caused by lost confidence, while suggesting that Berbatov's performances will improve now that he is playing alongside Wayne Rooney once more.
"When strikers are not scoring they don't think they are doing their job right," the Manchester United manager said.
"That has always been the case. Today it came back.
"It was a fantastic achievement by Berbatov and in my time I've only seen Andy Cole achieve that here. It was important he got off the mark early because he hadn't scored in 10 games. He combined with Wayne well and they interchanged brilliantly."
www.telegraph.co.uk/sport/football/teams/manchester-united/8165816/Manchester-United-striker-Dimitar-Berbatov-hails-five-goal-performance-after-worrying-slump.html

First goal came after 2 mins.




His first in almost 2 months..




Rooney played the full 90 mins, didn't score but was involved in nearly all the best attacking moves.


serendip 's boy Park scored his 5th goal of the season. His United career best.:)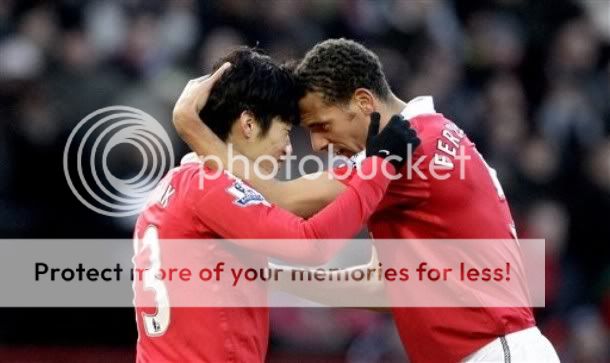 Rio didn't have a lot to do this match...




Vidic was subbed off after going 5-0 up. The first mins of the Prem campagin he's missed.




Berbatov scored a 3rd goal though I'm not sure if this picture is after scoring that goal..too many goals.




Nani scored the 4th goal.




And he did one of his amazing celebrations.




Rafael had another amazing match.




Rumours of Anderson being loaned in January..however he put in a very good performance.




Berbatov scored his 4th goal and collapsed due to exhaustion.




He finished the match with 5 goals and the Prem top scorer.




Berbatov did it better then that time Torres did it at OT. Smh.




Oh yeah Blackburn scored a goal through Samba but no1curr about that.




I would feel bad for Robinson but he stopped a 6th Berba goal at the end. Kind of lame.




Big Sam was gutted but SAF cheered him up with his finest wine :)
Highlights for those who may have missed the match/goals.