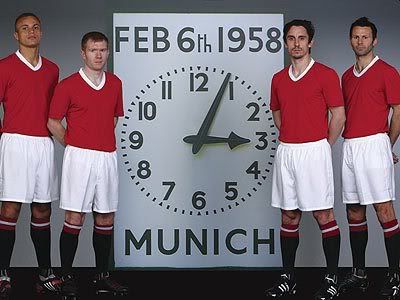 Tenth Doctor David Tennant is to star in a new BBC drama based on the true story of Manchester United's legendary "Busby Babes", the youngest side ever to win the Football League.

United is a BBC Two film which portrays events set around the 1958 Munich Air Crash that claimed eight of the team's number and the extraordinary spirit of a city that rebuilt the side in the wake of the disaster.

Tennant will play coach Jimmy Murphy, alongside Jack O'Connell (Skins, Dive) as Bobby Charlton, the youngest of the Babes, and Sam Claflin (Pirates Of The Caribbean, Any Human Heart) as star player Duncan Edwards. The film draws on first-hand interviews with the survivors and their families to tell the inspirational story of a team and community overcoming terrible tragedy.

The drama is written by Chris Chibnall, who wrote last year's two part Doctor Who story The Hungry Earth/Cold Blood as well as the 2007 story 42, and who has also written numerous episodes of Torchwood. It is directed by James Strong who has directed several episodes of Doctor Who and Torchwood.

Simon Heath, Executive Producer, World Productions, says:
Chris Chibnall has written an authentic and moving version of this heartbreaking story, which with the help of a great cast, we hope will be a fitting tribute to those who survived and those who lost their lives at Munich.

United starts filming later this month in and around the North East of England.

Sauce

I know this isn't 100% sport related but I think it's an important story to tell and it's always good to see football related movies being made.