A DAY LIKE TODAY 50 YEARS AGO A LITTLE BOY NAMED DIEGO WAS BORN IN VILLA FIORITO.

HE THEN WENT AND BECAME THE ~BEST~ PLAYER IN THE HISTORY OF FOOTBALL


DIEGO ARMANDO MARADONA'S

50th BIRTHDAY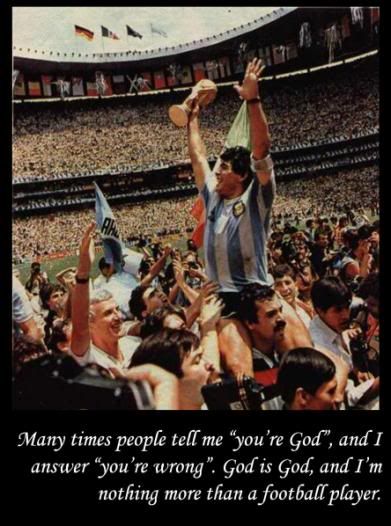 To me, this is the best song there is about Diego, and the video that shows best how talented and passionate he is about football.


In a suburb he was born, it was God's wish for him to grow up and survive the poor surroundings, face adversity, with the will to earn life with each step he gave. In a potrero he gave shape to an immortal left leg, with experience and thirst, the ambition to get there. Since being a junior he dreamt of playing a World Cup and earning his place in First Division. And maybe with playing he could help his family...

Soon after his debut, Marado, Marado, the fans of Boca chanted Marado, Marado, his dream was led by a star full of goals and dribbling. And all the people sang: Marado, Marado, the Hand Of God was born, Marado, Marado. He brought happiness to the people, and sprayed glory all over the country.

He carries a cross on his shoulders for being the best, for never selling out he had to face power. Curious weakness, if Jesus fell down, why wouldn't he? Fame introduced him to a white woman of mysterious taste and forbidden pleasure, that made him an addict to the desire of using her again, putting in risk his own life. And it's a match that some day, Diego is going to win...


En una villa nació, fue deseo de Dios crecer y sobrevivir a la humilde expresión, enfrentar la adversidad, con afán de ganarse a cada paso la vida. En un potrero forjó una zurda inmortal, con experiencia sedienta, ambición de llegar. De cebollita soñaba jugar un Mundial y consagrarse en Primera. Tal vez jugando pudiera a su familia ayudar...

A poco que debutó, Maradó, Maradó, la 12 fue quien coreó, Maradó, Maradó, su sueño tenía una estrella llena de gol y gambetas. Y todo el pueblo cantó: Maradó, Maradó, nació la mano de Dios, Maradó, Maradó. Sembró alegría en el pueblo, regó de gloria este suelo.

Carga una cruz en los hombros por ser el mejor, por no venderse jamás al poder enfrentó. Curiosa debilidad, si Jesús tropezó, ¿por qué él no habría de hacerlo? La fama le presentó una blanca mujer de misterioso sabor y prohibido placer, que lo hizo adicto al deseo de usarla otra vez, involucrando su vida. Y es un partido que un día el Diego está por ganar...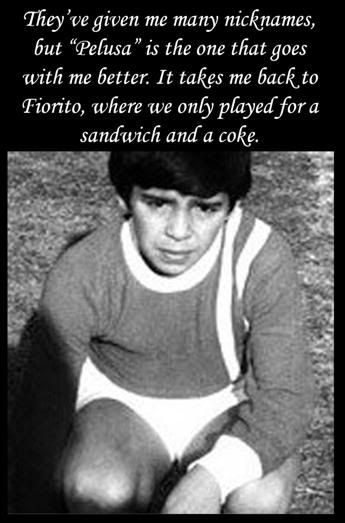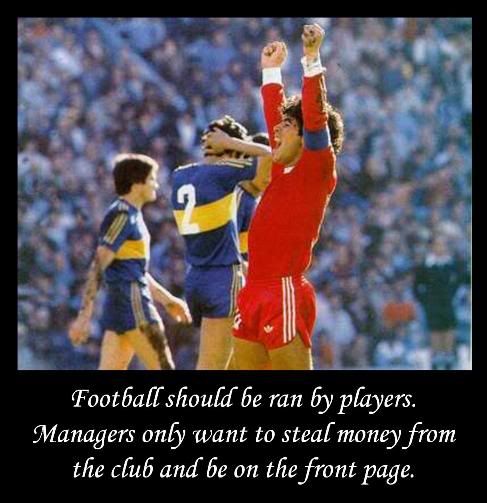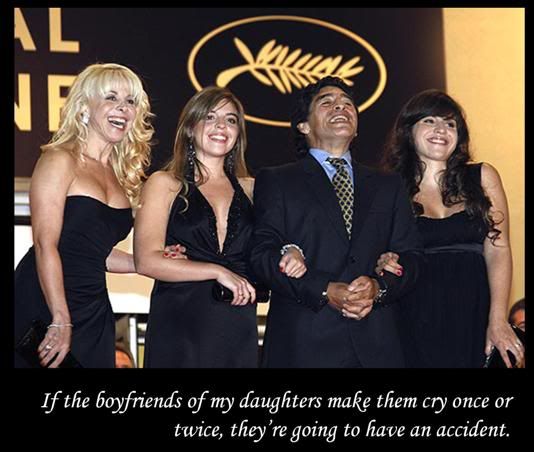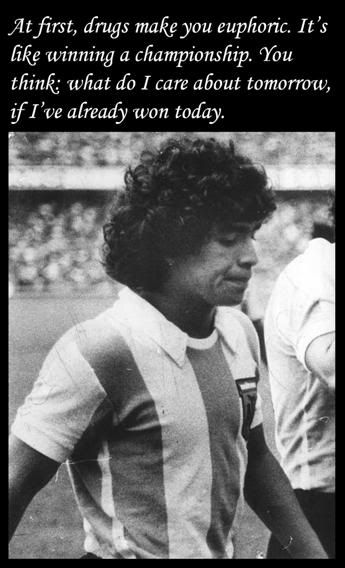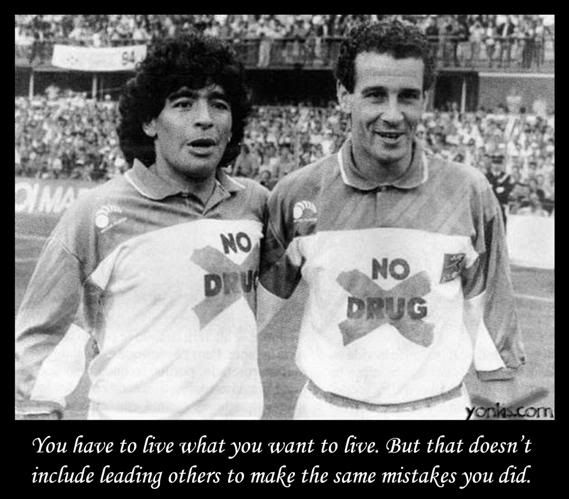 D10S brought smiles to the fans of:

· Argentinos Jrs (1976-1981)

· Boca Jrs (1981-1982)

· Barcelona (1982-1984)

· Nápoli (1984-1992)

· Sevilla (1992-1993)

· Newell's Old Boys (1993-1995)

· Boca Jrs (1995-1997)

He scored a total of 258 goals, added to the 34 he scored playing for Argentina's National Team.

· Golden Ball for Best Player of the FIFA U-20 World Cup: 1979

· Argentine league Top Scorer: 1979, 1980, 1981

· South American Footballer of the Year (El Mundo, Caracas):1979, 1986, 1989, 1990, 1992

· Golden Ball for Best Player of the FIFA World Cup: 1986

· Best Footballer in the World Onze d'Or: 1986, 1987

· World Player of the Year (World Soccer Magazine): 1986

· Capocannoniere (Serie A top scorer): 1987–88

· "FIFA Goal of the Century" (1986 (2–1) v. England; second goal): 2002

· FIFA Player of the Century





"Football is the healthiest and most beautiful sport there is. If one makes a mistake, it doesn't mean that football has to pay for it. I made a mistake and paid, but... the ball stays clean."