UPDATED FIFA RANKINGS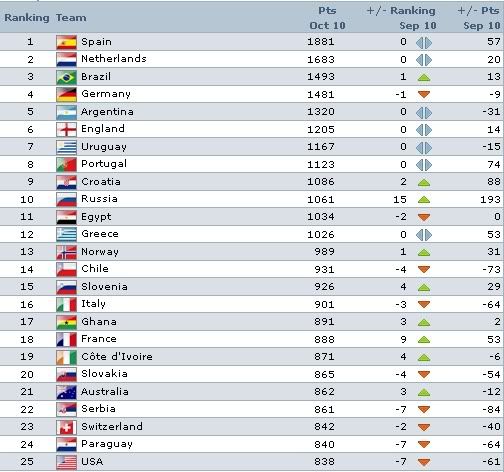 Also:

26. Montenegro (+14)
27. Denmark (+2)
28. Mexico
29. Turkey (-8)
31. Czech Republic (+6)
32. Republic of Ireland (+1)
35. Ukraine (-9)
36. Sweden (-4)
42. Belarus (+13)
43. Bulgaria (+11)
46. Colombia (-6)
49. Austria (+12)


FIFA

EDIT: added for the people who were wondering.

Rules:

The formula for the points is:




Where:
· Results points is similar to any other league: 3 for a win with no penalty shootout, 2 for a win with penalty shootout, 1 for a draw, 1 for a loss with penalty shootout, and 0 for a loss with no penalty shootout.

· Match status depends on the importance of the match: x1.0 for a Friendly match, x2.5 for WC and Continental Cup qualifiers, x3.0 for Continental Cup and Confederations Cup finals, and x4.0 for WC finals.

· Opposition strength variates, considering that it's a greater achievement to win against someone who is far above the ranking. The formula for this is:




· Regional strength is considered according to the relative strength of entire confederations in the calculation. Each confederation is assigned a weighting between 0.85 and 1.0, based on the relative performance of the confederations in the last three World Cups.



So the formula is:




· Assesment period: matches played over the last four years (48 months) are included in the calculation, but there is a weighting to put more emphasis on recent results. A match played within the last 12 months counts x1.0, 12-24 x0.5, 24-36 x0.3 and 36-48 x0.2

Results for all matches played in the year are averaged together (assuming at least five matches have been played). The average ranking points for the four previous years, weighted by their multiplier mentioned above, are added together to arrive at the final ranking points.

All from Wiki