What's happened so far?


10 short facts to get informed on how Apertura 2010 is doing.


1. River Plate and Vélez Sarsfield are on top of the league

Only two teams have been able to win 9 out of the 9 points played: Vélez, with their good combined play and their experience as a team, and River, trying to impose Cappa's tiki-tiki as way of playing, the pressure of relegation on their shoulders, and not showing great performances but getting the job done.

The keys to each:

· Bases of the line up remain untouched
· Experienced and young players that work well together
· Players hold a good relationship
· Few but important signings
· Good players brought from the cantera
· Similar team to the winner of Clausura 2009
· Sensitive coach

· Great game in the first half
· Experience, talent and strenght shown by Almeyda and Ortega
· Fresh and quick players from cantera
· Funes Mori finally paying off as goalscorer
· Take advantage of most of attacking opportunities
· Incredible support from all the fans
· Smartest coach on the league




2) Boca's in crisis and Borghi already thinks about leaving

Boca is an important club. Hence, it's always expected much more of them. 1 point out of 9 (even if it doesn't put them at the bottom of the table) means crisis. 1-1 against Godoy Cruz, 1-2 against Racing, and 0-2 against All Boys.

Borghi resists to change the line-up that he used in the Argentions Jrs. that was champions the last league: 3-4-1-2.
· The two up front are Palermo and Viatri. The latter has scored the only 2 goals the team has scored, but is now injured, while the veteran player still hasn't scored and hasn't had good performances.
· The defense isn't working. Clemente Rodríguez, new signing, hasn't fit with the rest of the players, and it's the area that's showing more problems.
· Midfield is weak: Godoy Cruz and All Boys did whatever they wanted with the ball and Boca could do nothing.

Still, should Borghi be targeted as the main responsible? After only 3 games in, Borghi is already considering leaving his charge if they don't win against Velez next Sunday. Apparently, the time he needs to get the team to get used to the new signings and the new line-up won't be given to him.

Fans cling to the hope that Riquelme's comeback will mean the start of a new Boca, or better, the return to what Boca once was. Riquelme won't return until the 9th week.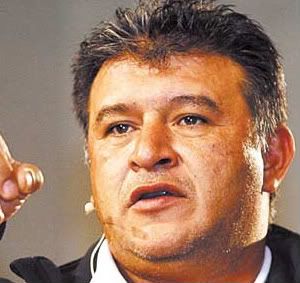 3) Two other coaches fight to stay on their jobs: Caruso Lombardi and Garnero

· Tigre's coach, Ricardo Caruso Lombardi, has already tried to blame his team's 3 losses in a row to different people. First it was AFA, claiming they'd arrange the fixture to benefit River Plate (0-1 against River). Then it was the referees, who are apparently set to favor any team that plays against them (0-2 against Arsenal). And finally, it was Rolando Schiavi, captain of Lombardi's former team, Newell's, and who, according to him, was one of the responsibles for his resignment.

Who will he blame next? We'll find out if Tigre loses next Quilmes.

· Independiente's fans aren't patient. They want good results, and they want them now. After Sunday's loss against River, they charged against the club's manager Menotti, then against the directive comittee, and they finally chanted in favor of their former coach, Gallego. However, their actual coach isn't to be blamed for the conditions the club was in when he picked up at the end of last season: half of the players were sold, Gallego had bought new ones with money the club didn't have, and had left them close to start worrying about being relegated.

The fans definitely don't want these players, this line up, nor this coach. The decision remains in the president's hands. Is he patient?


4) Defending champion, Argentinos Juniors

Everything seemd to be great two months back for Argentinos Juniors: won the title, and finished the season with the best average of all teams.

Now, however, with a different coach (Borghi left to Boca), and without the players that had been most important in the last league, Troglio was left to pick up the pieces of a broken team, and the consequences are showing: only 1 point out of 9 that leaves them amongst the worst 4 in the table.

Until another team takes it away from them, however, fans won't stop being supporting and chanting Dale campeón, dale campeón. And there's still time to get back on the fight.


5) Another tournament marked by irregularities: All Boys has to deal with it

All Boys' stadium was shut down as it apparently wasn't fit to be played at. The reasons? They weren't specified, and weren't told beforehand so that the club could deal with it before the start of the league.

What makes it even more weird? They made an appeal so that they could play their first game as locals on their own stadium. It was against Velez, and AFA allowed it. After that came another game at home against Boca, only this time AFA didn't allow it. What had changed so much between this?

Well, simply that Velez's fans destroyed All Boys' stadium on their visit there, making it again unfit to receive other teams. Real classy! All Boys is now playing as local in Huracán's stadium.

However, a good news for them meant the recovery of Cristian Fabbiani (former fat Lanús, Newell's and River player), who made his debut in the final 15 minutes against Boca.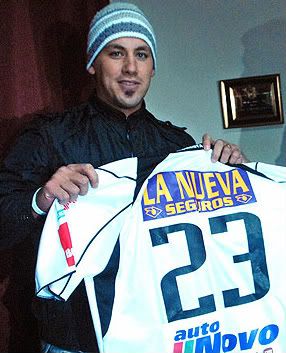 6) Godoy Cruz continues to amaze everyone

After the fantastic 09/10 season they had right after being promoted from Second Division, in which they were one of the leaders of the tournament until the final weeks, the modest team from Mendoza continues their great work.

Considering they're a team that's been working hard for years to get to the place they're now, two ties in a row (against big teams like Boca and San Lorenzo) and a win against Olimpo, leaves them with 5 points out of 9, in the position #8. Keep it up, Tomba.


7) Estudiantes remains one of the best

If we have to talk about great team work, about players with class and talent, about an excellent club and a bright coach, we have to talk about Estudiantes de La Plata.

The team that fought for the title against Argentinos Jrs last Clausura until the last week, has now won 2 games (against Newell's and Quilmes) and has tied one (against Banfield), with 7 points that put them right behind the leaders.

This season, however, they'll also be fighting for the Recopa and the Copa Sudamericana, being one of the strongest teams that'll be representing Argentina in an International Level.


8) Racing is recovering

After being always close to relegation during the past seasons, and barely avoiding it the last one under the coaching of always polemic Caruso Lombardi, Racing is finally showing signs of a recovery.

The team has found a way to complicate rivals without complicating themselves, and the signing of Giovanni Moreno promises to be one of the most important of the local market so far, since the player has already shown the talent and ability he posseses, and it's only a matter of time until he gets to his highest level. Plus, Lugüercio is scoring goals much more often.

A win against All Boys, an historic victory against Boca in La Bombonera, and a loss against San Lorenzo at home for 1-2, gives the team a sum of 6 points, that also mean a bit more of air as far as relegation goes.


9) The other two promoted: Quilmes and Olimpo

Second Division is said to be really different from First Division in Argentinean football, which is why teams that get promoted usually find it hard to have a good season that allows them to remain in the highest league.

So far, Quilmes and Olimpo have shown that they'll have to work hard to win a place amongst the best, but that they surely have the will and the players to do it.

· The team from Bahía Blanca, Olimpo, have lost two (against Banfield and against Godoy Cruz) and have won one, against Gimnasia.

· Quilmes, on the other hand, tied against Colón, also tied against classic rivals Lanús, and lost against Estudiantes.


10) Positions table and average table: