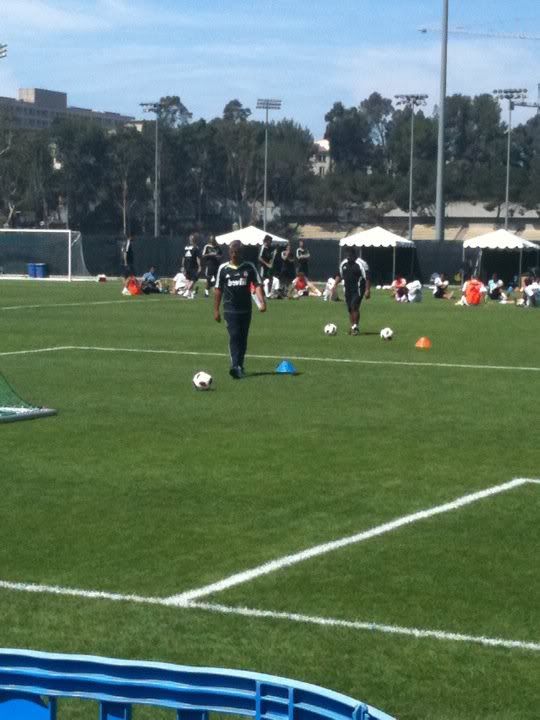 Jose is inviting you in.




I have been busy around the UCLA campus since Monday trying to get autographs and pictures and videos. I've went to the free training on Monday and was the first person to see Xavi & Sergio walk into the practice on Tuesday. AND I got a decent amount of autographs. So here is what I got:

MONDAY: Free Morning Training Session (sorry for the bad child noises):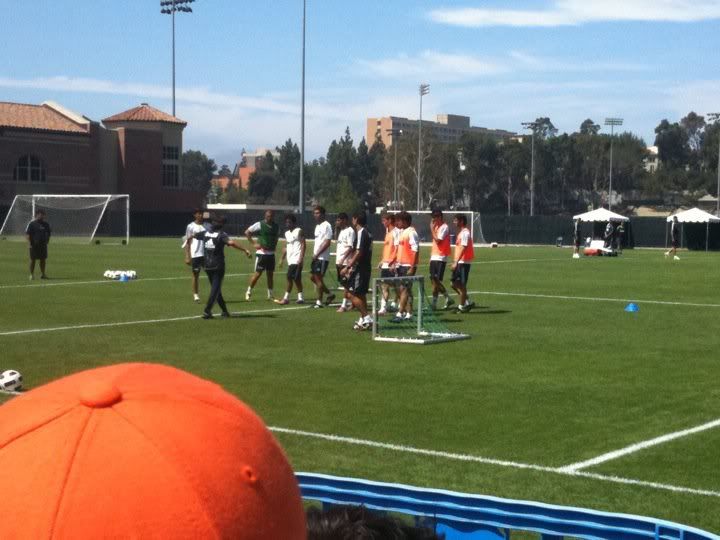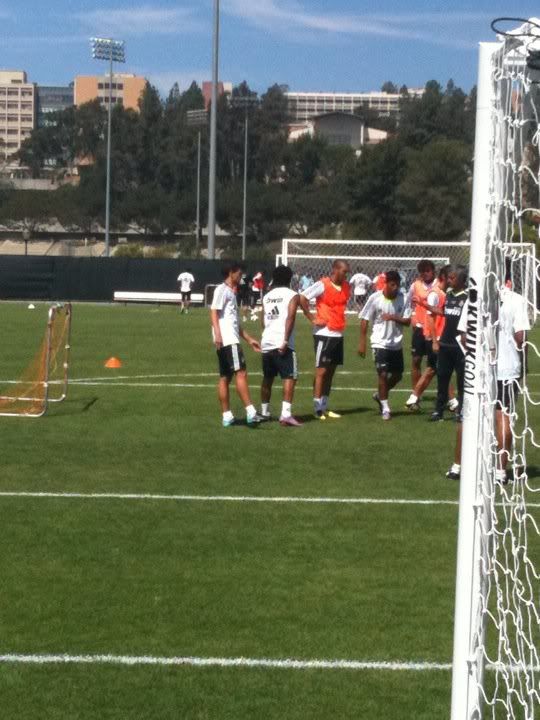 with Cristiano Ronaldo, Diarra, Drenthe, Jose Mourinho and others.

After the Morning Session on Monday by the buses:

Jose was just randomly walking around WAY before the players got on the bus. He is super nice and signed everything and took pics with anyone.

After the Afternoon Session on Monday while getting on the bus:

While waiting all of a sudden the security guard says "Turn Around" and I see these players coming from behind us. It was Nacho, Adan & Granero. I had a complete OMG moment. & I got Adan's autograph.




Then after I got Drenthe (who is super cool and came right over to me when i called his name and signed it extra special) & Benzema's autographs, the wonderful Kaka greets us with his beautiful smile. (Kaka is one of the nicest players. he is always smiling and signing autographs and taking pictures.)

TUESDAY: This day was REALLY bad for me and my friend. I was there the whole day and waited by the field to see Iker for the first time. But the bad started here:

Here is them Iker, Cristiano & Kaka leaving morning practice. All was good at first. Iker and Kaka went right to the kids and signed everything for them. When all of a sudden Cristiano decides to be nice today and come sign our jerseys. THEN some *&%#$ing IDIOTS started pushing from behind us then Cristiano left because of it. I was sooooo pissed.

Tuesday Afternoon DRAMA: Me and my friend were waiting in a secret area for the team to be done with training, and it was already more that halfway through the training, WHEN ALL OF A SUDDEN.... I hear her say OMG its Sergio Ramos & Xavi Alonso! (words don't express how I feel about Sergio. I love him so much) So I ran by her and my heart started pounding and i couldn't breathe when I saw him. I yelled at him to come over and my friend told him to come over in spanish. THEN he looked at us smiled,waved & said (in spanish) one second. Him & Xavi were going to the training session through the back way. And that secret spot we had guarenteed us a picture and autograph from most of the players on the team. But right before the players came out, the security told us we had to leave for some BS reason. But come to find out, they moved us so that some other old people (who probably had connections and were at the PAID training session) could stand there. My heart was shattered. I was almost in tears.

WEDNESDAY Morning: The day before my friend was so pissed that she called out that security guy and yelled at him. And i think he felt so bad that he gave her a Real Madrid Tour Book and told us that some of the players were going to stay behind for the SF trip. (which we didn't know). So I passed up my planned trip to Disneyland for stalking day 3. In the morning, it was a ghost town. EMPTY. So when they pulled up (Xavi,Iker,SERGIO RAMOS,Van der Vart,Albiol) THEY SIGNED EVERYTHING & TOOK PICS. So it made up for yesterday BUT I still don't have my pic with SERGIO!




I Know I look bad but Im still glad i got a pic with Albiol



I just wanted to TOUCH HIM!!!!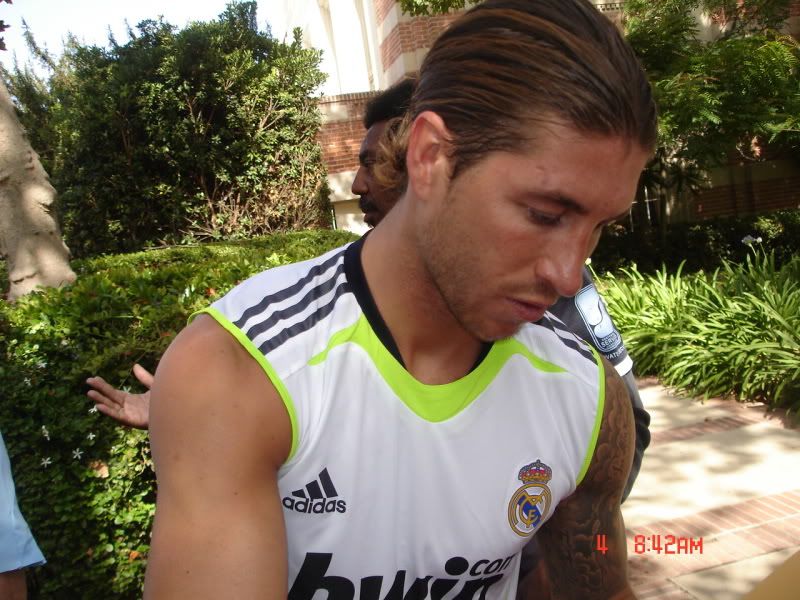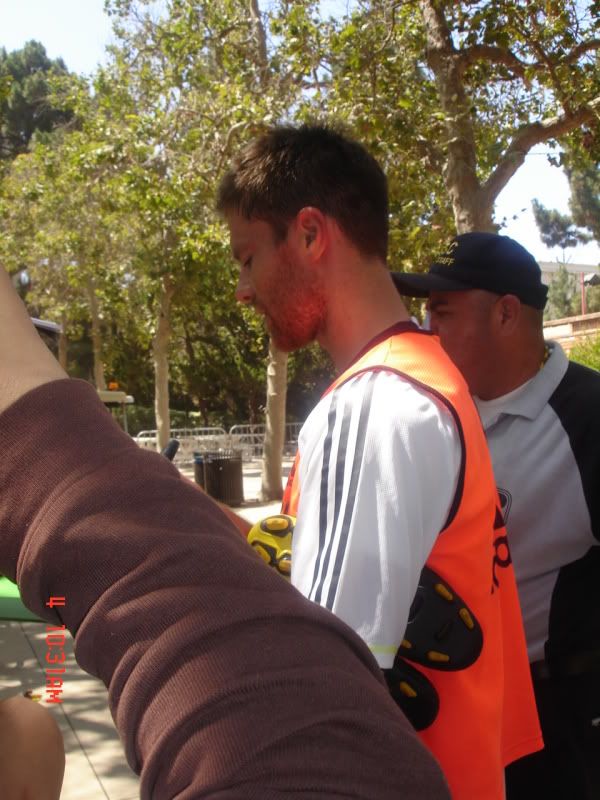 My (old) Real Jersey w/ signings :



And in the afternoon I got a pic with Xavi too. But i don't have it right now.

Thats the end of my 3day adventure. I will be there tomorrow morning and Friday too meeting up with some other people from ONTD. I just am hoping for my pic with Ramos.

Sorry it was so long & I hope this wasn't too boring. AND btw I work at UCLA if ur wondering why I was up there all week so carefree.