CLUB ATLÉTICO RIVER PLATE




The club was founded in May 25th, 1901. The name "River Plate" was because of the Rio de la Plata, the river next to Buenos Aires; it's believed that the founder of the club chose this name after seeing some sailors playing fútbol in the port.

Its characteristic colors are white with a red stripe, that goes from the top left corner to the bottom right corner.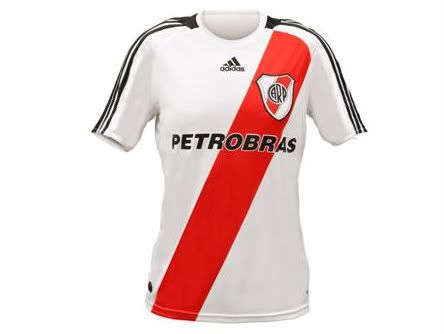 River's most known nicknames are Los Millonarios (the millionaires), that refers to a time when the club had a lot of money, result of the selling of great players at high prices, and La Banda Roja (the red stripe).

El Monumental
River's stadium is located in Núñez, and was named after former club president Antonio Vespucio Liberti. It's also known as El Monumental, and it's where Argentina's NT plays as local, specially during '78 World Cup. It was inaugurated in May 25th in 1938, in a match River played against Peñarol (Uruguay) and won 3-1 (against Boca's debut in their stadium with a 0-7 :P). The stadium has room for 65.645 people.



El Monumental at its full capacity.


Los Borrachos del Tablón
River is known for having the most faithful fans in Argentina. The "hinchada" (group of fans) is called Los Borrachos del Tablón (the drunks from the board); the term "drunks" is used to refer to the many cups River has won along its history. Los Borrachos also identify themselves with the number 14, often abbreviating as 'LBDT14'.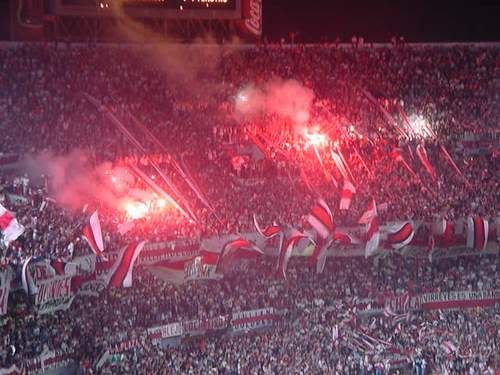 Los Borrachos are considered one of Argentina's most dangerous barrabravas, having attacked a lot of other fans from other teams and coming out as winners. When a group of fans wins over the other, they usually steal what is called trapos, that is, the flags from the other fans. These flags are shown as victory trophies during games, and River fans take pride in showing a flag that reads Caniggia te esperamos (Caniggia, we'll wait for you) stolen from Boca Juniors, in the fight known as La Corrida de Mar del Plata (the 'running' in Mar del Plata, in which Boca Juniors fans desperately ran away from attacking River fans).





Superclásico
River's biggest rival is Boca Juniors, and the matches between them are referred to as Superclásico (that would translate to "Super derby"). The Superclásico is listed as one of the 'Fifty sporting things to do before you die' by The Observer. The rivalry that exists dates back to the time when both teams became the most important in Argentina. In official matches, Boca leads with 119 wins against River's 104, with 102 draws.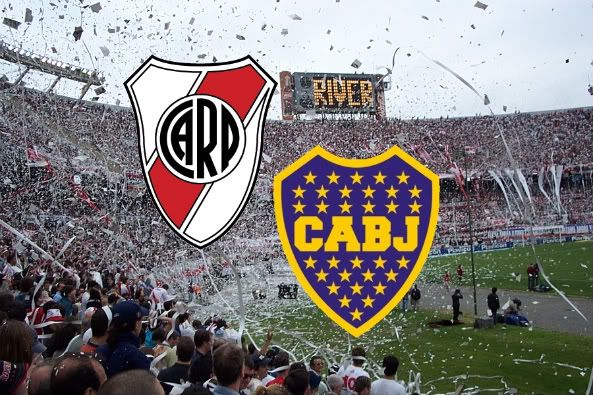 Boca fans usually use the term gallinas (chickens) to refer to River fans. This is because they claim that River fans have no guts, what in Spanish is called huevos (eggs); the term became really used after a Copa Sudamericana final River lost against Peñarol, after being 2-0 on the lead in El Monumental.

River fans refer to Boca fans as bosteros or chanchitos, referring to the bad smell that Boca's stadium has for its proximity to El Riachuelo; because of this, River fans always go to Boca's stadium wearing facemasks.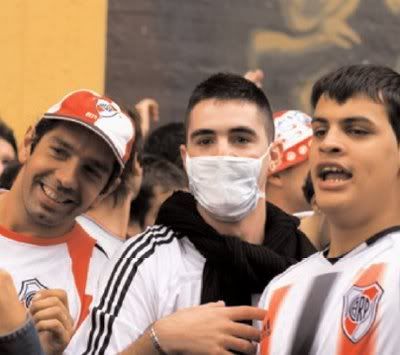 Eternal Heroes
River Plate gave birth to some of the best players in fútbol's history, that always remain as eternal idols for the fans.

Bernabé Ferreyra. "La Fiera".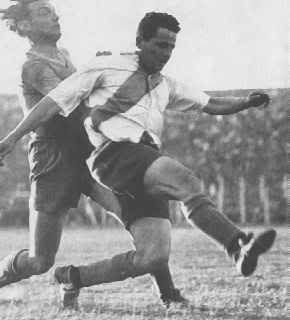 Perhaps one of River's first idols. He helped River achieve its first AFA title in the professional era in 1932, owning 44 of the 84 goals River scored in 33 matches, with an impressive average of 1,33 goals per match.
Local newspaper Crítica even offered a prize to the team that could stop Ferreyra's scoring streak, but it remained in hands of the paper, since no team could achieve it.
Bernabé had 185 appearances in River, with a total of 187 goals and 3 titles. He played his last game with Los Millonarios in May 11th in 1939, against Newell's Old Boys (the match ended in a draw).


La Máquina.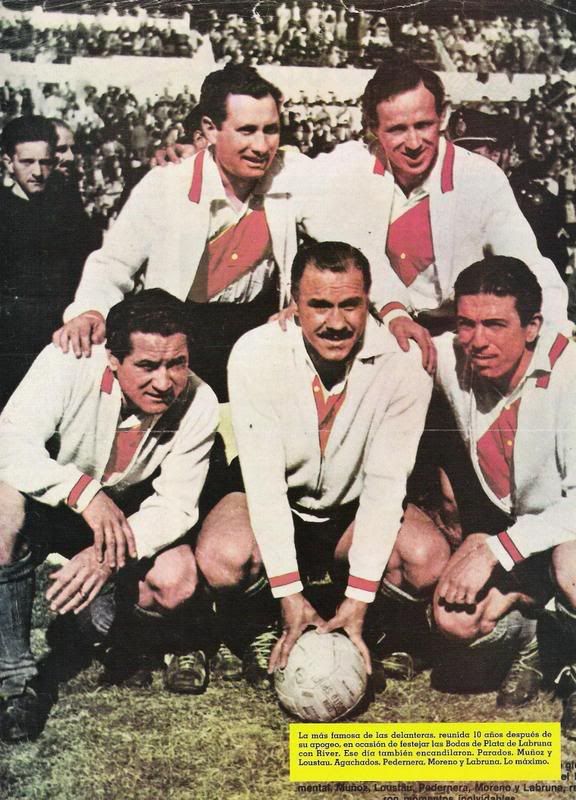 The Machine. This was the name given to River's team in the 40's, due to their excellent individual playing and team-working. River won the titles in '41, '42, '45 and '47, and finished second in '43 and '44.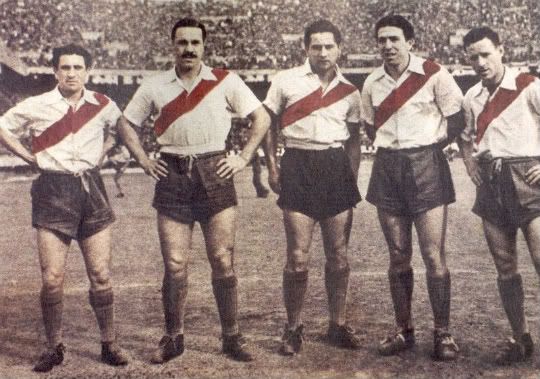 The Machine was formed by Ángel Labruna, Juan Carlos Muñoz, José Manuel Moreno, Adolfo Pedernera and Félix Loustau. Some of these players then left, and the one that became the biggest idol for River fans was Ángel Labruna, who was the one who came out as top scorer in most of the championships River won during that decade, and the top scorer in River's history (292 goals in 514 games.)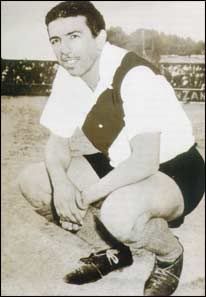 The '47 championship was remembered as one of River's best, finishing with 48 points in 30 games, having scored 90 goals (average of 3 goals per game).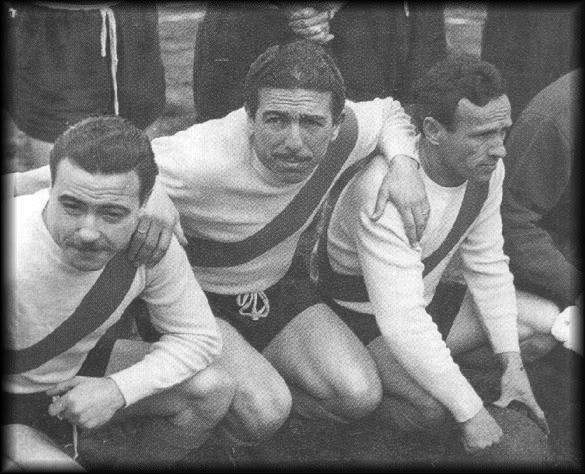 Omar Sívori. "El Cabezón".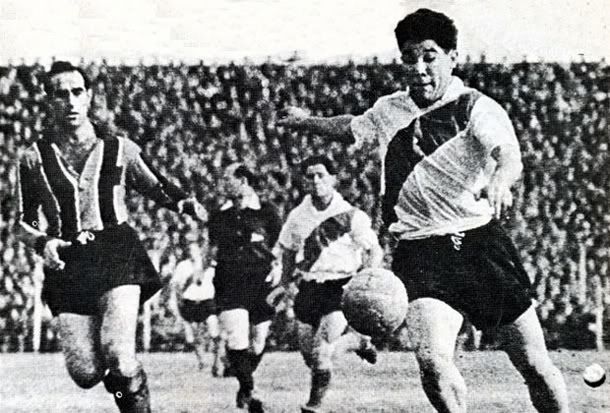 He made his debut in River during the "machine era", sharing team with River's greatest players in all history. Sívori was most remembered during his time with Los Millonarios for the game River played in Boca's stadium, winning 2-1 and therefore claiming the '55 First Division Championship. River's celebrations took place in La Bombonera, in front of thousand of Boca's fans.
He played 63 games, scoring 29 goals. Before leaving for Juventus, Sívori won 3 titles with the club (54/55, 55/56 and 56/57 First Division Championships).

Amadeo Carrizo.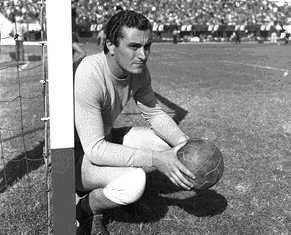 "I'm convinced of something: the goalkeeper decides by himself, he doesn't need other opinions. In fact, I only went to our coach's talks out of respect."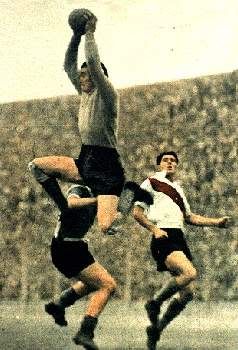 "I've only cried three times in my life, and all of them were with River: when I came back from Rufino by myself in train, when I beated the record of most minutes without receiving goals, and when Kent called me to tell me my time as player was over."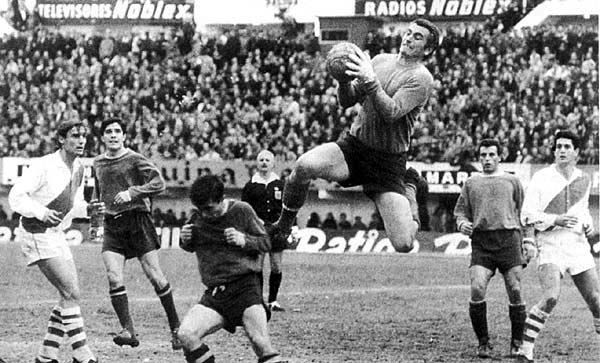 "The key was to fool the oponent, I tried to make the other player get into the game I wanted him to. I offered him a free spot, invited him to kick in that direction, and when he did I flew at the same time the ball left his feet."

Carrizo set a new mark in 1966: 769 minutes without having received any goals. During his 21 years at River (a record of 521 games as starter), he saved 18 penalties and won 6 titles ('45, '52, '53, '55, '56, '57).
His career as player ended in 1969, when he was 42 years old.


Walter Gómez.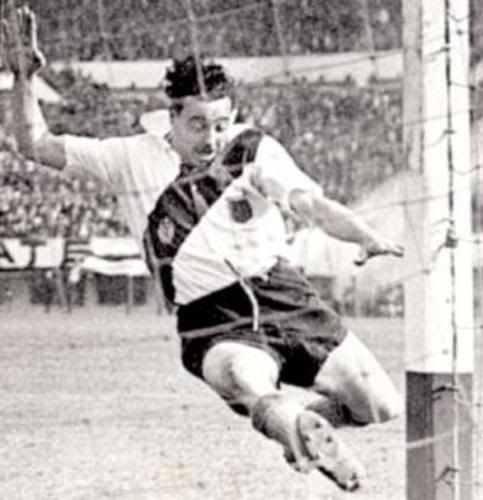 "People have stopped eating just to see Walter Gómez play..."

El Monumental went wild every time River played, and the Uruguayan played like the Gods, even if some things he did would now be penalized as he himself confessed: "during half time, we smoked a cigarette in the changing rooms". Of course, with the way he played, nobody even noticed. Who did notice were the Boca players, who truly suffered Walter's many talents. During a game against Boca in their stadium, River was losing, and Walter took the ball in the middle of the field and scored the goal that allowed River to later win that match. Everybody knew that, if Walter Gómez was playing, there was nothing to do, the game was going to be won by River.

Walter was amazing inside and outside the field. He played 5 years in River, from 1950 to 1955, made his debut with a goal, and left with another goal (in a draw 2-2 against Racing). He won three titles ('52, '53 and '55), and in 140 games he scored 75 goals.
With a life full of victories, goals and happy memories, Walter went to rest the 4th of March, in 2004.


Carlos Reinaldo Merlo. "Mostaza".


Nicknamed after his hair colour ("mustard"), he played his whole life in River Plate, from 1969 to 1984. During those years, he won 6 titles (National '75, Metropolitan '75, National '77, Metropolitan '79, National '79, Metropolitan '80).

"At the ends of 1984, River let me go. It was a decision that really hit me, but I accepted it calmly. In the last match, I was in the bench, and I knew it would be my last game with that glorious shirt. The cheering from the crowd since I came off the warming up until I reached the bench was amazing, I started crying... that was when I knew I'd never really leave River."

And he didn't. He coached River during 1989-1890, and in 2005. During his second time as coach, a tense relationship with some of the players and the team's bad performance caused him to leave his position in 2006.
Even after that, he remains one of the club's biggest idols.


Norberto Alonso. "El Beto".


Hugest idol to all River fans, he made his debut just as River was going through its darkest times (18 years, from 1957 to 1975, without winning any titles). When he scored against Independiente's Pepe Santoro, throwing the ball to a side and rounding the goalkeeper through the other, many said he was 'the white Pelé'. He was a player that stood out, absolutely different from any other, and who wore the Nº 10 shirt, that had once belonged to Labruna, Sívori, Onega, and many others.



He played 419 games in River, and scored 157 goals. He helped the team win 9 championships (Metropolitan '75, '79 and '80; Nationals '75, '79 and '81, First Division Title 85/86, Copa Libertadores '86 and Intercontinental Cup '86).


Ubaldo Fillol. "El Pato".


Fillol made his first trip to Buenos Aires when he went with a friend who wanted to try for Quilmes club. When they saw what he could do in the goal, Fillol was called to play in Quilmes' first division team. From there, he was sold to Racing Club, which, at that time, was being coached by no one else but Ángel Labruna.

River tried to buy Fillol into their squad, but since the team was going through a bad streak, Fillol wasn't sure if he wanted to play for Los Millonarios, and decided to stay in Racing. However, his coach, Labruna, forced him to move to Núñez with the words: "Look, Fillol, if you don't go to River, I'll beat you up."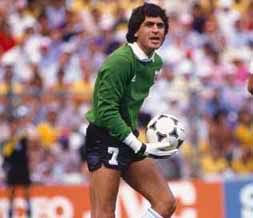 During those 10 years, Ubaldo became, next to Carrizo, one of the best goalkeepers in River's history and of Argentina's fútbol as well. El Pato seemed invincible, he found strength out of nowhere to reach the hardest shots. He flew from one side to the other and couldn't be passed. He had feline reflexes and was confident. On top of all that, he was an amazing penalty saver.

In River, he saved 16 penalties, out of which 2 belonged to penalty shoot-outs in stage definitions. He was so important in the National title achieved by River in 1975, that some of his teammates from that time assured that "Fillol won that title all by himself".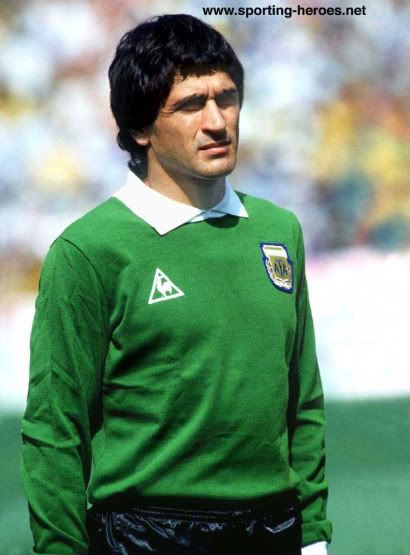 He played 361 games in River, and won 7 titles (Metropolitan '75, '77, '79, '80, and Nationals '75, '79 and '81).


Daniel Passarella. "El Kaiser".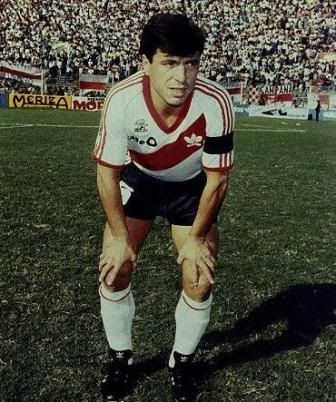 "Daniel, you'll play for River", his grandmother predicted. She was the healer of the town in which Daniel was born, and he said that to him, who was a Boca fan, just like the rest of his family. Boca was the team he first tried for, and that rejected him in 1970, the same way he'd been rejected in Estudiantes, Independiente and Chacarita. Every time he got a 'no' for answer, he returned to Chacabuco, where he worked since he was 14 in a factory with his father.
Raúl Hernández (former River player, and one of his best friends) showed him to Néstor Rossi, who by the time was coaching La Banda. He was 20 years old that January 23rd in 1974, when Rossi asked him if he dared to play against Boca.

"I don't want to be rude, but I have no problem in playing, the bottom line is if you dare to put me in the team." Daniel played as 3, got a shot against the pole, and was the best player in the Superclásico.
He was also captain in the National Team that won the world cup in 1978.



In River, he played 299 games and scored 99 goals. He then left to Italy, where he became the defender with most goals scored in one season: 11 in the 85/86 season.


Ramón Diaz. "El Pelado".



He stood out not just for his quality as a player, but as a coach too, becoming the coach who won the highest number of titles in River's history.
As a player, he helped River win the Apertura '91, one hugely remembered by River fans, since the team started winning 9 matches in a row and assured itself the championship very early in the season. Diaz scored his two most important goals against Rosario Central: the team from Santa Fé was winning by 1-0 when, in the last 5 minutes of the match, Diaz scored two goals that allowed River to win the game and the title, by the hand of Daniel Passarella as coach.

As a player, Diaz had 177 appearances, with 85 goals, and 5 titles (Metropolitan '79, '80 and '81, Apertura '91).



He then returned as coach, leading the team through 210 games: 116 won, 53 drawn and 41 lost. He helped the team win 7 titles (Apertura '96, '97 and '99, Clausura '97 and '02, Libertadores '96 and Supercopa '97).


Enzo Francescoli. "El Príncipe".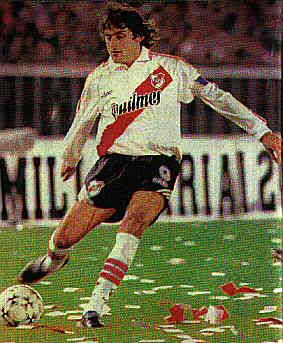 "I'll come back to River, I'm sure of that," he said when he left for France.



And he did. He came back to prove he's a man of his word. He returned for the Apertura in 1994, and River fans welcomed him as if he'd never truly left. He came back slower, with less explotion, but with more tactic, more vision and more experience. And with two elements that he never lost: talent, and that ability to score goals. He was the top scorer and won the title with River.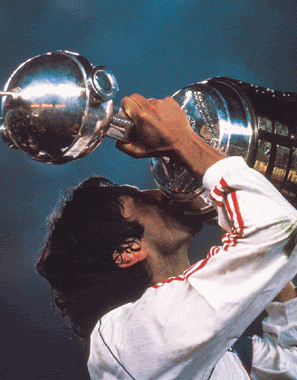 In 1996, he got what he'd been waiting for so long: the Libertadores Cup, in which he scored 6 goals.

But it didn't end there. That same year, River won the Apertura and Enzo reached the number of 100 goals against Rosario Central (he scored twice in that match, that ended 5-2 for River).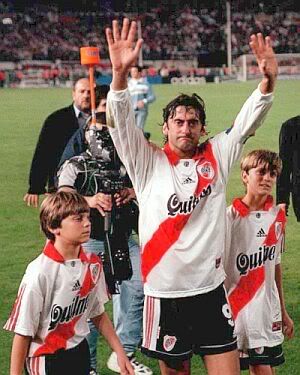 That 1st of August in 1999 was the day he said he'll never forget. The day in which 80.000 River fans gathered up in El Monumental to send one simple message to him: Thank you.


Ariel Arnaldo Ortega. "El Burrito".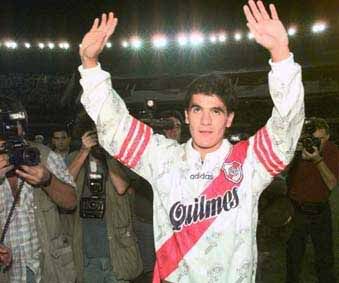 The afternoon of the Saturday 30th of April in 1994, Ariel Ortega helped write down one of the most glorious pages in River's history, when, with an excellent performance and an incredible goal, he became the hero in the victory 2-0 against Boca, in Boca's stadium.
It'd been 8 years, 2946 days, since the last victory in that field, and on top of that, River wasn't going through its best time.



Ortega became a hero then, and is still a hero for all River fans, amazing anyone who gets the honour of watching him play.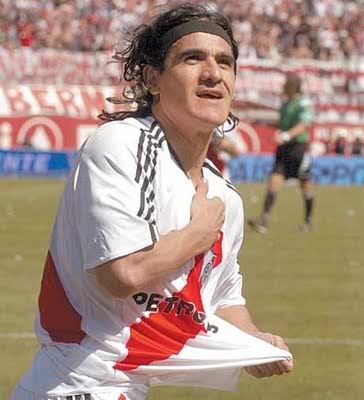 Up to date, he's played 295 games for River, and has scored 72 goals. The titles he's won with La Banda are 7 (Apertura '91, '93, '94 and '96, Clausura '02, and Copa Libertadores '96).


Marcelo Salas. "El Matador".


He was first called from Argentina to go to Boca Juniors, but Boca's coach, Carlos Bilardo, didn't want him to: "A Chilean player has never done well in Argentina." Big mistake.



Marcelo got to River Plate and won the heart and respect of the fans right away when, in his first match as starter, against Boca, he scored the goal to even the score.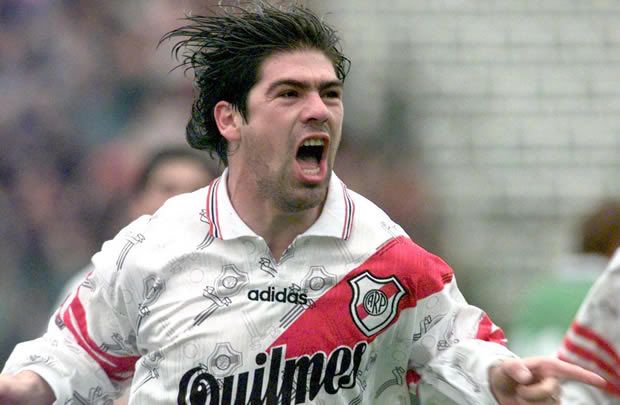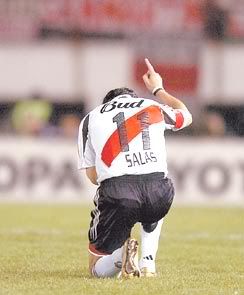 He played 110 games, scored 48 goals, and won 5 titles (Apertura '96 and '97, Claususa '96 and '97, and Super Copa in '97).


Leonardo Astrada. "El Negro".


With an amazing talent and passion for the club, Leonardo Astrada became the player who won most titles wearing River's shirt. Those were 11 (88/89, Apertura '91, '93, '94, '96, '99, Clausura '97, '02, '03, Copa Libertadores '96 and Supercopa Sudamericana '97). In his last game as player, he wasn't going to be there: his father had been kidnappeed the day before, and he was still in negotiations to get him back. However, after receiving many calls from his teammates, he went to el Monumental and appeared on field with a shirt that read "Dad, I'm waiting for you". He played the first 10 minutes, after which he was replaced so he could leave and continue the negotiations.
"I wasn't going to go, but I did, in the end. I did it for my father, because I knew he always was so proud of seeing me wearing River's shirt."




Also, as a manager, El Negro helped River acheive Clausura 2004.


Marcelo Gallardo. "El Muñeco".


Gallardo started playing fútbol around 1992, with the team he was a fan of: River Plate. With La Banda, he won 7 titles (Apertura '93, '94, '96 and '97, Clausura '97, Libertadores '96 and Supercopa Sudamericana '97).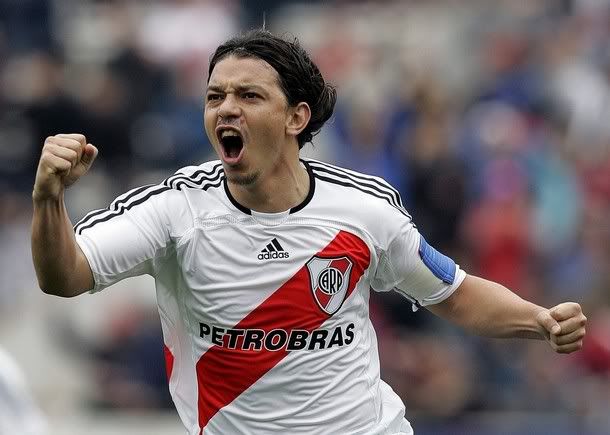 When he left to France, he'd played 109 games for River, and had scored 17 goals. He returned this last season, and has already scored 7 goals, 2 of which were free kicks against Boca Juniors.


A Decade Of Glory
The 1990-1999 decade was the best in River's history. The titles won were 89/90 season (team that included Medina Bello, Zapata, Astrada, Rubén Da Silva, and was coached by Passarella), Apertura '91 (with 14 goals by Ramon Diaz, and with great appearances of Comizzo, "El Pipa" Higuaín, Enrique and Basualdo), Apertura '93 (with players such as Medina Bello, Berti and Ortega), Apertura '94 (with the return of Enzo Francescoli with 12 goals, River won 3-0 against Boca in Boca's stadium, and became the only team in River's history that won the title without losing one single match: 12 wins and 7 draws), Libertadores '96 (after winning 2-0 over América de Cali, with 2 goals by Hernán Crespo, the appearances of Francescoli and Ortega, and Ramón Diaz as coach), Apertura '96 (with one of River's best teams in history), Clausura and Apertura '97 (with goals by Salas and Francescoli, and the great playing of Juan Pablo Sorín and Marcelo Gallardo), Supercopa '97 (2-1 against San Pablo, with two goals by Salas, reaching 5 titles in 1 year and a half; this was known as "Ramon's team"), Apertura '99 (with new figures, like Pablo Aimar and Javier Saviola, the latter was the top scorer with 15 goals).

River finished this excellent period by winning Clausura '00 (with Gallego as coach, returning to the club after 6 years). That team counted with players as Ángel, Saviola and Aimar.


Winner Of The Century
On May 25th of 2001, River became 100 years old. To celebrate it, River fans got together and marched through the streets of Buenos Aires holding a flag that was 1000 meters long, and congregated in the Obelisco, where the celebrations continued until the day was over.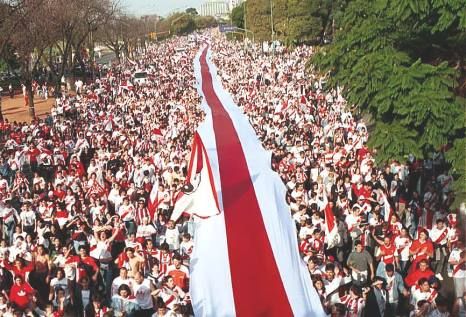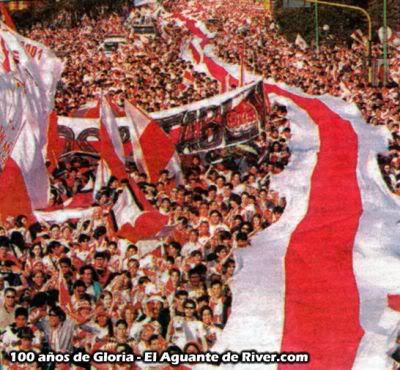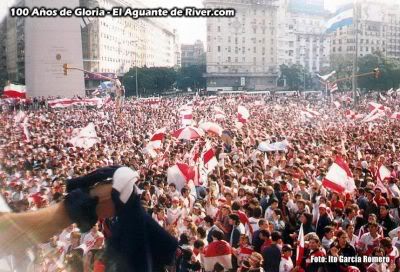 Other facts
+ River is listed as first in the all-time table of professionalism, and in the all-time table of points gained in Copa Libertadores.

+ River is listed as the best team of all America through the years 1992-2008, according to IFFHS ranking.

+ River is the team with most tickets sold to fans, followed by Boca Juniors. River, in the first championship in its history in which it ended last on the table, finished 1st in number of fans that assisted to the games, even over Boca, who won the title that year (Apertura '08).

+ River holds the record of 14 Copa Libertadores appearances without missing one (1995-2008)

+ River holds the record of 9 players at the same time in the National Team: it was in '58 qualifications, in a match in which Argentina won against Bolivia 4-0

+ River is, up to now, the only team that has won a championship without getting a penalty in favour (Clausura '08)

+ River is the team that has won more professional local titles in Argentina: 33

+ River is, next to Racing, one of the only 2 teams to ever obtain 3 championships in a row (tricampeonato), with the only difference that River obtained the "tri" three times: 1955-56-57 / Metro '79 - National '79 - Metro '80 / Apertura '96 - Clausura '97 - Apertura '97. This is something River fans like to remind Boca fans, after the embarrassing ending Boca faced in 2006.


Boca Tricagón 2006
Apertura 2006 was reaching its end. Boca was leading the table with 2 games left until the end of the championship, and Estudiantes was his only follow up. Boca had won the previous two titles, and started celebrating the "tri", teasing River fans, who'd always held pride in being the only ones, besides Racing, in having obtained it. During the week previous to the final game of that championship, fans and famous Boca supporters were seen already celebrating the title. However, Boca didn't win any of those last matches, and Estudiantes did.

Finishing the both with the same points, the title was defined in a final that started with Boca in the lead with a goal scored by Palermo (former Estudiantes player); Estudiantes, however, scored 2 goals after that and became the winner of Apertura 2006.

Boca, who had already celebrated the tri with flags that read "TRICAMPEONATO", had merchandising of it, had prepared the celebrations in the Obelisco and had bought all the fireworks, had to give it all back, while Estudiantes celebrated their winning.







A Few Stories and Secrets

Anything for the approval
It was 1906, and River had been expelled from Dársena Sur, so the members of this new and modest club were taken to Sarandí to build the new stadium. There arrived Mr F.A. Williams, from the Football Association, to check that all the requirements for the instalations were right. Even though the place was near the river, it was a desert and it was impossible to get any water from there.

The directives had scattered some pipes and marked footprints, simulating a supposed future pipe instalation, but of course, it was fake. Williams reached a bathroom and had no better idea than to test one of the taps. The club members that were next to the inspector were sweating in fear, but unexpectedly, water came out of it and Williams signed the approval.

What nobody knew was that Enrique Salvarezza and Alfredo Zanni had agreed that, the moment they heard the sound of the tap being opened, Zanni would pour water through a precariously installed pipe. So they did, and that's how River could make Sarandí stadium their first one in its history.


Bernabé's footballs
La Fiera loved playing when it rained, because the ball got wet and muddy and weighted more. So when River was playing at home and the rain wasn't coming, the ball was prepared.

In that time, balls had a chamber inside of them. Bernabé would deflate it and put it inside another one. These two chambers were placed inside the ball, he closed it, and this "special ball" rested the 48 hs previous to the match in a bucket full of water. At the games, this special ball was like a bomb.


Everyone makes mistakes
River had to play a game against Villa Ballester, and when it had to start, the club was missing a player, that so happened to be the goalkeeper. So River decided to invite Enrique Salvarezza, "the number one fan". He started so badly that on the first shot, Ballester scored.

Leopoldo Bard, who was team captain, decided to move him to attack and put other to replace him. A few minutes later, Salvarezza received the ball and, wanting to fix his mistake, started running and running. But against his own goal. He was running so fast that there was no way he could be stopped by words, so Pellerano had to jump over him and tackle him to stop him from scoring against his own team.


Some Videos
THE ANTHEM


ENZO'S BEST GOALS


MARCELO SALAS' BEST GOALS