Sooooo I was thinking while watching Spain - Paraguay last night - there are some HOT HOT HOT football players out there. You probably already knew that. Well, I decided to make a little picspam of 10 players I noticed this tournament that I think are absolutely SMOKIN'. I gotta warn ya - no Kaka or Ronaldo through here, because I have weird taste. But please feel free to add! Who do you think are the hottest football players out there working it in South Africa?

PICSPAM THIS WAY! :D



Let's start off with some Dutchies. Although I think all the players are pretty cute (yes, even Kuyt), I got some favourites when it comes to looks:


Gregory van der Wiel
The Netherlands

He's just pretty to look at! Also, I really like his tattoos, although you can't really see them in these pictures. I like his longer hair better than the short hair he's sporting at the minute, but I'm not complaining :)






Maarten Stekelenburg
The Netherlands

Those official FIFA 2010 pictures aren't exactly flattering - most players look so ugly in them! Maarten just has an amazing body, especially when he's doing some incredible save. And he's really tall. I love tall guys.








Sergio Romero


Argentina

Again - the FIFA one is HIDEOUS. He looks like a criminal or something. But in the field, he's sparkling! I love his hair and his expressions. Also, I apparently have a thing for goalies. Maybe it's the incredible jumping or something.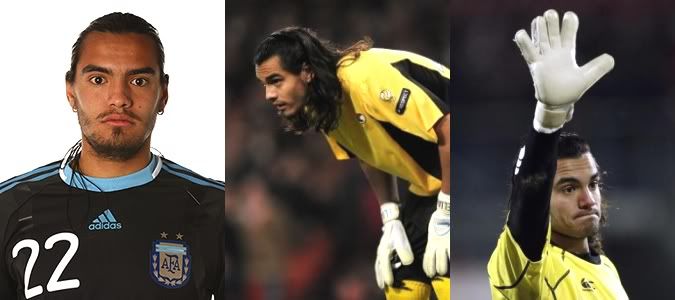 Lionel Messi
Argentina

OF COURSE. He's just so cute! He's so incredibly shooooort that it makes me laugh everytime I see him, but he's one of the best players alive today and he stands his ground even though he gets attacked pretty violently by the opposite team's defenders. They're just scared of him because of his awesomeness :)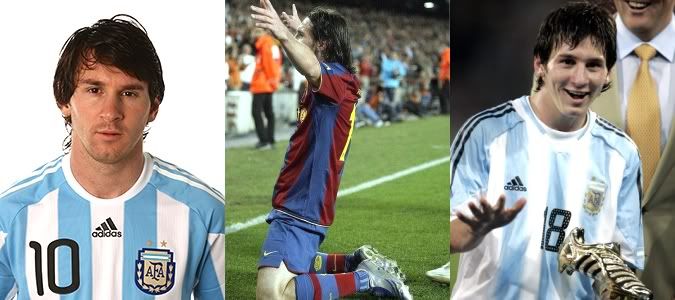 Gerard Piqué
Spain

I mean COME ON. He just has this Jake Gyllenhaal-ish air about him. He's a pretty agressive player and I shouted at him when I saw him playing yesterday because he was being a pig, but his smile is mesmerizing :)






Thomas Müller
Germany

He's just as old as I am and part of the amazing German team. He's pretty cute, although I couldn't really find any good pictures of him. The FIFA picture is agreeable but when you see him play he's just hot hot HOT. A good excuse to watch some Germany games (although he won't be playing the semifinals because of a second yellow card - idiot).






Diego Forlán
Uruguay

I like his hair and his abs :) His face is a bit... blah. But his body - unf unf unffffff. He moves really smoothly and his muscles are DELISH. Just look. at. that. body.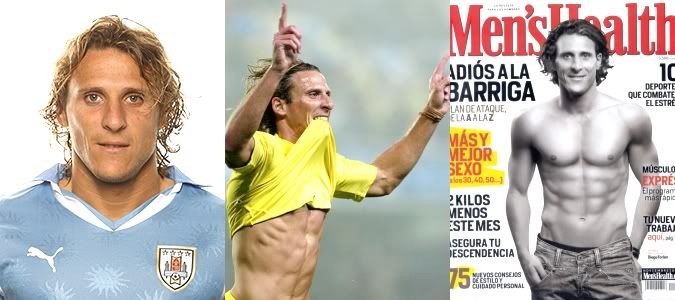 Samuel Eto'o
Cameroon

I like his name :D But he's hot as well. I mean - THOSE LEGS. I just want to eat them! OM NOM NOM







Djibril Cisse
France

This is one of the most distinguished football players when it comes to looks. Although his hair is pretty consistent in these three pictures, he has done some CRAZY THINGS. Of course, that got my attention and I'm sure I'm not the only one. There will be people laughing at him but I love him for not caring.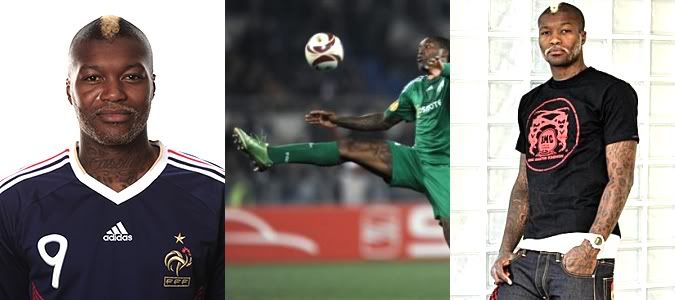 And now, the top of the chart (although this technically isn't a chart) - the hottest football player I've seen in this World Cup...

Give me some drum rolls vuvuzela...



BZZZZZZZ


BZZZZZZZZZZZZZZ



BZZZZZZZZZZZZZZZZZZZZZZZZZZZZZZZZZZZZZZZZZZZZZZ



Fabio Cannavaro
Italy

I MEAN COME ON JUST LOOK AT HIM.