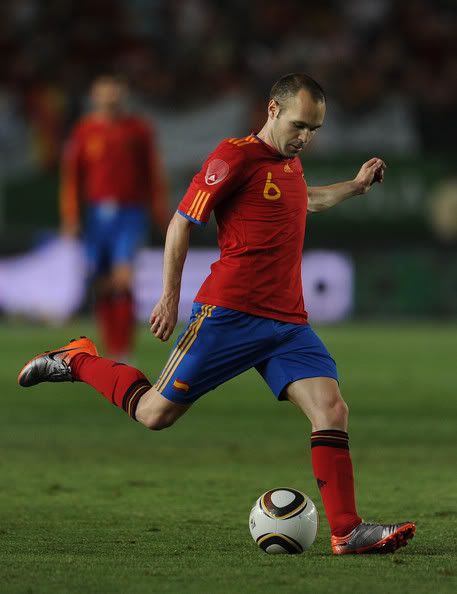 World Cup favourites Spain are waiting to find out the extent of a leg injury suffered by playmaker Andres Iniesta in Tuesday's 6-0 thrashing of Poland.


Iniesta came off in the 39th minute of the warm-up match with a muscle problem and will have a scan on Wednesday.
He felt a little strain in his leg but we hope it's nothing," said coach Vicente del Bosque.

Fernando Torres scored on his return from injury, while Cesc Fabregas and Xabi Alonso were also among the goals.

Barcelona star Iniesta, who missed much of the end of the La Liga season because of a thigh problem, was at the heart of Spain's first two goals as their final warm-up game before the World Cup turned into a procession in front of their home fans in Murcia.

He provided the pass for David Villa's opener in the 13th minute and started the move which led to David Silva's strike shortly afterwards.

Del Bosque said the attacking midfielder "came off as a precaution" after feeling the twinge in his leg.

Iniesta has not played a full 90 minutes for Spain since February 2009.

Update: Just read this on fifa.com
Team doctor Oscar Celada revealed that Iniesta does have a slight injury. "We substituted him because he had some discomfort in the back part of the thigh," he said.
It's a minor injury, but we have to take precautions.


"He didn't notice any tear and it has not got any worse. It was at the start of the match and as he wasn't comfortable, we made the change - it's a minor muscle injury. We will calmly carry out tests on Wednesday, but we can initially rule out any muscle tear. It's a minor injury, but we have to take precautions," he added.

So it doesnt seem to be anything too serious, lets hope that the scans confirm this

Source

Lets all pray that it is nothing serious and that there are no more injuries!