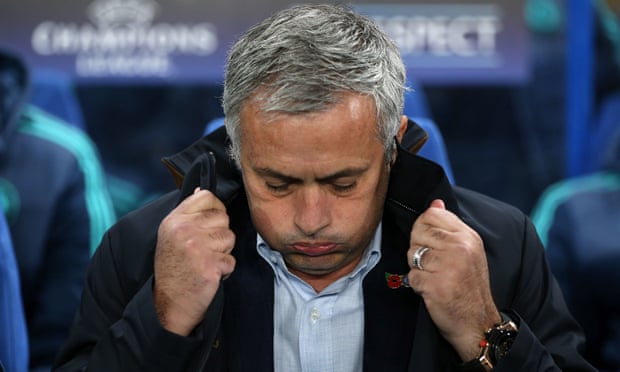 José Mourinho said his work had been 'betrayed' at Chelsea by the efforts of his players. Photograph: Jason Dawson/REX/Shutterstock
Chelsea have parted company with manager José Mourinho. The Portuguese returned to the club in 2013 and won the Premier League title last season, but having sunk to 16th place in the table, the Stamford Bridge outfit have dismissed their manager.
Mourinho's side have lost nine league games this season, the worst defence of a Premier League title ever. The latest loss was to Claudio Ranieri's Leicester City, 2-1 at the King Power Stadium. Afterwards Mourinho took the unusual step of criticising his players. "I feel my work is betrayed," he said. "I worked four days in training for this match. I identified four movements where Leicester score a lot of their goals and in two of the four situations I identified they scored their goals. I went through it all with the players, you can ask them."
After the defeat it had seemed a matter of when, not if, Chelsea's owner Roman Abramovich would act, with the club in real danger of slipping into the relegation zone over the crowded festive period.
When asked after the Leicester defeat if he could hold on to his job, Mourinho said: "The only thing I can say is that I want to. I have no doubts and I think you know me well enough, three years this time, plus three years another time, that I am not afraid of a big challenge, and in this moment this is a real big challenge. I want to stay, I hope Mr Abramovich and the board want me to stay."
SOURCE
:(