Time for the new AsRoma Catalog..... or better, its (too short if you ask me) backstage vid, featuring Bojan, Stekelenburg, Rosi, Cote, Kjaer plus Osvaldo and Lamela
's naked torsos
and damn, this boys are delicious.
no matter the clothes, hats, whatever they put on him... Osvaldo is a sexy beast.
Enjoy!
(
Collapse
)
the catalog will be up at
www.asromastore.it
soon I think.
Bonus
: Osvaldo pics from the official magazine LaRoma.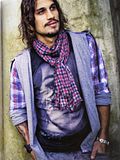 (
Collapse
)
also poor Dani, yesterday he scored the most beautiful goal ever and it was wrongly disallowed! *rage*
you should consider an Osvaldo tag. SRSLY.
(xposted at
ahh_serie_a
)