Portugal proud of its three semi-finalists
The evening of Thursday 14 April 2011 was a historic one for Portugal as for the first time three of its teams –
FC Porto
,
SL Benfica
and
SC Braga
– progressed together to the semi-finals of a UEFA competition.
With the country in a difficult moment economically, the UEFA Europa League success of the Liga's current top three offered the Portuguese people 90 minutes of escapism. In the semi-finals, which will take place on 28 April and 5 May, Benfica will meet Braga while Porto play Spain's Villarreal CF.
(
Collapse
)
(
Collapse
)
source:
http://www.uefa.com/uefaeuropaleague/news/newsid=1620514.html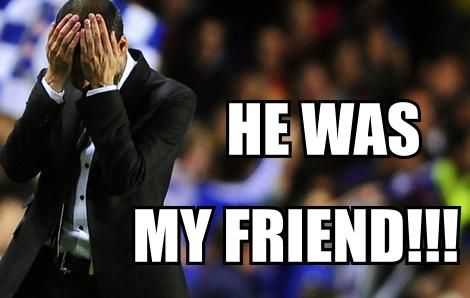 Barcelona coach Pep Guardiola has lost his cool with Real Madrid counterpart Jose Mourinho ahead of their Champions League semi-final.


Before the first leg, Mourinho mischievously said Guardiola was a new breed of coach who criticised correct decisions by referees.

In an unusual outburst for the normally laid-back Guardiola, the Spaniard retorted: "He's the fucking boss. He's the fucking master and I can't compete with him at any instant."
(
Collapse
)
lol, u mad Pep?

But srsly, what did Pep hope to achieve by trying to fight fire with fire when it comes to mind games against Jose the night before Clasico Round Three?