Manchester United midfielder Owen Hargreaves finally made his comeback after 18 months out injured, playing for the reserve team on Thursday.
Hargreaves, 29, managed 45 minutes against Burnley reserves, although he was cautions not to over-exert himself.
"It was great today. I'm happy I can be back with an 11 v 11 and a referee," said Hargreaves, who has had surgery to cure tendinitis in both knees.
"I feel good. It's about managing the injury and trying not to do too much."
Hargreaves, who joined Manchester United in 2007 from Bayern Munich in a £17m deal, has suffered long-term problems with tendinitis and played only three games for his club in 2008.
In a bid to solve the problem, he had knee surgery under the guidance of specialist Dr Richard Steadman in America and returned to United's Carrington training base 12 months later.
And now, after so much time on the sidelines, the England international is eager to force his way back into contention at Old Trafford.
"I missed almost two full seasons with Man United," explained Hargreaves.
"I came here with high expectations for myself and from the club's side and the fans and not to be able to play from 27-years-old to 29 is incredibly disappointing.
"Now I will just train with the team and when the sharpness comes back and I start to feel better then I will consider playing a first-team game but that's up to the manager to decide."
Hargreaves could continue to build on his match sharpness by playing for the reserves again at Burnley in next week's return fixture.
And, despite not playing a first-team game since facing Chelsea at Stamford Bridge in September 2008, the former Bayern Munich star is not ruling out a return to the England team in time for the World Cup.
"It's something that is there, how it will materialise I don't know," said Hargreaves.
"I would love to have the opportunity to play again but I think I'll have to see how I progress and just take it day by day.
"If I'm there, I'm there, I'd love to help, but if I'm not, I'm not."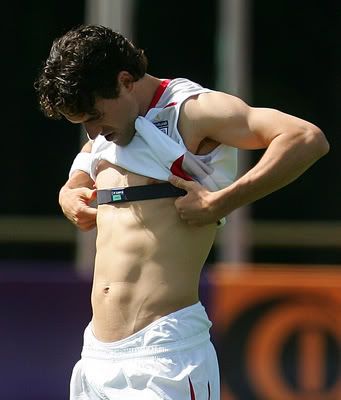 Please say fit now ....no more knee problems aight.