will you PLEASE stop hurting yourself?
Ballack a doubt for Wales clash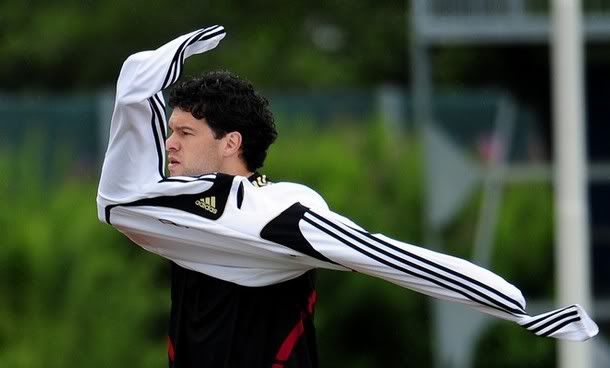 Germany captain Michael Ballack is an injury doubt for Wednesday night's 2010 FIFA World Cup South Africa™ qualifier against Wales after damaging a calf muscle, it was announced on Monday.
Ballack scored Germany's second goal in their 2-1 win over Russia on Saturday in Dortmund during their Group Four qualifier, but picked up the injury to his right calf late in the game.
He informed the German Football Federation (DFB) medical staff at noon on Monday and sat out training in Duesseldorf on Monday as a precautionary measure.
A decision on whether Ballack plays will be taken in the run-up to kick-off in Moenchengladbach, but Germany coach Joachim Loew expects his team to pick up three more points with or without their captain.
Goals by Lukas Podolski and Ballack in Dortmund put Germany 2-0 up at the half against Russia, but the spirited guests had Loew's men under intense pressure in the second 45 minutes and came close to an equaliser.
"We watched the game against Russia again on Monday to make sure we don't sit back again in the second-half," said Loew on Monday. "We want three more points, it wouldn't be good if we take three points from Russia, but then lose to Wales.
"It is our goal to take six points from the two games, so it is important we concentrate fully," he added.
A Germany scout travelled to Cardiff on Saturday to watch Wales beat Liechtenstein 2-0 at the Millennium Stadium and Loew expects a defensive display from the Welsh.
"The Welshmen play differently from the Russians," said Loew. "They are a typically British team, who prevent goal opportunities by getting men behind the ball and by being pretty robust. They will probably play a 4-5-1 system."
Frings return
Loew kept experienced Werder Bremen midfielder Torsten Frings on the bench against the Russians and hinted he may rest some players.
"Of course I can't rule out making some changes, we will look at the team in training and make a decision accordingly," said Loew. "I was impressed with Torsten's attitude and reaction when I told him he would not be playing. I have a high opinion of him, he does all he can for the team and is still an important player for us."
After Kevin Kuranyi walked out of the squad during Saturday's game against Russia, Loew said he will never pick the Schalke 04 striker again. But he still has four forwards to choose from in Miroslav Klose, Mario Gomez, Lukas Podolski and Patrick Helmes.
Germany lead Group Four on seven points with two wins and a draw, while Wales are second on six points after two wins and a defeat.
source