BBC's made their choice for European starting XI for the noughties.
I think its time we did too.


First, the decade in review.


Italy were Europe's only World Cup winners and France, Spain and Greece won the 'Euro'.

Barcelona, Real Madrid and AC Milan each won the Champions League twice and Manchester United, Liverpool, Porto and Bayern Munich each won once.

Six European players have won the Ballon D'Or- Luis Figo, Michael Owen, Pavel Nedved, Andrey Shevchenko, Fabio Cannavaro and Cristiano Ronaldo.
Okay, 'nough small talk. On to the big guns.

BBC'S EUROPEAN LINEUP FOR THE DECA
DE


4-3-3

GOALKEEPER:
OLIVER KAHN (Germany)

A tough choice but four consecutive Uefa Best European goalkeeper awards (1999-2002) clinched it. His shot-stopping saw him awarded the gloves ahead of other excellent candidates such as Iker Casillas, Edwin van der Sar and Gianluigi Buffon.



RIGHT BACK:
LILIAN THURAM (France)

Of course, he won the World Cup with France in 1998 but I'm selecting him for his outstanding performance in Euro 2000 and his constant excellence while at Parma and Juventus, even if he wasn't the type of speedy wing-back that is in vogue at many Spanish and Italian clubs. He could also play in the centre of the defence, which he often did for France
.

CENTRE BACK:

FABIO CANNAVARO (Italy)

The Italian captain was 2006 world player of the year and instrumental in the Azzurri winning the World Cup that year. Outstanding at reading the game and the epitome of a firm but fair tackling. Still going strong and he's now his country's most capped player.


CENTRE BACK:

RICARDO CARVALHO (Portugal)

A rock solid central defender who was a cornerstone behind Portugal's improved performances at major championships. Enjoyed his best performances during the mid-2000s at Euro 2004 and when Porto won the Champions League but in recent seasons he has been very effective at Chelsea, despite his current injury problems.



LEFT BACK:

PHILIPP LAHM (Germany)

Possibly the most controversial choice for some people but he has never failed on the big occasion and was in the team of the tournament at the 2006 World Cup and Euro 2008. Compact, quick and a superb crosser. Europe's answer to Roberto Carlos.



RIGHT MIDFIELD:


DAVID BECKHAM (England)
It's not all hype, he can play a bit as well. Good pace and few players can cross with such pinpoint accuracy as Becks. He's also arguably still the best dead-ball specialist in Europe, if not the world.



CENTRAL MIDFIELD:

ZINEDINE ZIDANE (France)


It all ended on a sour note in the 2006 World Cup final but let's remember the good times when he was indisputably the world's best playmaker. His left-foot volley which won Real Madrid the 2002 Champions League is also, in my opinion, possibly the best goal of the last decade.



LEFT MIDFIELD:

LUIS FIGO (Portugal)

The Beckham-Zidane-Figo triumvirate was one that played together regularly at Real Madrid for two seasons between 2003 and 2005 and in that time they didn't actually win a thing, but this team is obviously more about individual ability and accomplishments, and Figo was equally comfortable as an advanced right-sided or left-sided midfielder.


STRIKER:


CRISTIANO RONALDO (Portugal)

Won everything there was in terms of individual honours at the end of the 2007-08 season, when he was with Manchester United. Real Madrid valued him so highly that they were prepared to pay a world record transfer fee last summer. A dazzling runner and dribbler on his day and there is the sense that after recent injuries and the upheaval of his his move, he is returning to his best form of two years ago.



STRIKER:


RUUD VAN NISTELROOY (The Netherlands)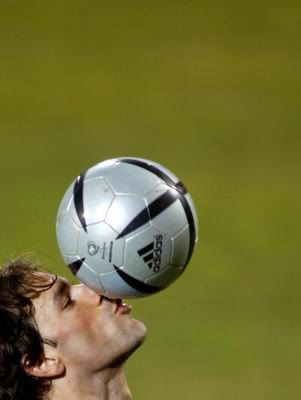 The only man to top the scoring charts in both the Netherlands, England and Spain. He has never failed at a club, despite several long-term injuries. Great ball skills, which often get over-looked because of his clinical close-range finishing.


STRIKER:

THIERRY HENRY (France)
It could be argued that Henry has too often failed to show what he was capable of for Les Bleus but his performances for Arsenal and, to a certain extent, Barcelona, have more than compensated for that.



COACH

MARCELLO LIPPI (Italy)


Some people might view things differently but this was an obvious choice for me as he was the only European coach to have won the World Cup in the last decade, especially with the problems of a poor performance by Italy at Euro 2004 and the Calciopoli game-rigging scandal that centred around his former club Juventus and was uncovered in May 2006.


SUBS:


Iker Casillas (Spain), Paolo Maldini (Italy) Sergio Ramos (Spain), Xavi Hernandez (Spain), Pavel Nedved (Czech Republic), Wayne Rooney (England), Fernando Torres (Spain).

This is the view of Phil Minshull, a columnist for the BBC.
If you disagree, then who's in your European starting XI for the decade?
Also, what are your opinions of Philly's choices?
Honestly, it's not my cup of tea.

http://www.bbc.co.uk/blogs/philminshull/2009/12/a_european_team_for_the_nought.html