CONGRATULATIONS, BANFIELD!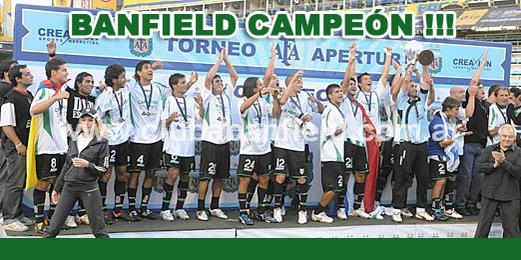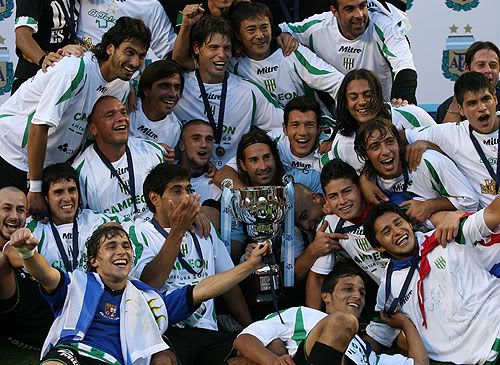 Yesterday, Banfield became the winner of the Apertura 2009, the first title in First Division that the team has obtained in its 113 years of history.


Around 5500 Banfield fans went to La Bombonera, expecting a victory, and also hoping that San Lorenzo would win against Newell's in Rosario. The game had just started in La Boca, when the Taladro fans started celebrating a penalty for San Lorenzo, but the joy didn't last long: Peratta saved it, and the score stayed 0-0. Minutes later, however, Bordagaray scored, and Banfield fans celebrated like if it would've been a goal of their own.

A penalty against them in the first minutes of the first half, and a goal at minute 14' of the second half, both by Palermo, determined that Banfield was losing by 2-0. But that didn't matter: for them to lose the title, Newell's had to score 3 goals in the 20 minutes left in Rosario, because San Lorenzo was defeating them also by 2-0.

The match finished, and Banfield won its first title in Primera División. The celebrations took place in La Bombonera, and later moved to Banfield's stadium, where 35000 fans had been watching the game on the big screens.


Santiago Silva was the top scorer of the tournament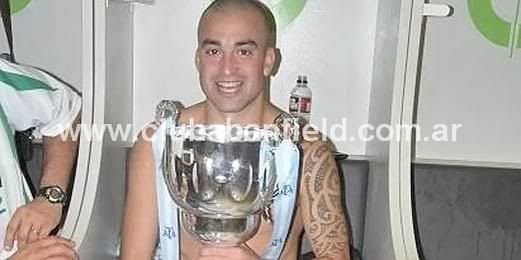 He scored 14 goals, 7 of which were in the first 8 games.


Cristian Luchetti was one of te key players



The goalkeeper only conceded 11 goals in the tournament, what made Banfield the team with less goals received.


Sebastián Méndez: "This title was the perfect way to end my football career"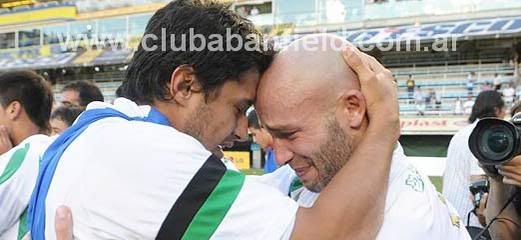 Defender Sebastián "Gallego" Méndez declared he'd leave football after this, mainly due to physical problems, and said that the title won with Banfield was the perfect way to end his career. "I want to enjoy more time with my family", he said, and also thanked Banfield for allowing him to be "part of such an extraordinary group".


Julio Falcioni: "We were the best team"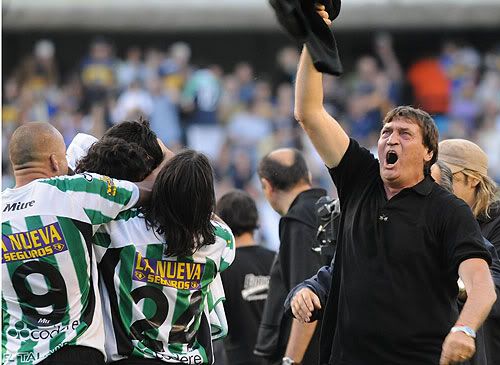 "We were the best team, without a doubt, that's why we won the title. We were the most solid team, the one that won in the hardest stadiums. It's hard to become champions, and this group did," he said.

"I don't know if this is a dream come true. I think is the confirmation of serious work. After working so much, fighting so much, it's very important for me. I'm really proud of sharing this title with these players," he said in the press conference. "I'm happy, very happy. We formed a beatiful group, with players that gave everything of themselves every day to reach a goal that seemed impossible for the club."

"We've screamed, we've cried, and I already spoke to my wife, I dedicate this triumph to her and to my daughters."


Banfield's campaign:

Banfield 2 - 0 River Plate (Santiago Silva, Sebastián Fernández)
Argentinos Juniors 1 - 1 Banfield (Santiago Silva)
Banfield 1 - 0 Chacarita (Santiago Silva)
Lanús 1 - 2 Banfield (Santiago Silva x2)
Rosario Central 0 - 0 Banfield
Banfield 2 - 1 Newell's (Santiago Silva, James Rodríguez)
Colón 0 - 0 Banfield
Atlético de Tucumán 1 - 1 Banfield (Santiago Silva)
Banfield 1 - 1 Arsenal (Sebastián Fernández)
Banfield 3 - 0 Godoy Cruz (Santiago Silva x2, James Rodríguez)
Gimnasia 0 - 1 Banfield (Santiago Silva)
Banfield 2 - 1 Estudiantes (Santiago Silva, Walter Erviti)
San Lorenzo 0 - 1 Banfield (Sebastián Fernández)
Banfield 3 - 0 Vélez Sarsfield (James Rodríguez, Cristian García x2)
Independiente 1 - 2 Banfield (Lucas Mareque (og), Santiago Silva)
Banfield 1 - 2 Racing (Santiago Silva)
Huracán 0 - 1 Banfield (Santiago Silva)
Banfield 1 - 0 Tigre (Víctor López)
Boca Juniors 2 - 0 Banfield