This weekend will be the last round of matches of Torneo Apertura, and the thing is still pretty intense.


vs
Gimnasia de la Plata 0 - 2 Newell's Old Boys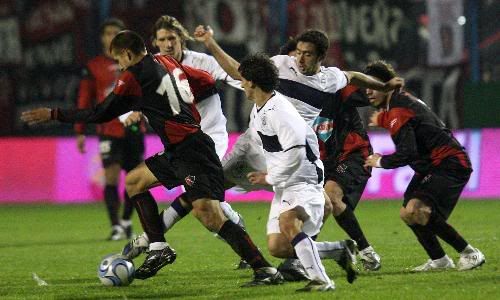 Newell's Old Boys won their match against Gimnasia de La Plata, with goals by Mauro Formica and Joaquín Boghossian, both on the first half. The team didn't have to make much effort to defeat Gimnasia, win a place in the next Libertadores Cup, and place themselves momentarily at the top of the table.

Banfield 1 - 0 Tigre



Their lead didn't last long, however, because some hours later, Banfield defeated Tigre and went back to the top. Banfield had an incredibly tough time defeating the last team on the table, because Tigre focused on defending their own goal instead of attacking, and didn't approach Banfield's goal at all. The Taladro players, under pressure after Newell's victory, could finally score thanks to Victor Lopez after a free kick, when 6' were left for the end of the match.


Banfield reached 41 points, and has the chance of winning their first Primera División title next Sunday, when they face Boca in La Bombonera. If they win, they will automatically win the title. If the game ends in a draw, and Newell's, with 39 points, wins against San Lorenzo, there will have to be a final match between them to know who will be the winner. If Newell's doesn't win, even if Banfield loses, the Taladro will win the league.

It would seem that a victory for Newell's could be easier, but after seeing Boca's last performances, Banfield players have a lot of hope. It wouldn't be the first time a team wins the title in La Bombonera: only 2 years ago, Lanús, Banfield's biggest rival, won in Boca's stadium and celebrated there.


Yesterday's other result was San Lorenzo's loss against Lanús. The team from Boedo was superior during the whole game, but an incredible ball and a shot by Gastón Aguirre against his own goal resulted in their defeat, and left his team out of the fight to enter the Libertadores Cup.



Other results were:
Colón 1 - 0 Godoy Cruz, goal by Federico Nieto. (Colón won their place for the next Libertadores Cup)
Boca 0 - 0 Huracán
Independiente 1 - 1 Argentinos, goals by Darío Gandín (I) and Gonzalo Prósperi (A). With this result, Independiente's out of the fight for the title and out of the Libertadores Cup.

The games for today are Chacarita-Velez, Arsenal-Atlético de Tucumán, and River-Racing.