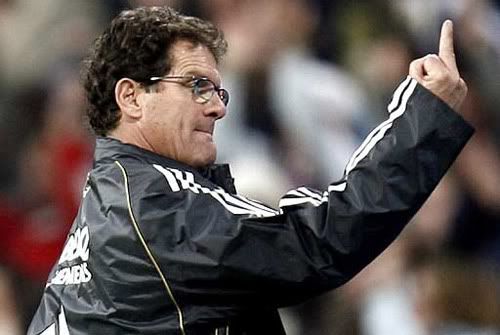 Out of the 32 national team coaches headed to South Africa, Fabio Capello has the highest salary by far, making nearly 10 million USD per year.



The List in USD (according to Olé)

- Fabio Capello (England): 9.900.000
- Marcelo Lippi (Italy): 3.000.000
- Joachim Löw (Germany): 2.300.000
- Javier Aguirre (Mexico): 1.800.000
- Carlos Parreira (South Africa): 1.800.000
- Berter van Marwijk (Holland): 2.700.000
- Ottmar Hitzfeld (Switzerland): 2.600.000
- Vicente del Bosque (Spain): 2.200.000
- Carlos Queiroz (Portugal): 2.000.000
- Pim Verbeek (Australia): 1.820.000
- Dunga (Brazil): 1.250.000
- Diego Maradona (Argentina): 1.200.000
- Takeshi Okada (Japan): 1.200.000
- Ricki Herbert (New Zealand): 1.200.000
- Otto Rehhagel (Greece): 1.150.000
- Paul Le Guen (Cameroon): 960.000
- Marcelo Bielsa (Chile): 850.000
- Vahdi Halilhodzic (Ivory Coast): 740.000
- R. Domenech (France): 720.000
- Hun Jung Moo (South Korea): 600.000
- Morten Olsen (Denmark): 570.000
- Milovan Rajevac (Ghana): 540.000
- Bob Bradley (USA): 400.000
- Radomir Antic (Serbia): 447.000
- Matjaz Kek (Slovenia): 360.000
- Gerardo Martino (Paraguay): 360.000
- Rabah Saadane (Algeria): 360.000
- Reinaldo Rueda (Honduras): 350.000
- Vladimir Weiss (Slovakia): 312.000
- Oscar Washington Tabárez (Uruguay): 300.000
- Kim Jong Hun (North Korea): 250.000
- Shaibu Amodu (Nigeria): 180.000

I'm not going to lie, I can't help feeling like Capello is the pimp of the year after reading this.


the source with more commentary like,

"South Africa that is hosting the competition has invested 1.8 million USD tax free in Brazilian coach Carlos Parreira. This caused an uproar in the country since Parreira makes in a month what the South African president is paid for twelve months. But pride and opportunity for South Africa are above all considerations."

As a Fluminense fan, I can safely say that Parreira's best days are far behind him. Bad investment, South Africa.

So what does everyone think, ONTD_FB? Is Capello getting paid too much England fans? Does Gerardo Martino deserve raise? No one thinks you deserve a raise, Maradona…



Dave from Chromeo dancing his ass off for your time.