JOEY COLEY REVEALS ALL CLOTHES-WISE:
AND THOROUGHLY EMBARRASSES MIKEL...
MOST SKILLFUL
"The young lad that has been in the papers a lot recently, Gael Kakuta. He's going to be some player and the Chelsea fans are going to enjoy watching him."
MOST INTELLIGENT
"I think Lamps [Frank Lampard] just on the strength that he reads The Times and the lads don't understand what's being said in that paper."
LEAST INTELLIGENT
"Probably [Jose] Bosingwa. Often he's just in his own little world. We miss Shaun Wright-Phillips for this one to be fair! Sorry Wrighty!"
HARDMAN
"It's gotta be [Michael] Essien hasn't it. You just wouldn't want to run into him when he's got the hump."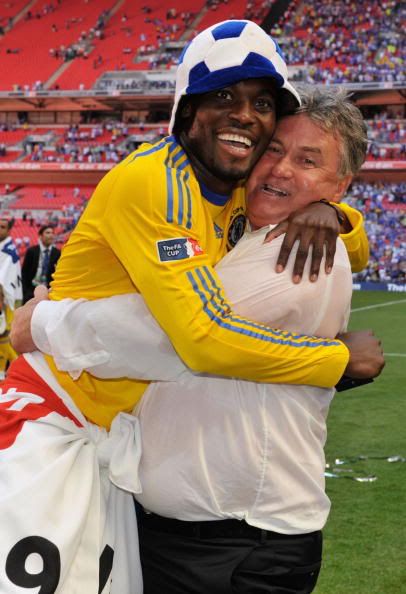 >
(Really Joey?? Looks like a big teddy bear to me...)
BIGGEST MOANER
"Oh, John Mikel... John Mikel is the biggest moaner. Seriously if you pass him the ball and it's just a bit away, he looks at you as though you've just killed his family. "
FUTURE MANAGERS
"Definitely JT [John Terry] and Lamps. I think [Didier] Drogba will be a manager and [Michael] Ballack will definitely be a manager. There are a lot of international captains and I think the trend is that those sort of people with that type of character normally go into management."

(Future manager and right-hand man at Chelsea??)
WORST TASTE IN MUSIC
"[Salomon] Kalou. I remember speaking to him and he likes country and western! I don't know whether I've dreamt that or not but he likes Dolly Parton and all that - he's going down that road!"
BEST NICKNAME
"John Mikel. We call him pumpkin for obvious reasons."

(I would've put him as pumpkin)
WORST DRESS SENSE
"Probably big Pete [Cech]. Just on the strength of some of the tracksuits I've seen him wearing recently. Because he's so tall they just don't fit him."
AND WHO'S THE LONGEST IN THE SHOWER...
"Just Claude [Makélélé], he's still there. Powerful in the shower!"

(I knew there was a reason I hadn't seen you in a while Maka :/)
Interview taken from
here
.