With God's Help

Juan Sebastián Verón assured that they'll need "God's help" if they face Barcelona in the Club World Cup.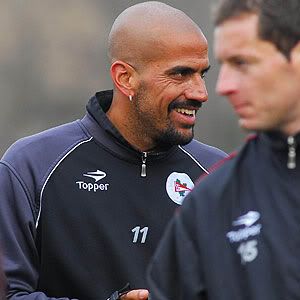 Estudiantes de La Plata's captain, Juan Sebastián Verón, is counting on "God's help" if his team has to face Barcelona in the Club World Cup final, but he pointed out that "everyone has hope".

"We're analizing the rivals we'll have to face before that. If we have to face Barcelona later on, God help us (laughs). The truth is that they play very well, but when you're on a decisive stage, you only think in winning, whoever the opponent is", Verón said.

"We never are considered favorites for winning, and we aren't either - he completed -, but that always turned out well for us".

"La Brujita" considered that "Barcelona and the rest of the clubs have the same desire of winning" than Estudiantes, because "everyone dreams and has hopes, especially in football". "For me, we're all in the same place", he said.

In the dialogue with radio La Red, Verón pointed out that the trip they start on Tuesday "isn't just another journey" and confessed that "there's a lot of anxiety in the atmosphere", although he trusted that "things will be different there".

Finally, he wanted to say goodbye to the Pincharrata fans with a message: "We'll always play with the same will, the same ambition, the belief and conviction to leave everything on the field and, obviously, to represent well our club, you can be sure of that."

source here



Deschamps: "Beating Real Madrid would be a deed"

Olympique Marseille's coach, Deschamps, considered that winning over Real Madrid "is a deed" they'll have to achieve to pass on to the next round in the Champions League.





"A club like Real Madrid, with its history, has economic possibilities that are higher than ours. When Real Madrid thinks in Champions Leage it's to win it, we think about it to see if we reach the next round", Deschamps said.

The coach pointed out that it doesn't mean they already consider themselves out, because "everything can happen in a match".

Deschamps assured that his players have enough motivation to face a challenge of this nature and that their team's first objective is to win. If they do, they can go on to the next round if Milan doesn't win in Zurich.

If the Italians win in Switzerland, the French's only option would be to defeat Real Madrid 3-0.

"Our first objective is to win the game so we don't suffer later if Milan wins too. But that doesn't mean we're going to go crazy and go out to the field with five strikers. We have to try to repeat what we did on the first half at the Bernabéu, when he created a lot of problems for them. It's a way of winning. If we want to achieve this, we have to use everything we have", he assured.

Deschamps assured that they won't give up, even if "our chance is one in a million".

"We face a team that's almost qualified, with very talented players. It'd be pretentious to say we'll win 3-0, but we'll try. At least, we'll try to score one goal more than our opponents and win," he commented.

Deschamps already knows what it's like to defeat Real Madrid at Champions League. He did it while coaching Monaco at 2004 in quarter finals.

"But it was a different context, it was the second game and they'd won 4-2 in Madrid, so they were a bit too confident", he pointed out.

The French coach doesn't think that Kaká's absence in Real Madrid is very relevant because "Madrid has a team full of international players, and he supplies the absence of one talented player with another one just as talented".

Deschamps also referred to the foul of Souleymane Diawara to Cristiano Ronaldo, that left the Portuguese 2 months out of the team.

"It was a defense gesture with a lot of determination. It was hard for Ronaldo, because he got injured, but in football there's always physical contact and injuries. What matters is the intention, and I can assure that Diawara didn't want to injure Ronaldo. Tomorrow if they face each other, he'll do the same thing, go to the ball without trying to injure any Real Madrid players", he said.

The coach also defended Ronaldo's attitude in the match against the Almeria, in which he received a red card for taking his shirt off and for a kick to an opponent.

"Ronaldo is a great player, but he's human. He had a reaction that anyone could have. I'm sure he'll get a disciplinary sanction for a gesture that can be prevented", he said.


Heinze: "If I didn't think we could win, I'd stay at home"

The Argentinian Gabriel Heinze assured that "it's very hard" to beat Real Madrid by 3-0, result that would make Olympique Marseille qualify for the next round of the Champions League, but if he didn't see it possible he'd stay at home.

The ex-Madridista pointed out that there's a difference between the Spanish team and the Olympique Marseille for the list of players, but that in the game "it's eleven against eleven".

"This game will be different than the other. We played well the first 45 minutes in Madrid, but after the red card, our playing declined and that's why we lost", he commented.

Heinze doesn't think that Cristiano Ronaldo's expulsion of last Saturday against Almeria is going to affect him or any player.

"That's all words of the press, he's not going to be affected at all. He's a great player. The guys at Real Madrid are used to this type of things", he said.

The Argentinian defender met with Ronaldo at Manchester United, where they became good friends, but Heinze pointed out that they haven't spoken in the last few days.

Heinze assured that Real Madrid "doesn't have a very pretty way of playing but are very effective, and at some matches they have both things."

The defender assured that his team has enough motivation to win the game.

"I'm going to fight to help my team win. I owe it to the institution, to the people that have trust in me", he said.


source here