So, today is the last round of the Campeonato Brasileiro. The Brazilian Serie A is extremely competitive, so much so that there's still no champion yet and the relegation zone hasn't been set. Four teams will be competing for the title today, so fans all over are going to be losing their shit. And speaking of the fans, that's who I wanted to share stuff about today.

Flamengo, the most popular team in Brazil, is the leader in the standings at the moment and is prime to win their first championship since 1992. The have a whopping 35 million supporters and boast higher shirt sales than Real Madrid. All of us non-Flamengo fans are cringing right now, but the Flamenguistas? Just look what they've been up to.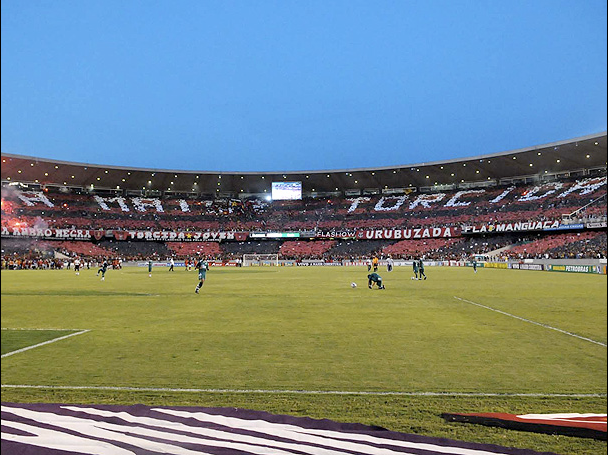 Two weeks ago, they made the largest mosaic ever. Granted, they were just trying to top Flu's mosaic from days earlier, I kid, I kid... It must be noted that they did this at Maracanã, the largest stadium in South America, and this mosaic is made of about 90,000 pieces. Simply amazing.

Videos (because photos just don't do it justice.)




The mosaic reads, more or less, "The largest fanbase in the world makes the difference." Just imagine what Maracanã is going to look like today...

Now, on to my team and our fans: Fluminense
The torcida Tricolor takes enormous pride of always putting on a spectacular show. We call ourselves the "torcida mais bonita" or the beautiful fanbase, because with all of the colors (the red, green, and white) the shows never disappoint.

This past Wednesday, Fluminense played at home (Flamengo and Fluminense share the Maracanã) for the last leg of Copa Sulamericana finals. In the first leg, played in Quito at 9,000+ ft altitude, Flu lost 5-1. You'd think that with a result like that, with a four point goal difference, the fans wouldn't come out in full force. But no, Fluminense fans packed the Maracanã and put on a spectacle like no other.



Half the the stadium in a complete flare shower. The other in a mosaic that reads, "They have altitude. You have us."



In the end we lost by one goal. Still bitter. Any South American football fans who want to bitch about how LDU keeps winning continental championships on altitude are completely welcome in the comments.

Lastly, if anybody wants to make a post for the last round games later today, let me know! And post your fave fan photos videos in the comments, please! I never get tired of seeing the incredible passion that football inspires worldwide.