USMNT wants to thank ontd_football U.S. soccer fans


From @grantwahl: Charlie Davies update: All surgeries complete. Still has week or 2 in hospital. Has received 10,000+ e-mails at charliedavies9@yahoo.com

the geniuses over at http://store.objectivo.com/ are selling this shirt.





Gooch had surgery on his knee, he is expected to be out for SIX months. Shitty. This news saddens me. This pic cheers me up.


When the boys were in D.C. they visted some smart school kids.



This is them with the U.S. Secretary of Education who is obviously one tall ass mofo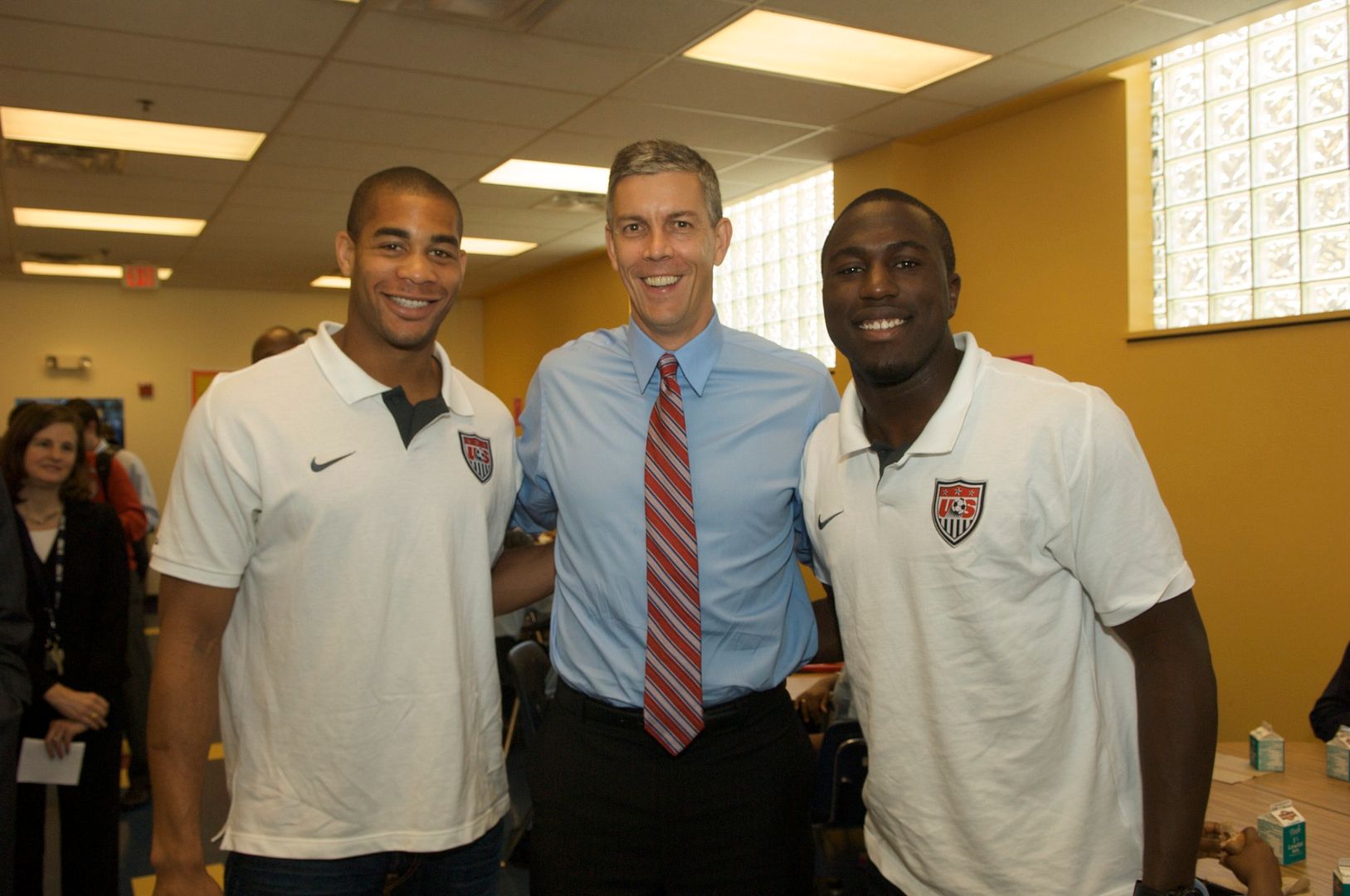 This fine piece of ass scored his first goal of the season and there is also a new youtube video of his goals. He smiles in the begining of it. Look how soaked is shirt is.....you should take that off bb, don't want you to get sick.

FIFA has approved the change of association application for Jermaine Jones, making the midfielder available for selection for the U.S. Men's National Team. A dual citizen of the United States and Germany, Jones had previously represented Germany at the international level. He is a member of FC Schalke of the German Bundesliga, and has been sidelined for several months with a left leg injury. source


Boys and their damn video games. It seems as if FIFA10 is on everyones mind. What a bunch of dorks.

@freddyadu11
ill get fifa10 soon i promise and will let you guys know but now lets rock some 09.


halftime of barca game playing some fifa. someone go on and get their ass kicked real quick



@jozyaltidore17


Just bought fifa 10...be scared!


Lovin fifa 10!!! All its missing is the stanky leg celebration :).

@sachakljestan
Got a new pair of special edition adidas AdiPures x EA Sports for the game thursday night to drop for FIFA 10! pic coming soon...


FIFA 10 is out tomorrow morning... best football game in the world... support your boy on the cover!!



@stuholden22
Played FIFA 2010 for the first time today, CRUSHED @cruz05 , watch out folks!

@heathpearce24 (new to twitter. he is also back stateside at FC Dallas)
Cop the new FIFA Soccer2010 Featuring @sachaKljestan on the cover....SICKKKKK

Attention stalkers! That GQMF Benny Feilhaber's sister is on twitter @OiVivi she is a entertainment writer for the LA Celebrity Examiner Who wants to recruit her......



Maurice Edu twatted about being "racially abused" and the story went fucking every where even cnn.com. He has not been heard from since.