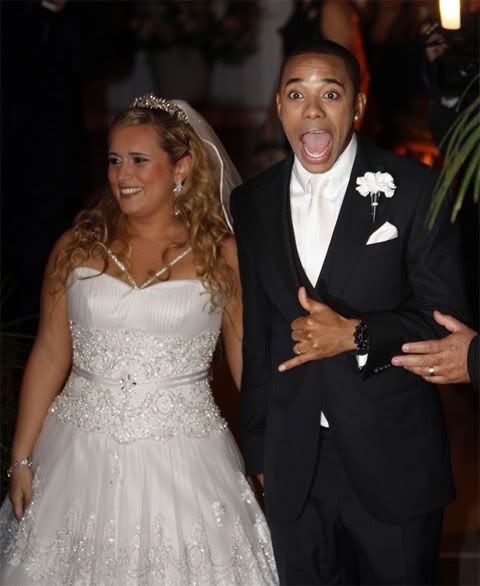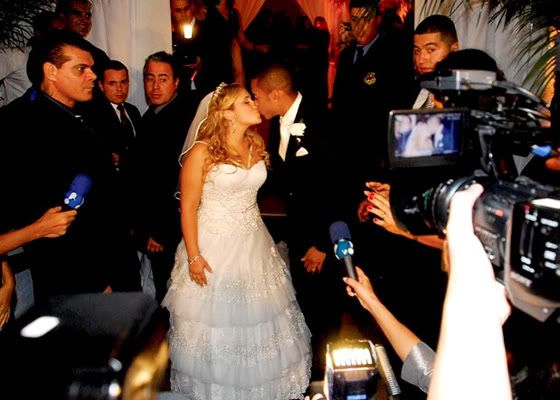 Robinho has married his childhood sweetheart - but not before being tapped up at the alter by his former club's president.

The Manchester City star tied the knot with Vivian Guglielmetti at the Casa Grande hotel in Guaruja, Brazil yesterday.

They had been seeing each other for 12 years and have a 19-month-old son called Robson Jnr.

By his side was one of his 'best men' Marcelo Teixeira - the president of Santos, who signed Robinho as a 17-year-old.

And although the now 25-year-old left the club in acrimonious circumstances, Teixeira wasted no time trying to talk the skilful forward into a return to the Sao Paulo-based club.

'Now that he is married and calm, it will be easier for him to return to play at Santos,' he said. 'It is a plan that both he and I have. I wish he could return to the club as soon as possible.'

Quite how they would pay for him is unclear given that Robinho only left Real Madrid for Manchester City last summer in a British-record transfer worth £34million.

There was a star-studded collection of Brazil stars at the ceremony, including his Eastlands team-mate Elano, £56m Real Madrid man Kaka, former Arsenal man Julio Baptista and his national team boss Dunga.

It has been a difficult year for the couple. Robinho was arrested after being accused of serious sexual assault over an alleged incident in a Leeds nightclub early this year.

However, he denied any wrongdoing and was told he would not face any charges following a police investigation.

There was also a notorious incident almost two years ago when Robinho, among other Brazil internationals, partied until five in the morning in Rio's Catwalk Club, where he is said to have emerged to ask minders to pop to the chemists for a box of 40 condoms.

Yesterday he was planning a long night with his new wife. After pulling some trademark silly faces during the ceremony, he said: 'I am very excited. The party was exactly as we dreamed. Now it's time to drink and celebrate with my friends!'

source: 1, 2, and 3.

More pictures at 3rd source.