I suppose some, if not most of you, have already seen this video:
In it,
John Brooks
, an assistant referee, tells Manchester City's players, including Joleon Lescott and Joe Hart, to thank the supporters who paid £62 to to watch them beat Arsenal at the Emirates Stadium on Sunday. In the video, John Brooks can clearly be heard saying
"They've paid 62 quid over there; go and see them"
.
This after City had returned 912 unsold tickets for the match and during the game sections of the away crowd held up banners protesting against the high prices, including one which read "Don't price us out of our game or lose more fans".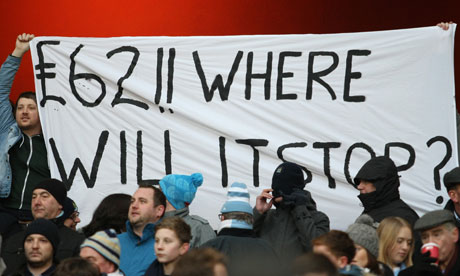 Fast forward to today.
Linesman who told Manchester City players to thank fans is stood down
John Brooks removed from West Brom-QPR FA Cup replay
Cameras captured his words at City's clash with Arsenal
The assistant referee who told Manchester City's players to thank the supporters who had paid £62 to watch their side beat Arsenal at the Emirates on Sunday has been removed from duty for Tuesday's FA Cup third-round replay between West Bromwich Albion and Queens Park Rangers.
The Professional Game Match Officials Limited, the body that assigns referees and assistants to fixtures, appears to have punished John Brooks after he was caught on camera telling Joleon Lescott and Joe Hart: "They've paid 62 quid over there; go and see them."
His place will be taken by Dave Bryan, an experienced assistant but not a Fifa-level official, according to the Independent.
The PGMOL retains the right to change its officials at short notice if it sees fit.
On Sunday the Premier League's chief executive, Richard Scudamore, said he sympathised with City's fans for not taking up their full ticket allocation for the match, which their side won 2-0.
Scudamore told BBC 5 Live: "I think they are sending Arsenal Football Club a very clear message … Arsenal have clearly made a judgement and I think the Man City fans, in fairness, have done what they should do if they think it is too much and not turned up."
Sources are from The Guardian: 1 and 2
Regardless of club sympathies (and I support neither of the clubs in question), I find this absolutely scandalous and felt I should at the very least spread the story as much I can, and hopefully the indignation and outrage will reach the right people.
I'll quote Sid Lowe on this because I wouldn't be able to put it any better: "I'm stunned. A gesture of humanity from a linesman is a. punished and b. accused by some fans of being offensive or biased."